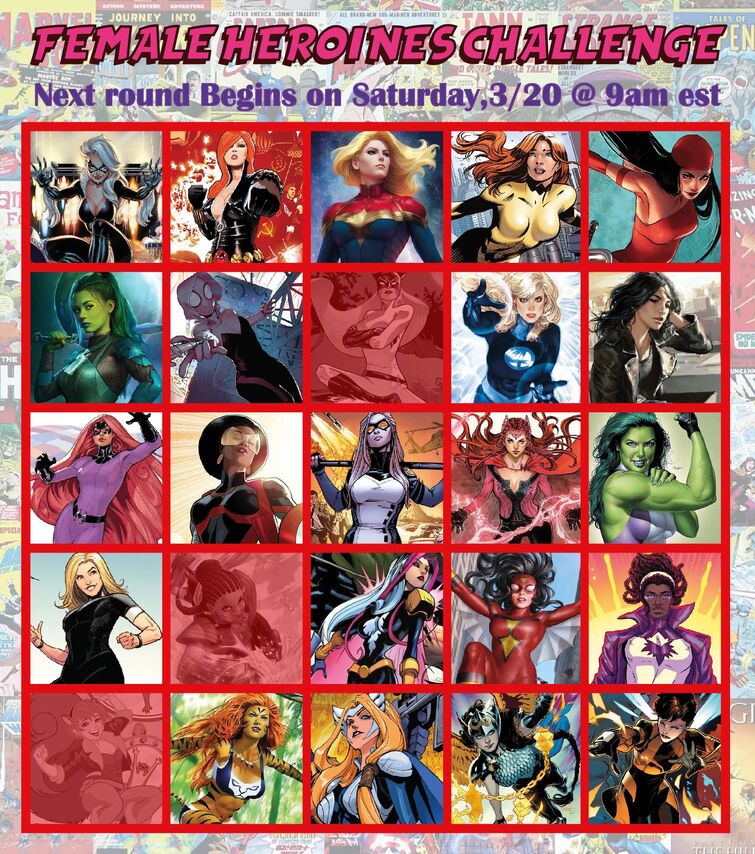 SHURI IS DEFEATED.❌ FEMALE HEROINE CHALLENGE 👩🏻👯🏻‍♀️⚠️ PLEASE WRITE CHARACTER NAMES YOU WANT ELIMINATED FROM THE COMPETITION POSTED BY THIS ACCOUNT. ALL OTHER COMMENTS AND LIKES WILL BE COUNTED AS VOTES.⚠️
⚠️ As with our previous challenges, be sure to like write LEAST favorite character. At the end of each round, the character with the MOST name will be eliminated.
Come back Saturday 03/20 @ 9 AM EST to find out who is eliminated and who will advance to the next round and who will be sent home.
ROW A: Black Cat, Black Widow, Captain Marvel, Crystal, Elektra
ROW B: Gamora, Ghost-Spider, Invisible Woman , Jessica Jones
ROW C: Medusa, Misty Knight, Mockingbird, Scarlet Witch,She-Hulk
ROW D: Sharon Carter, Songbird, Spider-Woman, Spectrum
ROW E: Tigra, Valkyrie, Jane Foster, Wasp
THIS ROUND IS OVER, PLEASE CHECK THE LATEST POST TO VOTE.