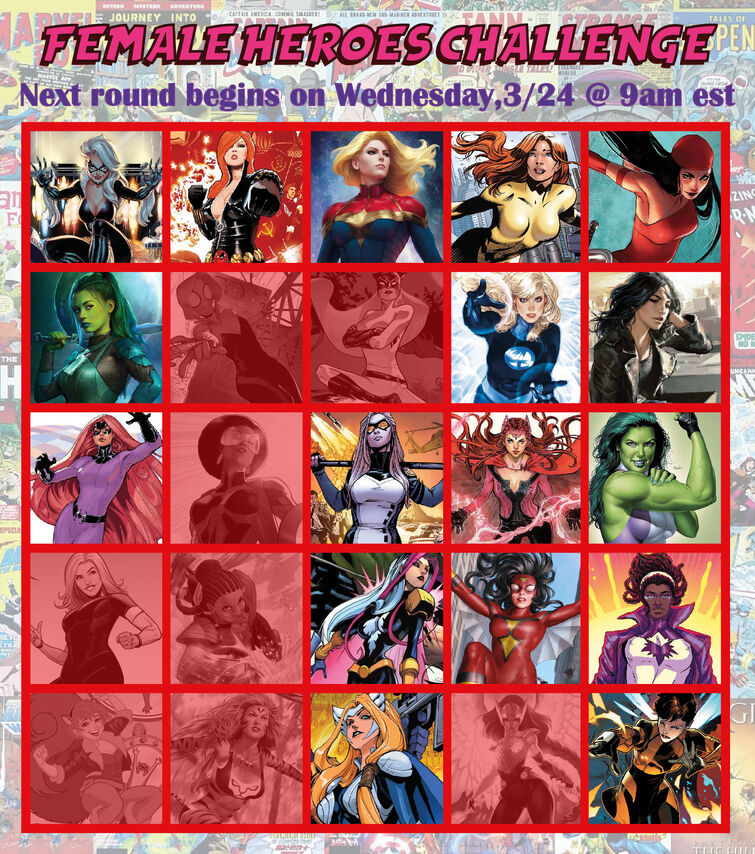 TIGRA IS DEFEATED.❌ FEMALE HEROINE CHALLENGE 👩🏻👯🏻‍♀️⚠️ PLEASE WRITE CHARACTER NAMES YOU WANT ELIMINATED FROM THE COMPETITION POSTED BY THIS ACCOUNT. ALL OTHER COMMENTS AND LIKES WILL BE COUNTED AS VOTES.⚠️
NOTE: You can vote more than one characters.
Greer Grant is giving you some furry vibe during her time as a West Coast Avengers. She really seducing some mens who really want her to be partner in team. But when you're competing against a numbers of female heroes, Tigra is not welcome to join the ranks as the voters signal to call her out the game. She really a loose furry so it's probable to be safe that the guys could no longer warrant her anyways. This leads us to have the first eight female heroes have been eliminated from the competition.⚠️ As with our previous challenges, be sure to like write LEAST favorite character. At the end of each round, the character with the MOST name will be eliminated.
Come back Wednesday 03/24 @ 9 AM EST to find out who is eliminated and who will advance to the next round and who will be sent home.
ROW A: Black Cat, Black Widow, Captain Marvel, Crystal, Elektra
ROW B: Gamora, Invisible Woman , Jessica Jones
ROW C: Medusa, Mockingbird, Scarlet Witch,She-Hulk
ROW D: Songbird, Spider-Woman, Spectrum
ROW E: Valkyrie, Wasp