Warning: Contains spoilers for infinity gauntlet and infinity war!
So I recently finished reading the infinity war, the second of the early '90's following different characters quests to obtain the infinity gems. In the first one, the infinity gauntlet, thanos gets the infinity gauntlet and gems, and to prove his worthiness to death, he snaps his fingers and half of all life ceases to exist. The surviving heroes then mount an attack, following Adam Warlock, a figure who was presumed dead over 10 years ago. They do eventually win, with Nebula using the gems to set everything back one day. In the end, Warlock ends up with the gauntlet, but the people of Earth fear his rule.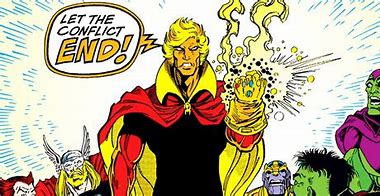 The story finishes with thanos alone, on his farm. Despite failing, thanos smiles, because he knows he shall win someday.
Between infinity gauntlet and infinity war, Adam Warlock expels all good and evil from him, hoping to stop emotions getting in the way of being a good ruler of the universe. Later, it was decided that the infinity gems could not be used as one, as this was too much of a threat to the universe. Because of this, warlock split the six infinity gems across the newly formed infinity watch, consisting of:
-warlock (the soul gem)
-pip the troll (space)
-drax the destroyer (power)
-gamora (time)
-moondragon (mind)
Adam warlock also entrusted the reality stone with thanos, but kept this a secret from the watch.
In the infinity war, Warlock's evil that was expelled from him resurfaces in the form of the Magus, an alternate timeline evil version of warlock. He creates an army of evil doppelgangers of heroes to fight the heroes, and what follows are ultimate battles everywhere. Adam warlock gets kidnapped, Doctor Doom and Kang team up, and thanos helps the avengers?!
To make matters worse, Eternity allows the gems to work as one, giving the magus infinite power, as he now has the gauntlet.
The Magus lets the opportunity slip out of his hands, however, and he finds himself in the soul world.
Thanos returns to his farm, and contemplates the threat of warlocks "good" side. This leads into the infinity crusade, which stars Warlock's good side, the goddess.
So what's your opinion on the Jim Starlin Infinity trilogy? I really like the first two, but I definitely prefer the gauntlet.