To those that care, please tune in! I heavily appreciate all who take the time to read, I apologize beforehand for my post length and for any typos😊.
Previous: Can Vibranium Cut Or Harm Hulk?
https://marvel.fandom.com/d/p/4400000000003466278
DISCLAIMER-
*Please keep in mind I don't subscribe to the idea of P.I.S. (Plot. Induced. Stupidity). I accept ALL feats/showings given whatever context.I do not pick & choose when to accept, dismiss or invalidate showings/feats in comics for whatever reason (besides being non-canon). Such is unfair, bias and fickle. However balance is key. I keep balance by relying on what is regularly shown (reoccurring feats) to fairly determine a characters normal/usual level. A feat shown at least TWICE is a reoccurring feat in my opinion.*
THE BREAKDOWN-
3) Armor: Can Panther Survive Hits From Hulk [Durability & Invulnerability]? Let's first talk about Panther without the Vibranium Suit- How tough is he? His character history has shown him cross blows with many physically superior threats even before he got his suit. Hilariously enough, he actually took a few hits from many heavy hitters (namely Hulk) yet was still alive and conscious: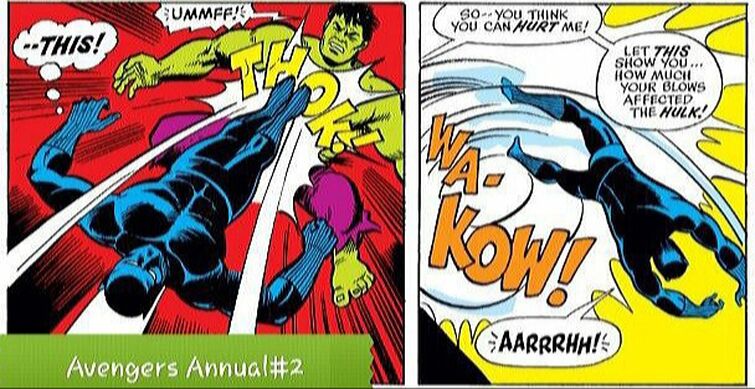 Uuhh Yeeaa lol. Don't judge me or the old comics! It's just how they did things back then....so moving on....
This happened again more recently in Marvel Knights #5 2018: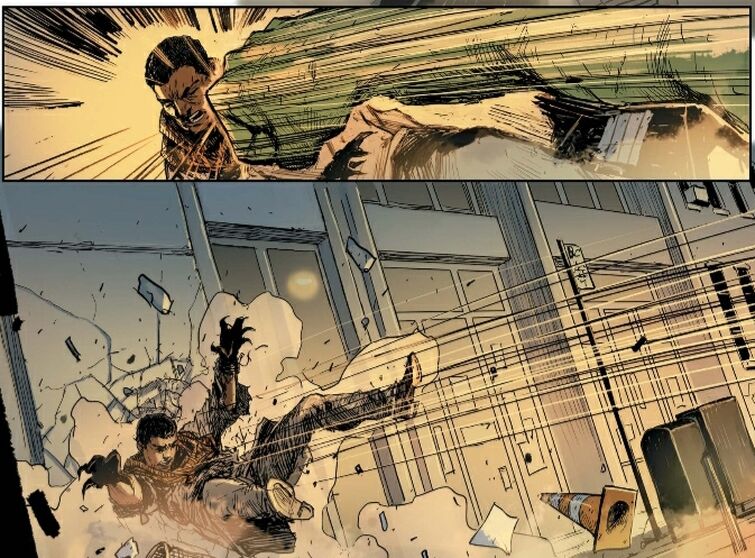 This is NOT to say Tchalla can survive a battle with Hulk with no armor at all. It's just to give testament to what comics have shown. BP is not the only one on his level who has survived a blow from Hulk like such....no matter how ridiculous 😆.
The V-Suit doesn't get the same respect as Wolverine's Adamantium Skeleton or even Iron Man's Armor..... granted for understandable reasons such as: 1) It was once said to be a "thin layer of Vibranium" over cloth; 2) It has been cut, pierced, ripped, tattered, and more- half the time by street level characters; 3) Tchalla didn't always have the V-Suit and his character level in the beginning was lower than what it is now. All this gives the impression the V-Suit just isn't on the level of an Admantium Skeleton or an Iron Man Suit.
However! All characters go through changes over time, and usually they get upgrades. This has been the case for Tchalla's V-Suit which has gotten a lot stronger over the course of 8 years. He's taken blows from: Black Dwarf, Captain Marvel, Terrax...
-Namor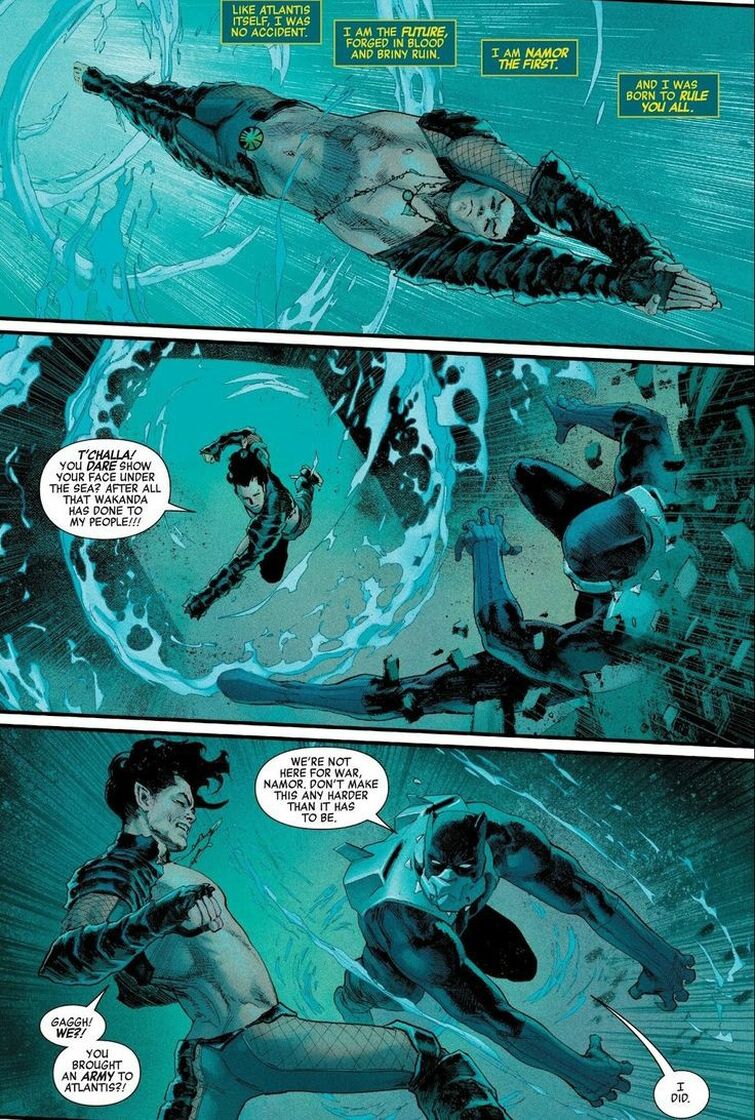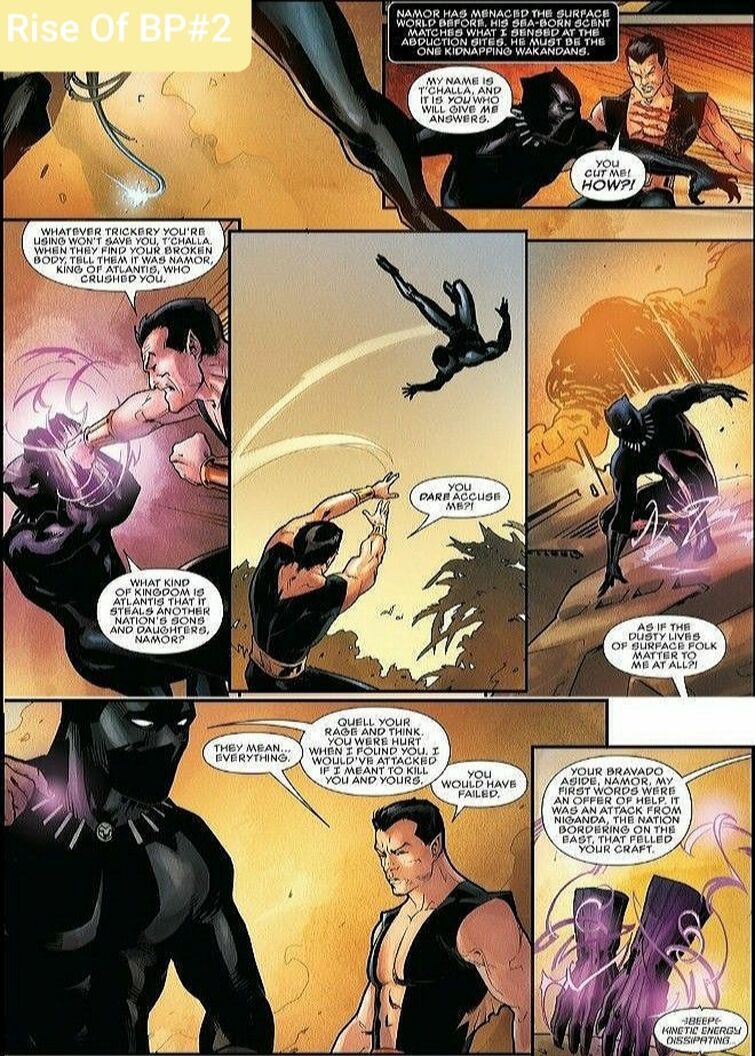 (Keep in mind Namor fully drenched KOed Hulk in one blow, and has matched him in combat even out of water. And in the first showing Namor battled the Avengers solo).
-And more importantly Hulk himself (BP v3#15 & Immortal Hulk#7):
His many battles against top tier heavy hitters, and other feats, has shown just how much punishment he can take or resist. Further, I believe writers started to realize that although his suit is "thin" it still is made of Vibranium! No, it may not be thick or bulky as Iron Man armor, but it's still a super-metal that absorbs energy, vibration, saps inertia, and way tougher than any metal on Earth (other than Adamantium). This is the metal responsible for Cap's shield which we all know is tough enough to survive blows from some of Marvel's strongest and it's not nearly as thick as an Iron Man suit. I know we really do not think the metal of Iron Man's suits are stronger than Vibranium... do we?
If none of this convinces you ... ask yourself, why couldn't Panther's V-Suit survive a few hits from Hulk just as Iron Man's suits has?
4) Speed!
It's obvious that Hulk is stronger and faster. No debate. Hulk's battles with Logan, and others, have showed that some low level superhuman characters are fast enough to evade Hulk's blows. Can Panther do the same? Yes! How do we know?
1) He's done so in the past.
2) He's kept up with and outpaced those who have evaded his blows before.
3) He has shown tech that can increase his speed such as Teleportation:
Lastly, just to take another peek into his level of speed...
BP completely disappears RIGHT IN FRONT of this guy in broad daylight... almost like a ghost! Deny it if you wish, but c'mon tell me that's not cool!
So let's go over what we've covered thus far:
Can Panther harm Hulk? Yes. Can BP survive blows from Hulk, or evade some of his blows if need be? Yes. Now Tchalla is known to have many plans, and his level of preparedness is one of the reasons he's been able to overcome many superior threats throughout his character history. His level of prep has given him the rep of "Marvel's Batman". So what could the "Black Batman" have up his sleeves for Hulk in a random encounter? We'll discuss in the next and final part 😉.