Doctor Strange in The Multiverse o Madness - The Loop
Play Sound
In accordance with the
naming conventions
, it has been suggested that this page be moved to:
Glossary:Aerokinesis
 (
Discuss
).
Please do not move this page yet, as the correct name could still be in discussion and may change again soon. A robot will make the necessary page moves once any discussions are resolved.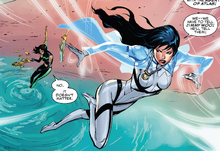 Aerokinesis is the ability to manipulate air and gases. The user can create, shape and manipulate air, the common name given to the layer of atmospheric gases and various compounds (mostly oxygen and nitrogen) surrounding the planet Earth that is retained by Earth's gravity, and wind, movement of air relative to the surface of the planet. It is an important factor in determining and controlling climate and weather, and the generating force of most ocean and freshwater waves. Wind occurs because of horizontal and vertical differences in atmospheric pressure, and include breezes, squalls, gusts, whirlwinds, zephyrs, gales, tempests, and hurricanes.
Known Users