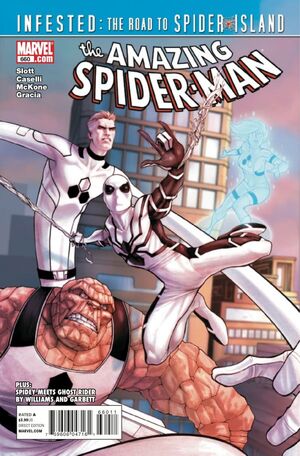 Textless
Previous Issue
Next Issue
Appearing in "Fantastic Voyage, Part 2 of 2"
Featured Characters:
Supporting Characters:
Villains:
Other Characters:
Races and Species:
Items:
Synopsis for "Fantastic Voyage, Part 2 of 2"
The Future Foundation continues the fight against the Sinister Six. Suddenly, Spider-Man and Ben realize that Doctor Octopus, Rhino, Sandman and Electro are robots and that Mysterio and Chameleon are the only ones present at the Caribbean.
Meanwhile, Doctor Octopus and the others infiltrate the Baxter Building. Doctor Octopus's plan involves using the Baxter Building's technology.
In the Caribbean, the dimensional rifts cause Sue, Ben and Reed to change powers. Spider-Man is dressed a suit that resembles that of Spider-Woman. Sue uses the tachyon pack Franklin and Valeria brought with them to close the rift, returning everyone to normal. With the trouble solved, the FF returns home.
At Tribeca, Carlie asks Peter where did he really go, and Peter answers that it's a secret. Carlie is outraged for thinking that Peter is lying to her, but suddenly reveals her tattoo, one of Spider-Man. Carlie says that she was going to get a Goblin tattoo but changed her mind at the last moment. Peter says that she has the sexiest tattoo he has ever seen, and they kiss.


Appearing in "Infested, Stage 2: Great Power"
Featured Characters:
Other Characters:
Races and Species:
Locations:
Synopsis for "Infested, Stage 2: Great Power"
We open with commentary from Dr. Miles Warren's journal then as he speaks we cut to a school corridor and see one person pining up another to a locker saying "you are so dead Ogden" and punches him in the face thus causing him to bleed from the nose and fall to the floor.Warren commentates on the circle of life,separating the weak from the strong then he says about a random element being thrown into the mix and then we see a bug biting someone and that someone is Richard Davies who now has spider-sense,and while all of this is going on, Ogden gets up and gets a gun from the back of his pants and was just about to shoot when Richard "swats" him with his hand and Warren commentates that he has enhanced speed and super-strength as he accidentally smashes his head into a locker then some witness says he killed him and he ran in a fright; then we cut to Warren laughing and saying "One test subject down eight million to go. So who's next?"


Appearing in "Can't Get the Service: Part Three"
Featured Characters:
Villains:
Races and Species:
Locations:
Items:
Vehicles:
Synopsis for "Can't Get the Service: Part Three"
Synopsis not yet written.

Solicit Synopsis
"Parental Supervision Required" THIS ISSUE IS PACKED!!! The SINISTER SIX versus SPIDER-MAN and the FF… and by FF, we mean ALL of the Future Foundation! Know what's not a good place for children, even super-powered kids? A full-scale battle with the world's deadliest super villains! It's not "Bring Your Kids To Work" Day, not a field trip, and it's definitely not a game! This is a high-stakes battle and there's no way it will end well…. You also get part 3 of the death-defying team up of Spider-Man and Ghost Rider by Rob Williams and Lee Garbett. And also this issue…our 2nd in a series of "Infested" preludes leading to this summer's top secret Spidey event! Phew!

See Also
Footnotes
↑

First and only known appearance to date besides flashbacks
---
---
Community content is available under
CC-BY-SA
unless otherwise noted.