Hello, Jackal. It's me, the Jackal.
Appearing in "Night of the Jackals"
Featured Characters:
Antagonists:
Other Characters:
Races and Species:
Locations:
Items:
Synopsis for "Night of the Jackals"
As his clones melt the real Miles Warren suffers no ill effect from Ben's signal. This makes him realize that he is the original and angry at having been manipulated by Peter's clone he decides to take back the Jackal's identity and make sure that only one remains.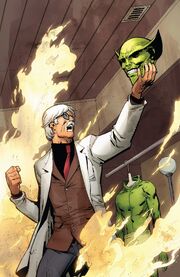 Via the Webware, Peter transmits a signal that cancels the effects of Ben's. Ben's Webware is destroyed by Otto determined to kill him for trying to harm Anna Maria. Ben knocks Otto out of action, and tries to transfer his mind to the proto-clone, but Otto by foreseeing this move, had set a trap in the mind transfer device, and so inserts his mind into the proto-clone. Upon awakening Ben senses what has happened and manages to stabilize his body with his pills and stolen webware. Also stolen a car goes to his lair (a replica of Aunt May's house), where he finds the Jackal waiting for him. Warren sets the house on fire, but after a brief confrontation, Ben manages to overpower him and escape by abandoning him in the burning building.
Solicit Synopsis
A CLONE CONSPIRACY TIE-IN!
• Spider-Man has been through hell…
• The Jackal has taken his best shot, but Spider-Man doesn't need to face him alone.
• Discover who is joining Spider-Man in his battle!
Notes
See Also
Links and References
References
Like this? Let us know!