Wiki Targeted (Entertainment)
Play Sound
Athens is the capital and largest city of Greece.

History
The city of Athens was apparently built in honor of Athena, Goddess of Wisdom, but actually it was named in honor of the Eternal Thena who was often confused for the Olympian goddess.[1]
Circa 5,000 BC (seventy centuries ago), Athens and Atlantis were at war. Lord Kam'u of Atlantis attempted to make peace by sending emissaries to appeal for trade between the two countries, in order to feed their starving masses. The Athenians instead butchered the emissaries' bodies and invaded his realm, causing Kam'u to strike back.[2]
She later allowed it to be conquered by the Spartans in 404 B.C.[1]
Thor travelled to Athens during the conflict between the Olympians and Asgardians. He came to tell them they were the new gods of this land. The people just ignored him.[3]
Modern Age
Iron Man traveled to Athens after his encounter with the Eternals.[4]
The Avengers battled the Kalkhimithians, people mutated into Hulk-like creatures by Diablo.[5]
When Hercules fell in battle, the people of the world mourned the falling hero at the Parthenon.[6]
Deadpool freed all the animals from the Attica Zoological Park in Athens before traveling to Papaconstantinos.[7]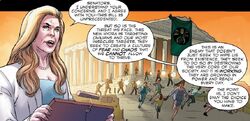 Hydra took control of the Parthenon, attacking civilians at the historical site.[8]
Residents
Birthplace of:
See Also
Links and References
Footnotes
Like this? Let us know!