Previous Issue
Next Issue
—
—
Appearing in "The Man in the Ant Hill!"
Featured Characters:
Henry Pym

(First appearance)

(Origin revealed)
Other Characters:
Various scientists
Ants

(First appearance)
Races and Species:
Locations:
Items:
Synopsis for "The Man in the Ant Hill!"
Doctor Henry Pym declares success! He has successfully used his reducing serum to shrink a chair to doll size and used his enlarging serum to return it to normal size. Pym had been ridiculed months ago by his peers for his outlandish theories but has now perfected a pair of serums capable of changing the size of any object. Confident that his serums work, Pym tests them on himself.
Placing a few drops of reducing serum on his arm, Henry Pym quickly shrinks. Now ant-sized, he realizes that he left the enlarging serum on the window sill; it might as well be on the moon. He goes out into the yard. Ants sense his presence and move toward him. Pym, still not thinking clearly, runs into an ant hill. Fleeing blindly through the tunnels, he falls into a shaft and lands in a pool of honey. Hopelessly trapped, he spots an ant crawling towards him. To Pym's surprise, the ant pulls him free from the honey and lets him go unharmed. More ants appear. Pym notices a matchstick set in the ground and, hoping to create a diversion, throws a pebble at it. His aim is true, and the match lights.
Pym fashions a lasso and climbs up to a ledge. There, another ant grabs him in its mandibles. Pym uses judo to flip the ant over the ledge and scrambles upward. Once out of the ant hill, with the colony in hot pursuit, he sees the friendly ant who saved him earlier. He points upward to tell the ant where he needs to go. The ant climbs the wall with Pym aboard. He wades into the test tube with the serum and immediately returns to normal. Convinced that his invention is dangerous, he dumps his serums down the drain.


Appearing in "Return of the Ant-Man"
Featured Characters:
Supporting Characters:
Antagonists:
Locations:
Other Characters:
Henry Pym's research assistants
Items:
Synopsis for "Return of the Ant-Man"
Doctor Henry Pym is a scientist who had invented two incredible serums, one to reduce objects, and the other to enlarge them back to their natural size. The reducing potion proved more powerful than he anticipated. It reduced him to the size of an insect and led him to the most frightening encounter of his life within a teeming ant hill. Frantically, Pym escaped from the ants and reached his enlarging serum. After he was restored to normal size, Pym destroyed his serums, which he felt were too dangerous to exist on Earth. However, weeks later he decided that such a great discovery should not melt into nothingness and concocted his serums again, this time locking them safely away in his safe.
After his experience in the ant hill, Henry Pym developed a growing interest in ants. Secretly, he made a thorough study of the ant world and determined that ants communicate electronically through their antennae. After long months of grueling work, he finally developed a helmet that would enable him to communicate with the ants by tuning into their specific wave length. Pym also designed a protective costume to shield him from accidental ant-sting or bite.
On the same day that he completed work on his helmet, the government gives Henry Pym a top secret scientific assignment to develop a gas to make people immune to radiation and provides him with four research assistants. Weeks later, the communists have learned of Pym's work and have dispatched agents to steal the almost completed formula.
Communist agents burst into Henry Pym's laboratory and hold him and his research assistants at gun point, demanding the anti-radiation formula. When Pym refuses to divulge the formula, the agents decide the search the lab and find the information themselves. Trapped in his lab, Pym decides that the only way to prevent the communists from getting the anti-radiation gas is to use his reducing serum. Donning his newly completed helmet and costume, Pym uses his reducing serum to shrink to insect size.
Now ant-sized, Ant-Man uses a rubber band as a slingshot to hurl himself to a nearby window ledge, where he slips through the window crack and uses a piece of thread to lower himself to the ground.
Part 2: An Army of Ants!
His destination is the ant hill, where he learns that his cybernetic helmet actually works, allowing him to communicate with and command the ants. He is attacked by a large worker ant. As he fights the ant, he learns that somehow, he retains the strength of a full-grown man at his diminished size. After defeating the worker ant, Ant-Man adjusts his cybernetic helmet and sends a command through the ant hill, forming a small army of ants.
As Ant-Man exits the ant hill, his colorful costume attracts the attention of a beetle. Using his full-size strength, he quickly digs a deep hole, uses himself as bait to lure the beetle into it and then fills in the hole, trapping the beetle.
Ant-Man then mounts the largest of the worker ants and leads his army up the wall and on to the window ledge near his lab.
Part 3: The Ant-Man's Revenge!
After observing the communist agents, Ant-Man slips into the lab and with the help of the ants, unties his assistants. He then commands the ants to attack the agents, distracting them long enough for Pym's assistants to over power them.
With the communist agents defeated, Ant-Man heads for his laboratory, where he uses his enlarging serum to return to normal size and rejoin the others in the lab. Pym is left wondering if he will ever be forced to become the Ant-Man again?


Appearing in "The Birth of Giant-Man!"
Featured Characters:
Antagonists:
Other Characters:
Races and Species:
Locations:
Items:
Synopsis for "The Birth of Giant-Man!"
Our story opens with a giant Henry Pym (in a new costume) smashing through his own home and frightening off one of his own neighbors. We learn that he has developed a new type of formula that allows him to grow in size, and is now taking on the identity of Giant-Man. The Wasp helps him free himself from the house and Giant-Man explains that he was testing his new size-changing capsules. Giving her a demonstration, Pym grows to the height of 12 feet.
Meanwhile, Pym's frightened neighbor arrives at the police station to make a report about a giant man. The police tell him that they're too busy looking for a "pixie" that is apparently erasing people. Later, at a local park, a police team is searching for a being they're calling "The Eraser." The Eraser is hiding in the woods until he's discovered by a hot dog vender. Not wishing to have his presence alerted, he "erases" the hot dog vender. Later the Eraser travels to the home of Dr. Ebbhart, explaining that he's been "erasing" atomic experts, and that his next target is Henry Pym.
Back at Pym's residence, Henry is explaining how the size-changing capsules work and fits himself and the Wasp with belts that dispense different size-changing capsules for easy access. Wasp takes a size-changing pill and shrinks down to wasp size and lands on Pym's finger. Just then the Eraser arrives and erases Henry (and unintentionally the Wasp), who finds himself in "Dimension Z." The Eraser follows him shortly.
The Eraser explains that their world is in a different universe that shares the same space with Earth and that they have been monitoring the people of Earth for years. When they learned of mankind's ability to create the atomic bomb they sought to claim the technology to do so and invented their "erasers."
Refusing to aid them, Henry Pym tries to escape but is ensnared in "clinging bands." At this point the Wasp comes out of hiding inside Henry's coat and feeds him a shrinking capsule to escape the trap. In their diminutive size, Pym and the Wasp escape the guards and their hunter hounds. Donning his Giant-Man costume, the two heroes travel through the air ducts and find the scientists and alert them of their presence and intentions to free everybody.
Taking a growth capsule, Giant-Man storms the city, easily defeating the guards and their weapons. He captures one of Dimension Z's scientists and forces him to bring them to the lab where the erasers are kept. There Giant-Man is trapped in a unbreakable glass cage by the Eraser, who tells him that he has the only eraser on the planet. Too busy boasting over his victory, the Eraser doesn't notice that the Wasp has triggered the device to free Giant-Man. Giant-Man easily defeats the Eraser and takes his devices. Returning to the prisoners, Giant-Man uses the devices to send them all back to Earth's dimension.


Appearing in "Among Us Walks a Goliath!"
Featured Characters:
Supporting Characters:
Antagonists:
Locations:
Collector's Medieval Castle
Persia

(Mentioned)

Tibet

(Mentioned)
Items:
Collector's cloak
A catapult
Obedience potion
A gong
Crystal ball
Temporal assimilator
Vehicles:
Synopsis for "Among Us Walks a Goliath!"
Henry Pym calls the Avengers, telling them that he is Giant-Man and that the Wasp is missing. The Wasp has been captured by the Collector and the Beetle.
The Scarlet Witch presents Hank with a new costume she'd just happened to have been sewing in the hopes that he might return to the team. Along with the new costume, he renames himself Goliath.
The Avengers enter the Collector's lair and get seperated and captured but Goliath escapes and frees the other Avengers. They rescue the Wasp and force the Collector to escape with the Beetle using a time machine.
Afterwards however, when Goliath tries to shrink down to his normal size, he collapses and faints at 10 feet tall.


Appearing in "The Name is... Yellowjacket!"
Featured Characters:
Supporting Characters:
Antagonists:
Other Characters:
Races and Species:
Locations:
Items:
Synopsis for "The Name is... Yellowjacket!"
A new costumed hero named Yellowjacket has just appeared in New York City, busting up a bunch of crooks from stealing fur coats. His exploits around town gain him media attention, getting positive front-page news in the Daily Bugle due to owner J. Jonah Jameson's approval of said hero.
Meanwhile, the Avengers are giving Black Panther a training session while waiting for Wasp and Goliath to arrive for their morning meeting. When the Wasp shows, but no sign of Goliath, the group dismisses his absence and decide to fill him in when he arrives. The four Avengers present are preoccupied with thoughts of their own: The Wasp dwells on Goliath's devotion to science at the neglect of their relationship; Black Panther's thoughts dwell on the future role of his nation of Wakanda on the world stage; Vision's thoughts are of the fear humanity feels towards him; and Hawkeye's thoughts are about the Black Widow, who has resumed her costume guise to partake in another S.H.I.E.L.D. secret mission.
While the meeting continues, the group are interrupted by the arrival of Yellowjacket, who has broken into the mansion in an attempt to get Avengers membership. When they question Yellowjacket on his foreknowledge that Goliath won't show up for the meeting, he tells them that he killed Goliath, causing the Wasp to faint.
Yellowjacket then tells them that he had broken into Goliath's lab and attacked him as he was busy mulling over his experiments and his relationship with the Wasp. During the fight, Goliath's home is trashed and Yellowjacket gains the upper hand in combat, able to overpower Goliath and blast him with shrinking gas. Shrunken down to ant size, Goliath is left to the mercies of a common house spider. Yellowjacket concludes his tale by saying the last time he saw Goliath he was stuck on the spider's web.
Enraged by this tale the Avengers attack, but Yellowjacket is able to fight them off long enough to grab the Wasp and escape. He takes the Wasp to his hideout, a miniature base that is up in a tree. There, Yellowjacket boasts how they will never find Goliath, and forces Wasp to kiss him. He stops himself and decides that maybe he should let the Wasp go.
Later as the Avengers are searching the city for the Wasp, the team spots her and Yellowjacket as they are exiting city hall. Yellowjacket is attacked, but the Wasp stops them, telling the group that they shouldn't fight Yellowjacket because they're going to be married.


Appearing in "... Till Death Do Us Part!"
Featured Characters:
Supporting Characters:
Antagonists:
Other Characters:
Races and Species:
Locations:
Items:
Synopsis for "... Till Death Do Us Part!"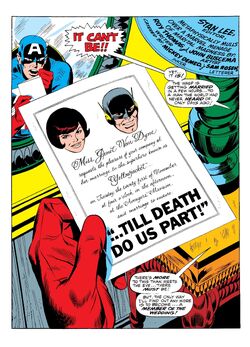 Detailed Summary:
Captain America is shocked to receive an invitation to the wedding of the Wasp and Yellowjacket. When he arrives at Avengers mansion and asks the other Avengers what happened they tell him of their encounter with Yellowjacket and how he supposedly killed Goliath. Just then Jan and Yellowjacket arrive, and Hawkeye almost starts a fight with the mysterious new-comer but is stopped by Captain America.
Meanwhile, Jarvis admits the priest and the caterers into the mansion for the wedding reception, however the caterers turn out to be the Circus of Crime, who have come to crash the wedding to get revenge on Thor for defeating them during their last caper.
While Crystal and the Invisible Girl prepare the Wasp's wedding gown, all the guests arrive and the reception starts. Soon Yellowjacket and Wasp are married. This disgusts Hawkeye who is appalled that the Wasp would marry somebody who killed her long time love. Storming into the kitchen he stumbles upon the Circus of Crime who easily take him down and tie him up with Jarvis.
As the Wasp is cutting her cake, Princess Python's snake attacks, and the Avengers attempt to fight it off her, just then the circus of crime attacks. The Avengers manage to hold their own until the Ringmaster trains a gun on Yellowjacket and threatens to kill the Wasp. Losing his temper, Yellowjacket grows to giant size, tearing his costume and revealing that he was Goliath the whole time.
Goliath frees the Wasp, the Avengers make short work of the Circus of Crime and Hawkeye cuts himself loose.
As the police are taking the Circus of Crime into custody, Goliath tells them that he was the victim of chemically induced schizophrenia when he was accidentally doused in an experimental formula he was working on. It caused him to develop the Yellowjacket persona and fabricate the story of Goliath's death.



Appearing in "Lost in Space-Time Part 5: Time for Every Purpose Under Heaven!"
Featured Characters:
Supporting Characters:
Antagonists:
Other Characters:
Locations:
Egypt (2940 BC)
Southwest US (1876)
Southwest US (northern Mexico) (1776)
Ciudad, Corazon, Mexico (1847)
Arizona Desert
Items:
Vehicles:
Synopsis for "Lost in Space-Time Part 5: Time for Every Purpose Under Heaven!"
In Egypt, 2940 BC, the evil Rama-Tut has shot the Avengers with a paralyzing ray. Somehow, despite their costumes and varied appearances, he can't tell the difference between them and Egyptians native to that time and just accuses them of being rebel slaves. Confident they will die from his weapon, he has them taken to a nearby temple for burial. The temple they arrive at happens to be one dedicated to Khonshu. While they lie paralyzed on the temple floor, the feverish Hawkeye has a vision in which he comes face-to-face with Khonshu, who explains that he aims for vengeance against Rama-Tut and will use the Avengers as his agents, that his hypnotic influence kept Rama from recognizing them as non-natives. Hawkeye pleads his case for some extra divine intervention. He wants to return to his own time, but Khonshu's methods can't be too direct. Instead, Khonshu agrees to help deliver a message to someone from their time that can help. The Avengers come to and Hawkeye's fever breaks, his burns even mysteriously healed. Clint voices his thanks to a nearby statue of Khonshu just before the temple's blind priests enter the room to offer their help in their god's mission against the Pharaoh.
In 1876, Mockingbird is starting to shake off the effects of Phantom Rider's potion just as Rawhide Kid and Two-Gun Kid catch up with their trail. When Bobbi's alone, Two-Gun confronts her dressed as Hawkeye, hoping to jostle her memories. She fights him at first, but one more look at the arrowhead necklace she's wearing brings it all flooding back. She rides off with Rawhide and Two-Gun wanting to kill Phantom Rider for what he did to her.
In 1776, Carlotta Valdez's funeral ends with her parents and chaperone deciding to return to Mexico along with her bible. Seventy years later, 1847, Ciudad, Corazon, a young Isabel Ramirez enters the local mission wanting to read the bible on the altar. The padre forbids peasant hands from touching it, but she sneaks a look anyway. When she finds the english note inside, she's hit with a vision that prompts her to steal the bible back for her own family.
And in the present day, Moon Knight is hit with a sudden vision of Khonshu that drives him to have Frenchie fly him to California as soon as possible.
At Avengers Compound, Hank and Espirita put the finishing touches on a new robotic creation, Rover, a flying mini-vehicle with an AI of a talking dog, a solution that Hank hopes will make up for his previous mistakes in creating killer robots. He also tests out his new, more practical application for Pym Particles, shrinking and storing inanimate objects like tools and weapons rather than hazardously to his own body. With these new innovations, Hank Pym is ready to return to adventuring, not as a costumed superhero, but as plainclothed Doctor Pym. He and Bonita share a passionate kiss to celebrate his new lease on life.
And back in New Mexico, Dominus wonders if he's truly seen to the end of the Avengers.


Appearing in " "
Synopsis for " "
Appearing in "How I'll Remember You"
Featured Characters:
Supporting Characters:
Antagonists:
Other Characters:
Races and Species:
Locations:
Items:
Vehicles:
Synopsis for "How I'll Remember You"
See Also
Footnotes
---
---
Community content is available under
CC-BY-SA
unless otherwise noted.