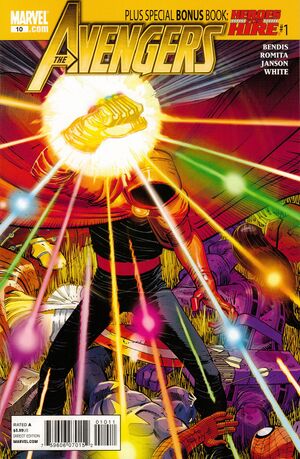 Textless
Previous Issue
Next Issue
| | |
| --- | --- |
| Beast | And if I may, in the future, two words: Kill switch. |
| Charles Xavier | I didn't want one, Henry. I didn't want the program able to be overridden. I had to keep the gem safe from all comers. |
| Beast | One wonders what other secrets you and your Illuminati are keeping to yourselves? |
Appearing in "Absolute Power"
Featured Characters:
Supporting Characters:
Antagonists:
Sea monster

(Only appearance; dies)

[1]
Other Characters:
Locations:
Items:
Vehicles:
Synopsis for "Absolute Power"
Synopsis not yet written.

Solicit Synopsis
The Infinity Gauntlet is back! And no power on the Earth can stop it! It is sentences like these that made Stan Lee invent the phrase: 'Nuff Said!! Another pulse-pounding, Earth-shattering chapter from Marvel's blockbuster superteam of Bendis and Romita Jr! Plus: Another illustrated chapter of the oral history of the Avengers!


Notes
Also reprints the entirety of Heroes for Hire Vol 3 #1.
Oral History of the Avengers was omitted, despite what the Solicit claims. Most likely it was replaced by H4H reprint.
This issue is reprinted in comics and books, see references for more info.[2]
See Also
Footnotes
↑

First and only known appearance to date besides flashbacks

↑ This issue is reprinted in the following comics/TPB's:
---
---
Reviews
So I only know three kinds of people. People that hate JRJR's art, people who love it, and people who don't know who he is.
I happen to be one of the ones who hate his art. And when I first picked up The Avengers new series, I almost put it back down right then and there based on the art alone. But the Kang and alternate future story arc quickly grabbed my attention, and I swore I'd be putting the book down just as soon as it was over.

Intrigued by the appearance of the then-unknown Red Hulk, I scanned Avengers Vol 4 #6, and found myself at the register. My old friend, Parker Robbins, had put all of his money into finding an Infinity Gem, and I was along for the ride.

So here we are, Parker has acquired two gems (as of #9), and is working on finding the rest. The Illuminati have been found out, and are being shadowed by The Avengers and the Secret Avengers as they attempt to protect the rest of the gems from being found.

While Issue 10 wasn't altogether anything special, it wasn't without it's greatness either. You get (SPOILERS) the toughest of the groups going to part of the ocean no other being could survive, others fighting the remnants of the Danger Room, and still others on lookout duty.

The issue builds up for a giant fight in the next one, but with multiple stories going on in the same book, with literally tens of characters appearing, there's no shortage of interesting bits in this series.

I will say that I thought that the conversation between Ant-Man (O'Grady) and Iron Fist (Rand) was a bit out of character for both of them:

Here is Iron Fist, a professional super-hero, and once CEO of his own Multi-Million dollar company, and O'Grady, a two-bit minor criminal who turns tail and runs every time things get tough. Firstly, why would they stick these two guys together, and secondly, why would O'Grady not give Iron Fist the respect he's earned over 30+ years or heroing? For that matter, why would Iron Fist put up with O'Grady's lack of respect? I don't even like Iron Fist, and I wouldn't be calling him anything less than sir while working with him for the first time. It just didn't read like a conversation between the two actual characters, but two random characters with no developed history instead.

Anyway, I enjoyed the issue, and don't expect to be putting down the series anytime soon, despite my dislike of the artwork.

— Nathan (Peteparker) (Earth-1218) (talk • contribs • email) 05:51, March 1, 2011 (UTC)