Previous Issue
Next Issue
—
—
Appearing in "The Fantastic Four"
Featured Characters:
Antagonists:
Other Characters:
Races and Species:
Locations:
Items:
Vehicles:
Marvel-1

(First appearance)

(Unnamed)

(Destroyed)

Fantastic Four's private jet


Synopsis for "The Fantastic Four"
Chapter 1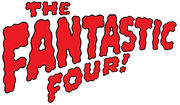 A shadowy figure fires a flare out of a window. The flare forms the words "The Fantastic Four!"[Continuity 1]
Susan Storm is having tea with a friend. When she sees the flare, she turns invisible, gets into a cab,[Continuity 2] and offers the surprised driver a banknote when she reaches her destination.
Ben Grimm is trying to find a coat that fits him. A clerk in the haberdashery sees the flare. Grimm bursts out of the too-small door, rips a manhole out of the street, follows the sewers, and bursts out when he thinks he has reached his destination. He is struck by a taxi which is wrecked.
Johnny Storm is working on his latest hot rod in a service station. The mechanic sees the flare, which turns into the number 4. Johnny bursts into flame and flies away, destroying his car. The authorities treat him as an enemy attack, so he reluctantly melts the jets that come after him. A nuclear heat-seeking missile locks onto him, and, just as Johnny's flame starts to fade, an impossibly long pair of arms grab the missile and throw it out to sea.
Johnny's savior is the same man who fired the flare. He greets Susan, Ben, and Johnny with the words, "There is a task that awaits us ... a fearful task!" But how did these four people become so fantastic?
To beat the Communists into space, scientist Reed Richards, sister and brother Sue and Johnny Storm, and pilot Ben Grimm sneak off into space in a rocket.[Continuity 3] In space, the four are bombarded by cosmic rays.[Continuity 4] The auto-pilot lands the ship back on Earth,[Continuity 5] where they find themselves physically transformed and possessing remarkable new abilities. Sue can turn invisible. Ben has transformed into an orange, muscular "thing" with super-strength.[Continuity 6] Reed's body became highly malleable, allowing him to stretch into any shape. Johnny's body bursts into flame, and he can fly. They decide to use their abilities to become the super-team known as the Fantastic Four. They give themselves the individual names Mr. Fantastic, Invisible Girl, Human Torch, and the Thing.[Continuity 7][Continuity 8]
(Chapter 2) The Fantastic Four Meet the Mole Man!
Atomic plants in the Soviet Union, Australia, and South America have been mysteriously attacked by cave-ins. Another attack occurs in Africa, where a huge monster burrows out of the ground but is recalled by a human figure. The Fantastic Four travel aboard their private jet to Monster Isle, which Reed has deduced is the same distance from each attack. There, they are attacked by a giant three-headed monster. Reed stops the monster, but a cave-in separates Reed and Johnny from Ben and Sue. Beneath the island Reed and Johnny land in the Valley of Diamonds, which temporarily blinds them. The Mole Man appears, revealing he is responsible for the attacks.
(Chapter 3) The Mole Man's Secret!
The Mole Man explains his origin. Having been ridiculed by humanity, he went off alone in search of the legendary land at the center of the earth. Eventually, he washed ashore on Monster Isle. Making his way through a cavern, he was caught in an avalanche and rendered almost blind.[Continuity 9] However, due to his other heightened senses taking over, he mastered the subterranean creatures[Continuity 10] and built himself an underground empire.
Meanwhile, on the surface, Ben wrestles a rock monster. Ben and Sue find their teammates listening to the Mole Man's plan to invade the surface world. He sends his monster army against the Fantastic Four. Whilst Johnny distracts the biggest one, the team flees through a tunnel, which Johnny seals shut behind them. After the Fantastic Four escape in their jet, Mole Man destroys the island so the surface world cannot trouble him again.[Continuity 11]


Appearing in "A Blind Man Shall Lead Them!"
Featured Characters:
Supporting Characters:
Antagonists:
Other Characters:
Locations:
Items:
Vehicles:
U.S. Nuclear Sub Sea Hawk
Synopsis for "A Blind Man Shall Lead Them!"
Continued from last issue...
Having survived the Q-Bomb set to explode by the Frightful Four but lost at sea, the Fantastic Four are pulled from the Pacific by a US Navy submarine crew. Taken to the infirmary, Reed talks in his sleep about their defeat at the hands of their evil counterparts. When the Fantastic Four finally awaken from their ordeal they are shocked to find that the radiation from the Q-Bomb blast had stripped them of their powers. Upon their return to the United States, Reed conducts a bunch of tests that prove conclusively that they no longer have their powers. Fearing their enemies may strike them when they are at their most vulnerable, he begins designing technological replacements for their powers. Johnny is given a flaming suit, Ben a robotic duplicate of his Thing form, an Electro-Vibro suit for Sue that gives her a protective force field, and mechanical limbs for Reed that can extend. However these devices have a massive learning curve leaving the team to wonder if they will ever be ready when their next foe attacks them.
Meanwhile, in Latveria, Doctor Doom is being entertained by a hypnotist who reveals that Doom's perceptions have previously been altered by hypnosis. When the hypnotist reverses the mental block, Doom realizes that he was tricked into thinking he had destroyed his enemy Reed Richards. Deciding to get revenge right away, Doom leaves at once for New York City.
While back in America, blind lawyer Matthew Murdock meets with the Fantastic Four to sign some power of attorney documents. He is shocked to find the Fantastic Four have lost their powers and are testing out their new mechanical devices. Suddenly they are attacked and in the confusion Murdock slips away to change into his costumed identity of Daredevil. The FF and Daredevil soon see their attacker: Doctor Doom, who has landed his craft on top of the Baxter Building. Their foe then sends the Fantasti-Car after them. Abandoning their mechanical devices, they are led away to safety by Daredevil into a nearby tenement building. They are soon flushed out by Doom who unleashes a whirlwind device that demolishes the derelict building. After knocking out the whirlwind with gas tanks, they continue to make their way to their headquarters.
When Doom unleashes a flying force beam projector, Daredevil puts his life on the line to destroy it. He then provides a distraction by trying to reach the Baxter Building by tightrope walking across a line to the building, the Fantastic Four try to sneak into their headquarters.
This story is continued next issue...


Appearing in "The Battle of the Baxter Building"
Featured Characters:
Supporting Characters:
Antagonists:
Other Characters:
Locations:
Items:
Vehicles:
Synopsis for "The Battle of the Baxter Building"
Continued from last issue...
Doctor Doom has taken over the Baxter Building in an attempt to get revenge on the now powerless Fantastic Four who are rushing the building along with their ally Daredevil. Doom launches a mobile "TV Eye" device to try and locate the members of the Fantastic Four among the crowd of New Yorkers below. Quick thinking, Daredevil converts his billy-club into a one bullet shotgun and blasts the TV Eye out of the sky before leaping onward. By this point, Johnny and Sue have commandeered a taxi cab and picked up Reed. When they arrive at the Baxter Building they find the police have cordoned off the area. They are allowed access to the lobby but are instantly attacked by the various defenses in place that are now under Doom's control. However, while Doctor Doom is distracted with the Fantastic Four in the lobby, he is unprepared when Daredevil sneaks in through one of the windows.
While Doom is distracted with Daredevil, the Fantastic Four are reunited with Ben and they take the elevator up to their headquarters. Doom tries to stop them, but the FF manage to escape the trap thanks to Daredevil's continued interruptions of Doom's attempt to kill them. Needing to get something from his lab, he sends Sue, Johnny and Ben to help Daredevil distract Doom. Reed recovers the Stimulator he used on the Skrull homeworld and uses it on himself to restore his powers. He then uses it on Sue and Johnny who use their newly returned powers to keep Doom at bay. Doom tries to incapacitate the group with a freezing device, but the Torch uses his flame powers to cause the machine to explode. As Doom flees into the next room, Reed has no choice but to use the Energizer device on Ben, despite his protests. Transformed into the Thing once again, Ben follows after Doctor Doom and stops him before he can activate a powerful weapon that will decimate the entire block.
Furious over his recent transformation, the Thing pushes through various traps and weapons at Doom's disposal. When Ben finally gets his hands on his foe's hands, he crushes them and then disables all the devices on his armor with his bare hands. With Doom humiliated and defeated, the Fantastic Four allow him to limp away. With the battle over Ben shocks the whole team by informing them that he is quitting the Fantastic Four, having finally become fed up with always getting the raw deal in the group.
This story is continued next issue....


Appearing in "This Man... This Monster!"
Featured Characters:
Supporting Characters:
Antagonists:
Other Characters:
Races and Species:
Locations:
Items:
Synopsis for "This Man... This Monster!"
Detailed Summary:
Roaming the streets, the Thing is offered a place to stay by a man who has become very interested in him. While Ben sleeps the man uses a device to transfer Thing's powers to himself and goes to the Baxter Building posing as the Thing in hopes of eliminating Reed Richards based on the misconception that Reed makes his discoveries for the glory.
When Ben wakes up to realizes that his powers are gone, he tries to warn Reed that the Thing that's with him is an impostor. The team believes that Ben is really the impostor and dismisses him from the Baxter Building. Meanwhile, at College, Johnny and Wyatt get involved in a squabble with football star Whitey Mullins. It is broken up by Coach Thorpe, who realizes that Wyatt's father used to play on the Metro College football team. He offers Wyatt a position, but Wingfoot refuses.
While back at the Baxter Building, Reed tests out his newest invention: a portal to the Negative Zone. Traveling in this anti-matter universe, he has the "Thing" hold the tether so that he is not lost in the realm. When the tether breaks, the Thing impostor changes his opinion of Reed Richards. He realizes how selfless Reed is and jumps into the Negative Zone portal to save him. Throwing Reed back through the portal into the positive matter universe, he perishes at the energy barrier that separates the positive and negative matter universes.
Elsewhere, the human Ben Grimm is about to visit Alicia to show her that he is back to normal and propose to her. When he knocks on the door, however, he realizes that he has changed back into the Thing. Fleeing the scene he returns to the Baxter building where Reed and Sue realize that the friend they were just mourning is actually still alive and well. The impostor that was posing as him -- whoever he was -- had died a hero.


Appearing in "The Long Journey Home!"
Featured Characters:
Antagonists:
Locations:
Items:
Vehicles:
Inhumans Flying Saucer

(Destruction)




Synopsis for "The Long Journey Home!"
With their flying saucer destroyed, the Fantastic Four become the targets of the Mad Thinker and Puppet Master's latest scheme to get revenge on the Fantastic Four, this time using android duplicates of the FF's various foes. The FF (and Crystal) battle android versions of Kang, Dr. Doom, the Kree Sentry, Dragon Man, Namor, Hate Monger, Diablo, the Super-Skrull, Red Ghost and his Super-Apes, Wizard, and the Sandman.
With all the duplicates defeated, the two villains attempt to send their next one modeled after the Hulk to attack the heroes. However, it proves to be too good a facsimile, and it ends up destroying their base with them still inside. The Fantastic Four then hitch a ride back to the States with the Air Force.


Appearing in "The Alien, the Ally, and-- Armageddon!"
Featured Characters:
Supporting Characters:
Antagonists:
Other Characters:
Races and Species:
Locations:
Items:
Vehicles:
Synopsis for "The Alien, the Ally, and-- Armageddon!"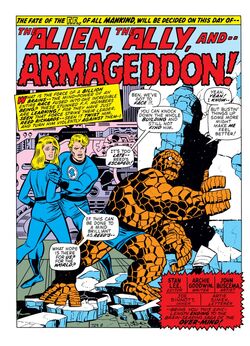 Detailed Summary:
The remaining members of the Fantastic Four are reeling after their battle with their leader Mister Fantastic, who is now in the thrall of the Over-Mind. While trying to figure out what to do next, they are interrupted by an alarm from one of Reed's machines. They quickly realize it was a machine Reed had slipped through to escape them. Upon examination, they learn that it would have bombarded their leader with enough radiation that would allow them to track him. With a tracking device, Johnny and Ben head outside of the Baxter Building but are barred by an angry mob led by their landlord, Walter Collins. Collins has brought the authorities and demanded that they arrest the Fantastic Four for refusing to vacate the premises after his failed attempts to evict them. Fed up and with no time to waste, Johnny sends the crowd fleeing with his flame powers, and Ben leaves the cantankerous Mr. Collins suspended from a bent-over sign post. Continuing their search, Ben and Johnny are taken into the New York City sewers on their way to find Reed and the Over-Mind.
At the junkyard that serves as the Over-Mind's hideout, the alien finds that Reed Richards is resisting his attempts to mentally control him. As the Over-Mind increases his influence, Reed tries to keep his enemy out of his mind by reciting complex equations. When this becomes too difficult, he attempts to focus his mind on his wife and child. Before he can re-establish full control over Reed, the Over-Mind is attacked by the Thing and the Human Torch, who have just arrived on the scene. Seeing this battle on a view screen at the Baxter Building, Sue rushes to their aid in a one-person craft and tries to lend a hand in battle. All is lost when Ben and Johnny are defeated in combat, and Reed is once more taken under the Over-Mind's control. Unwilling to fight her own husband, Sue flees the scene to find allies that she hopes will assist her in saving the world. Her first stop is Avengers Mansion where she learns from Jarvis the butler that the Avengers are busy on another mission. [2]
Now Falls the Final Hour!
Searching the city of New York for other heroes who could help fight the Over-Mind, Sue can locate none of the Fantastic Four's previous allies. Feeling that all hope is lost, Sue lands her ship to lament over the situation. She is suddenly contacted by a mystical projection of Agatha Harkness and her son Franklin. Agatha tells Sue that there is only one person who can help Sue save the world. Sue is shocked when the old witch conjures up the image of the Fantastic Four's old foe Doctor Doom. With no other options left, Sue flies to the Latverian embassy. When the guards refuse to let her in, Sue crashes through a window and confronts Doom directly. Initially, the Doctor refuses to help, as he enjoys seeing his greatest enemies brought low. However, when Sue reminds him that the Over-Mind intends to take over the entire world, she suggests that he is afraid of facing the Over-Mind. This finally convinces Doom to get involved. Doctor Doom then orders Sue to take him to the Baxter Building and Reed's lab.
Back in the junkyard, Johnny and Ben have been defeated by the Over-Mind and Mister Fantastic. The invader then leaves with Reed to enthrall others in the city still not under his control. Ben and Johnny are revived by Doctor Doom, and they almost come to blows before Sue stops them to explain their uneasy alliance. They track down the Over-Mind as he and Reed are rounding up people to be enslaved. When the Fantastic Four and Doom attack, the Over-Mind attempts to use his mental powers but has them redirected back to him by Doom's psionic-refractor device. Although this device initially manages to stagger the Over-Mind, the alien catches Doom off guard and bombards him with mental attacks and eventually overloads the device. With Johnny, Ben, and Sue incapacitated, it appears that the Over-Mind will finally succeed in his quest to conquer the Earth. But the Over-Mind is suddenly shocked when the cosmic being known as the Stranger suddenly appears before him.
Meanwhile, Sue continues to struggle with her mind-controlled husband, who continues to overpower her. As he begins to squeeze the life out of her, Sue tries to remind Reed of their child, and the thoughts of Franklin cause Reed to fight free of the Over-Mind's control. Meanwhile, the Strange and the Over-Mind begin to clash. The Stranger tells the Over-Mind that he was created by the people of Gigantus to counteract his threat. Unwilling to believe this, the Over-Mind is no match for the Stranger and is soon shrunken down to the Microverse where he can be a threat to nobody. The Stranger then departs from Earth, returning to the stars from which he came. As the Fantastic Four recover from the battle, Doctor Doom departs from them, telling them that, when they meet again, it will be as enemies once more. Johnny is upset that they were unable to defeat the Over-Mind without the intervention of the Stranger, who could have done the job anytime he wanted and storms off. The rest of the Fantastic Four are then visited by the Watcher, who explains to them that their battle drew the attention of the Stranger after forcing the Over-Mind to unleash his power battling them. Without that, the Over-Mind would have been able to take over Earth and many other worlds before being noticed by the Stranger.


Appearing in "Improbable As It May Seem--The Impossible Man Is Back In Town!"
Featured Characters:
Supporting Characters:
Antagonists:
Other Characters:
Races and Species:
Locations:
Items:
Synopsis for "Improbable As It May Seem--The Impossible Man Is Back In Town!"
Ben Grimm has changed back into the Thing, when wondering why they all realize that during their battle with Galactus, Galactus had sensed something wrong and "punished" Ben Grimm, they realize that what he did was change him back into the Thing after his short time of being changed back into human form. This combined with the Human Torch's teasing and the fact that they are also bringing the Impossible Man back to Earth gets Ben angry. When the ship they are piloting begins to head toward the Earth at a fast speed. In trying to grab the break, Ben underestimates his strength and breaks it making the ship to continue to speed toward the Earth.
With the Impossible Man deciding only to sit by and watch, the ship plummets toward Central Park. With the help of the Human Torch creating a updraft of hot air to slow their fall the Fantastic Four crash into a lake and survive drowning thanks to Sue's invisible powers. With the rocket a wreck, the group decides the only way to make it to the Baxter Building is by cab. After some trouble getting a cab (necessitating Sue to turn invisible to give the illusion that there is one less passenger in the car), their ride crashes when the cabbie is startled by the Impossible Man showing off his powers. As the other Fantastic Four are busy calming down another one of the Thing's temper tantrums over the traffic accident the Impossible Man would wander away and become interested in the Marvel Comics office.
Inside, Stan Lee is under distress because they haven't been able to get a hold of the Fantastic Four for weeks and the deadline for next months issue is coming up. Impossible Man, listening in on the conversation teleports into the room and is very intrigued and asks them to do a comic book about him. Jack Kirby begins drawing up thinking that the character would be perfect in his Eternals or 2001 series, however Stan recognizes having already done a story about the Impossible Man and how it was unpopular with readers.
This angers the Impossible Man who goes on a rampage, using his powers to imitate various super-heroes to show them that he is worth having his own comic book. The Fantastic Four eventually track down the Impossible Man and storm the Marvel Comics office to try and get the Impossible Man under control. Unable to catch the Impossible Man, they learn why he is on a rampage and Mr. Fantastic grabs Stan Lee and has him promise to devote an entire comic book to the Impossible Man, pleasing the imp enough to stop his rampage. With the rampage over the Fantastic Four are alerted to a classified ad in the newspaper advertising auditions for a new member of the Frightful Four being conducted at the Baxter Building. As they rush out Roy Thomas asks Stan if they can get started on the Impossible Man story, Stan tells him to forget it because he agreed to it under a moment of distress.
The Fantastic Four rush to the Baxter Building with the help of the Impossible Man and learn that the advertisement is true, the Frightful Four are at their base awaiting potential members to come and audition and they have a trap prepared for the Fantastic Four as well.


Appearing in "Terror in a Tiny Town"
Featured Characters:
Supporting Characters:
Antagonists:
Other Characters:
Races and Species:
Locations:
Items:
Vehicles:
Synopsis for "Terror in a Tiny Town"
Part 1: As I Lay Dreaming... Reed Richards, Ben Grimm, Susan Storm and her younger brother Johnny all sneak onto a military facility so they can launch Reed's new experimental rocket before the government can cut their funding. After blasting into space they are about to activate the new experimental Star Drive, but are suddenly bombarded with Cosmic Rays. As the ship hurtles back toward the Earth, Johnny feels like he is about to burst into flames while Ben becomes so heavy he can barely lift himself from the the floor. Just as the rocket crash lands on Earth and explodes....
... Johnny Storm awakens to discover that it was all just some crazy dream and that he is safe and sound in his home in the quiet town of Liddleville. Realizing that he has to start get ready for work, Johnny thinks to himself about how simple and happy his life is and wonders if he should talk to his sister and her husband about the strange dreams he has been having. When he arrives at the Richards home, he does so just as Reed is leaving to the university to teach class, almost forgetting his lunch in the process. Sue tells her brother that Reed has been acting very absent minded of late and suspects it's because Professor Vaughn has been giving Reed so much grief lately, on top of these strange dreams that Reed has been having about he and Ben Grimm taking a rocket flight. Shocked by this similar dream, Johnny debates telling his sister of his own, but decides against it.
Johnny then continues on his way to the garage, passing by Ben Grimm's bar where he waves to his old friend. Ben is soon joined by his wife Alicia, and after a tender moment where Alicia remarks how weird it is that she is so happy to be able to see her husband the pair share a kiss. Across the street is Alicia's step father, Phillip Masters, who is pleased by the what he sees as things are going according to plan. He finishes sweeping the front steps of his toy shop and then returns inside. Later that evening, Sue and Reed are retiring for the evening. Sue asks Reed if he got any more grief from Professor Vaughn, Reed remarks that he actually spent the day talking to Professor Singh about his problem, as he has come to believe that Vaughn is paranoid. Sue goes to sleep shortly thereafter and begins to have a powerful nightmare...
Sue is in a meeting with Reed, Ben and her brother Johnny. Ben is warning Reed about the potential dangers to his rocket flight that might be posed by cosmic rays in space. Reed tells Ben that the dangers are worth the risk for the sake of science. When Ben continues to warn Reed against this plan, Sue calls Ben a coward. This angers Ben, who suddenly begins to transform into a misshapen monster. Starting with lizard like skin, Ben's form continues to mutate into a rock-like form as he tries to attack Reed. Much to Sue's continued horror, Reed is able to stretch his body and use it to try and subdue Ben. But Reed is no match for Ben's strength. When Johnny tries to smash a chair over Ben's monstrous form is has little effect. In retaliation, Ben grabs a burning log from the nearby fireplace and thrusts it into Johnny, causing him to catch on fire, but with no apparent harm to himself....
Sue wakes up screaming, Reed asks his wife what is wrong, but she dismisses the experience as a bad dream and goes to check on their son Franklin. Reed also begins getting out of bed, concerned for his wife and also with the doubts over his ability, wondering if Professor Vaughn is correct in his assessment that he truly incompetent after all. At lunch time the next day, Reed and Johnny have a meal together at Ben's bar. There they share their recent bad dreams. Ben tells them how in his, all four of them have super-powers: Reed can stretch, Johnny can burst into flame, Sue can turn invisible, and he himself has super-human strength. Ben remarks that the strangest part of his dream is that he and Alicia are not married, and that Alicia is actually blind. When Reed begins comparing the similarities between their dreams, this line of conversation is interrupted by the arrival of Phillip Masters and Alicia.
Later when Reed returns to work at the university, Professor Singh shows Reed the school's latest addition: A LeSalle-Devaney Particle Accelerator. Reed marvel's over it's ability to recreate any form of radiation and can't wait to begin experimenting with it. However these hopes are quashed thanks to the arrival of Professor Vaughn, who tells Richards that he is forbidden from using the device as he is too incompetent to operate it. As Reed walks away defeated, Professor Vaughn gloats silently over his victory. Reed returns to his classroom where he begins trying to figure out what connection their strange dreams he and his family have been having. Focusing on this thoughts, Reed begins to drift asleep, and suddenly he remembers: He and his family are members of the Fantastic Four. He recalls the rocket flight that endowed them with their powers. He also remembers recent events when the team last returned to their Baxter Building headquarters. Suddenly they felt compelled to gather up their things and take Franklin with them into the Fantasti-Car and fly out to a castle out in upstate New York. There they found they were enthralled by their old foe the Puppet Master, and his mysterious employer....
.. Before Reed can remember who the Puppet Master was working for, he falls backward out of his chair and wakes up from the fall. Deducing that the Puppet Master somehow transferred their minds into robot bodies, Reed decides to test this theory by cutting open his arm with a scalpel. Reed is shocked with the sudden pain that causes him to black out, splayed out on the floor or bleeding out.
An hour later at the Richards home, Sue is entertaining Ben, Alicia and Johnny, and they are worried why Reed is late. When Richards finally returns home he explains to them what has happened but they are reluctant to believe the truth, but Reed refuses to give up on making them believe the reality of their situation. A day later, Phillip Masters is opening his store for the day when he is suddenly attacked by Ben Grimm who is furious that Masters would manipulate them so deeply. With the threat of more violence, Phillip tells them that their bodies are in synth-clones and that he had created all this for Alicia's benefit. When Reed asks the Puppet Master who employed him, that employer speaks up, making his presence known to his foes. Looking up into the night sky of Liddleville, the Fantastic Four are surprised to see the towering foe of their greatest enemy of all, Doctor Doom.
Part 2: If This Be Doomsday!
Liddleville is actually a miniature town within the American castle of Doctor Doom. The former monarch of Latveria stands over the small town which is surrounded by machinery hooked into the minds of the real bodies of the Fantastic Four, young Franklin Richards, and Alicia Masters. Doom explains his plan to trap the Fantastic Four in Liddleville in bodies without powers as the ultimate revenge. He explains that he was controlling the body of Professor Vaughn the whole time as a means of further taunting Reed. With his explanation complete, Doom departs leaving the Fantastic Four to their fate so that he can focus his attentions toward regaining the Latverian throne.
Taking Phillip back to their home, Reed continues to interrogate him for answers. They learn that both Doom and Masters transfer in and out of their duplicate bodies -- actually robots instead of synth-clones like the FF -- using a special ring. Upon closer examination they find that the ring's ability to recall a mind to its original body has been terminated. As Reed and Ben talk it over, Phillip manages to slip away and escape out the front door. When Ben finally realizes it, Reed tells them that the Puppet Master is not important, getting back to their original bodies is. While Reed begins working on a plan, everybody goes to sleep for the night. The next morning at breakfast, Alicia arrives at the Richards house and tells them that she and Ben had an argument. Ben had come to believe that their entire marriage in Liddleville was a sham and a perversion cooked up by Doctor Doom and the Puppet Master and storm off into the night. Reed goes out looking for Ben tells Reed that he had decided that he does not want to go back to his old life, because even though Liddleville is a lie, at least he has his normal body back and he and Alicia can have a normal relationship. When Reed tries to rally Ben and convince him that what they are doing is more important than anything, Ben chooses not to listen. Unable to get through to his old friend, Reed decides to leave and continue on with his plan without Ben Grimm at his side.
Later at the university, Reed, Sue and Johnny break into Professor Vaughn's office and find the inert robotic body used by Doctor Doom during his time as "Vaughn". There they find a key to the LeSalle-Devaney machine where Reed hopes to recreate the cosmic radiation that gave them their powers. As Reed starts up the machine, he decides that he is going to test it on himself first, when suddenly they are interrupted by Ben who has come up with a change of heart and offers hismelf to test it instead. Reed explains that the process will actually give them increased powers more in line with their actual human proportions. Ben steps into the machine and is transformed into the Thing once again. When Alicia enters the room, Ben is horrified and tells her to go. Physically seeing Ben as the Thing for the first time, she reassures Ben that his appearance means nothing to him and that she loves him no matter what he looks like, just like when she was blind.
Hours later, Johnny goes to the edge of Liddleville where he is stopped by an army of Doom's Servo-Mechs, but they are caught off guard when Johnny flames on and they are ambushed by the rest of the Fantastic Four. Using their powers in tandem to leave the confines of Liddleville, Reed pilots them to the power supple where he hopes to restore their minds to their proper bodies. But they find that the power supply unit is gone and they need to lure Doom into their clutches. To this end, Reed has Ben pull an electrical wire from Liddleville's computer systems and they break free the water from the river. When no alarms sound, Sue convinces the rest of the team to let her go out and seek Doom herself. Sue attacks Doom as he is playing the piano with his mask off, but he manages to pin her under a drinking glass. Putting back on his mask, Doom goes in to look on his prisoners.
Spotting the exposed wires in the flooded room, Doom blasts it with his gauntlet, unaware that Reed had anticipated this and the energies used have begun charging the Liddleville device. The three remaining members of the Fantastic Four then ambush Doctor Doom, tripping him over. When Doom reaches out for purchase, he grabs hold two ends of a circuit that Reed constructed that not only jolts Doom with electricity, completes the process of returning the Fantastic Four, Alicia and Franklin to their original bodies. In the aftermath of the battle, the Fantastic Four find the inert body of Doctor Doom laying on the floor. Reed decides that they should take Doom back to their headquarters until they can turn him over to the Latverian embassy.
As the Fantastic Four leave Doom's castle, they are unaware that they are being watched by Doctor Doom himself, whose mind fled into the body of Professor Vaughn. Doom then plans to wait until his hated foes are off guard before he activates the ring to return himself to his original body. But before he can do so, a rock hits the ring, damaging it. Doom is then shocked to see that Phillip Masters has gathered up all the mock-citizens of Liddleville into a lynch mob. Angered that Doom foiled his plans to make his step-daughter happy, Phillip Masters thirsty for revenge. Doom is then sent fleeing into the countryside of Liddleville, an angry mob of faux-citizens chasing after him from behind.


Appearing in "A Small Loss"
Featured Characters:
Supporting Characters:
Antagonists:
Other Characters:
Locations:
Items:
Vehicles:
Synopsis for "A Small Loss"
With Sue and their unborn child in mortal danger due to their unique physiology, Reed Richards has just learned that the only man who might be able to save their lives is Otto Octavius, the super-villain known as Doctor Octopus. As they discuss their options, She-Hulk assesses the situation, recalling how she just recently joined the team following her involvement in Secret Wars, and how Sue has collapsed due to the complications caused by her impending birth. Reed tells the other doctors that he will not consider letting a psychotic like Octavius near his wife. This raises questions with Dr. Morbius, who was once a living vampire. Banner points out that Morbius and his own condition before he learned to control his transformations into the Hulk are different when compared to Octavius. Banner recounts how Otto was a brilliant scientist who developed his mechanical arms before a nuclear explosion drove him criminally insane, becoming a regular Spider-Man villain known as Doctor Octopus. After some consideration, Reed decides that he should at least take the chance to deal with Doctor Octopus at the psychiatric clinic he has been remanded to. After checking to see how Sue is, he kisses her goodbye and heads off to try and convince Octavius to help save her and his unborn child.
Stretching his body over to the Baxter Building, Reed quickly boards the Fantasti-Car and heads to the Brooklyn Psychiatric Facility where Doctor Octopus is being held. There, he convinces the head administrator Doctor Jefferson to allow him the opportunity to see Doctor Octopus. Jefferson takes Richards to Otto's room. Using some quickly learned psychiatric techniques, to the surprise of Jefferson and the other doctors, Reed manages to explain his situation and get through to Doctor Octopus. Shedding a tear over Richards' plight, Doctor Octopus agrees to help him try and save his wife and unborn child. Jefferson thanks Richards for help and they leave to make arrangements to have Otto released into Reed's protective custody. As they leave, one of the doctors goes looking at the arts and crafts that Otto was working on before they entered, finding a link of octopi cut out of paper.
Soon Reed and Otto are racing back to the hospital in the Fantasti-Car, along the way Otto happens to see a Daily Bugle advertisement with an image of Spider-Man. This causes Otto to feel unwell. Miles away at a secure facility, the arms of Doctor Octopus spring to life and begin fighting off the police officers tasked with containing the deadly weapons. They break loose into the city and attack Mister Fantastic just as they near the hospital. As Otto tries to sort out his conflicting thoughts, Richards fights for his life against the mechanical arms. When he is finally pinned, the arms pull Otto toward them and, upon putting on his harness again, Otto's criminal mind is completely restored. Doctor Octopus then tries to kill Reed Richards, but Reed fights back. Reed quickly comes up with a way to stop his foe: stretching his hands, he plugs up the manual controls of Otto's harness, rending the arms useless. With time running out, Reed makes one final appeal to Octavius to help him save Sue and their child. Reed finally convinces Otto to help.
Later at the hospital, Johnny emerges from inside in tears, unable to believe what has happened. He is soon met with Alicia who comes to his side and provides him comfort in his moment of grief. Reed soon arrives with Doctor Octopus, and when Johnny begins to stutter over what happened, he rushes into the hospital for answers. Inside, Reed is told by one of the doctors that Sue went into labor shortly after he left and that, while they were able to save Sue's life, the baby died.


Appearing in "Remembrance of Things Past"
Featured Characters:
Supporting Characters:
Antagonists:
Other Characters:
Locations:
Items:
Vehicles:
Synopsis for "Remembrance of Things Past"
The Thing has returned to Yancy Street where he bumps into a lost tourist and warns him that this isnt' a great neighborhood to get lost in. Naturally, the man from out of town is frightened by the Thing's appearance and bolts out of the nieghborhood. As Ben walks through the old neighborhood his mind drifts back to when he was a child....

He thinks back to when he earned the ire of local shop keeper Hiram Sheckerberg when he threw rocks at his store. Hiram just about dragged young Ben Grimm to his family's apartment if his brother Benjamin hadn't interrupted and offered to pay for the damage. Scheckerberg slapped the money out of Daniel's hands, uninterested in money that was ill gotten through crime. Taking offence to this, Daniel Grimm was about to pummel the old man, but young Ben Grimm intervened. Ben got off the hook by offering to work weekends for Scheckerberg in order to pay for the window. He also thinks about the time he saw his brother after a gang fight. Daniel told Ben that you had to fight for what is yours otherwise someone will take it from you, telling him that Yancy Street belongs to them. When Ben expressed an interest in the stars his brother told him that the Grimms were strictly street level people. This leads to Ben thinking about the night his brother Danny died in a gang fight. His father was off at the bar again. When Ben tells his mother that he will look after her like his brother did, the office who is on the scene tells Ben to stay out of the trouble that his brother got into. When the officer tries to console Ben by telling him that God took Danny to a better place, Ben wonders why he left them here. Thinking ahead of time, Ben recalls how when he was a teenager he stole the Star of David owned by Hiram Schekerberg as part of his initiation into the Yancy Street Gang.
This ends Ben's recollection of the past as he pulls up to Scheckerberg's pawn shop, which is still in operation. Going inside, the Thing is surprised to see Hiram come up to him with a baseball bat shouting about not being intimidated. Although Schekerberg recognises Ben, he thinks that he has come to rough him up and break his merchandise as part of a protection racket. Although Ben clumsily wrecks some things, he gets the apparent truth from the increasingly agitated Sheckerberg about his old gang apparently threatening his store. Ben tells Hiram that he is no longer part of the Yancy Street Gang and offers to deal with the problem for him. Hiram agrees to anything that will get Grimm out of his store and stopping him from accidentally wrecking anymore merchandise. As Ben goes outside he begins to think back to his final days with the Yancy Street Gang...
Ben's parents had just died and he was forced to move in with his uncle Jacob uptown. Unwilling to live apart from Yancy Street, Ben returned to the old neighbourhood and attempted to call a meeting. Instead of a warm greeting, Ben was pelted with garbage and called a traitor for leaving the neighbourhood.
Ben's recollection is cut short when he is pelted by real life garbage by the real life Yancy Street Gang. This only makes Ben angry, but they manage to catch him off guard when it appears that he has been shot by high enough calibre bullets to pierce his rocky hide. However Ben soon realises that he was actually hit by harmless paint balls. He is then struck with a stink bomb and sprayed with a fire hose. Ben rushes back inside Sheck's pawn shop for cover and tries to convince him that he has the Yancy Streeters under control. However inside he finds the real protection racketer, an super-villain calling himself Powderkeg, whose explosive punch knocks Ben right outside of the shop and back out into the street. The two begin to fight it out, but Ben is distracted by Sheck who comes out to heckle them for fighting in the street. This allows Powderkeg to blast Ben and also seemingly slay the elderly Jew with a smaller blast. Ben recovers and resumes the fight, with some unexpected help from the Yancy Street Gang. While the Gang distracts him with their usual pranks, Powderkeg is easily incapacitated by the thing.
Checking on Hiram, Ben begins to think that he is dead and begins reciting a Jewish Kaddish over his body. However Hiram wakes up very much alive. Hiram is impressed that Ben hasn't forgotten what he learned in Temple over the years. This follows into a discussion about Ben's faith and how he doesn't talk about how he is Jewish to the press. Eventually Ben explains the reason he has come is to return Hiram's Star of David on what he thinks is the Day of Atonement. Hiram appears momentarily touched but then reams Ben out for it being the wrong day and time. But he says the main reason why he cannot forgive Ben is because there is nothing to be forgiven since Ben manage to leave his life as a petty hood behind and make something of himself. Hiram then theorises that the reason that Ben continues to return to Yancy Street and let the old gang torment him is because he feels guilty for moving on with his life and leaving them behind. Also because Ben is a protector, reminding Ben of the Jewish myth of the Golem and how Ben somewhat resembles the mythical creature. Hiram then tells Ben to protect his Star of David for some time. Soon after Hiram goes back to his crotchety behaviour after assessing the damage done to his shop. When Ben offers to pay for the damage, Hiram refuses but later accepts Ben's offer to come down and work for the old pawn broker in exchange for the damages.
Finally the authorities arrive and when Ben is about to haul off Powderkeg to the police, the villain asks if he is really Jewish. When Ben confirms this and asks if Powderkeg has a problem with it, the villain says he doesn't, he just thinks that the Thing doesn't look Jewish.


Appearing in "Inside Out"
Featured Characters:
Supporting Characters:
Antagonists:
Other Characters:
Races and Species:
Locations:
Items:
Synopsis for "Inside Out"
The advertising department of Fantastic Four Incorporated is holding a meeting to discuss a slump in popularity for the group. They have brought on a public relations managed named Mister Shertzer to help boost their profile. Shertzer is unsure what he can do since he's only previously worked with rockstars and this is the first group of superheroes he's represented. The head of the department then suggests that Shertzer meets the Fantastic Four...
Sunday
This proves to be quite the stressful ordeal as Shertzer finds himself caught between the Human Torch and the Thing who are bickering on board a vessel that the Fantastic Four have piloted into the Leviaverse. There the Fantastic Four locate what they are looking for: a massive Datavore which Reed believes will contain all the information he needs to know about this newly discovered dimension. Shertzer stays aboard the ship with Sue while Reed and the others touch down on the Datavore and battle the insectoid creatures that are protecting it. While they fight off the creatures Sue joins them and grosses out Johnny by describing her attraction to Reed. Eventually the insects are repelled and Reed obtains the data that he is looking for. With their mission over they return to the ship and talk about ice cream. Completely dumbfounded by the experience Shertzer asks if they always do -- whatever it is they were doing -- all the time. Sue jokingly refers to the entire episode as merely a "Sunday drive". When they return to the Baxter Building on Earth they are greeted by Franklin who is excited to see his parents have returned. Reed gives the boy a present from their trip: a macroatom. Shertzer is also shocked to learn that Reed and Sue's younger daughter is being babysat on the moon. Sue questions Reed's need to hire Shertzer to boost their PR, but Reed explains that it is necessary in order for them to maintain their lifestyle as the licensing revenues help fund their operations and day-to-day life. As the Fantastic Four contemplate this they are unaware that one of the Leviote creatures had stowed away on their ship and is now skittering around the hanger of the Baxter Building.
Monday
The following day Shertzer is having yet another stressful experience as he is held aloft high above the city while the Human Torch and Sue inspect damages done to their security systems by the Mad Thinker. While this height frightens the PR man, Sue and Johnny nonchalantly discuss Johnny's recent break-up. Sue tries to calm Shertzer down by proving her invisibility powers are safe by turning him partially invisible, but this only frightens him more. When Sue presses the issue of Johnny being more responsible and tries to make an offer for him he quickly changes the subject and flies away.
Tuesday
Shertzer reports back to Mr. Webber about his experiences with the Fantastic Four, explaining how unnerving it is to listen to Mister Fantastic's body stretch as he tries to contain a spill of anti-gravity fluid at the Cause Cerebral event. As the Fantastic Four save some scientists from floating into space, he explains how he is going to have a hard time trying to sell the group as famous family like the Kennedy's, and demands that if he succeeds in his task he deserves a double promotion. Once the crisis is over, the rest of the Fantastic Four note that this is the first year that Reed was not invited to participate and wonder if this is the reason why Shertzer was hired. When they question him, he tells them he doesn't know the real reason why he has been employed by the Fantastic Four. As the day progresses and the Fantastic Four battle the Skrulls and later help an African village with a strange alien plant, Shertzer begins to think about the groups dynamics and wonders how they are able to do what they are doing. This report is read by the Thing who has been looking over Shertzer's shoulder and he asks what Shertzer thinks. When Shertzer replies that its because they are superheroes, Ben just laughs and walks out of the room.
Wednesday
Shertzer is spending time in Manhattan with the Thing who answers Sherterz questions about his feelings about being merchandised. When he learns that a rapper is writing songs about him Ben doesn't think rap is music at all. This opinion quickly changes when they incidentally bump into the rapper himself and learns that he is a huge fan of the Thing. The musician passes Ben a copy of his CD, titled "Clobberin' Time" . Ben is flattered when the rapper and his friends sing one of their songs. Ben still isn't convinced but decides that its way better than hearing woman scream in terror at the sight of him....
Thursday
.... However by the next day the Thing is singing the lyrics to himself while he sits down to read a book...
Friday
Sue and Reed are out at a museum where artifacts pertaining to the Fantastic Four's adventures are on display. Sue takes this opportunity to ask why he has hired Shertzer to boost their profile. Reed dodges the answer and soon they are swarmed by fans requesting autographs.
Saturday
Shertzer is meeting with artists who show off the proposed cover to the next issue of the Fantastic Four. Seeing the gaudy and "extreme" versions of the characters Shertzer tells them that they have the entire concept wrong. He explains to them that treating the Fantastic Four as superheroes is the wrong way to go about it. He explains that they are explorers and adventurers and that the fact that this leads to superheroics is just incidental. He goes on to say that the only "old" thing about the Fantastic Four is the fact that they never stop discovering something new. He tells them that if they are going to do a comic book about the Fantastic Four, and do it right, it has to be about the people -- not the costumes they wear. As they exit the Baxter Building they all get to wonder how the Fantastic Four could and would want to sustain the life of celebrity. Overhearing this, Reed decides to explain it to his daughter Valeria knowing that she will not be able to tell the show. Reed explains that once upon a time he was but an arrogant scientist who risked the safety of his friends and family which led to the accident that gave them their powers. Feeling guilty, Reed established the superhero dynamics of the Fantastic Four in order to win the public over and gain celebrity so that they could avoid a life being shunned or being turned into experiments. In reality this was all to give them a quality of life that he hopes will make up for what had done to their lives and the hope that he can forgive himself for what he had done, someday.
After Reed puts Valeria down to be, Johnny and Ben come running down the hall wearing Native American outfits telling Reed that Davy Crocket needs their help. As he rushes outside, Sue tells him that M.I.T. called. When Sue points out that most people tend to get days off she can always rely on the fact that they will always have something to do. Reed tells her he certainly hopes that will always be the way it is.


Appearing in "Wolf at the Door: Part 4"
Featured Characters:
Supporting Characters:
Antagonists:
Other Characters:
Races and Species:
Locations:
Synopsis for "Wolf at the Door: Part 4"
Reed Richards has a dream about his grandfather John who was a paratrooper in the 101st Airborn Division during World War II. Waking up from the dream, Reed gets up and goes through his motions of his first day at work. He thinks about how his grandfather was part of the team of soldiers that were dropped into Normandy in June of 1944. He recalls that after the war his grandfather left the army started his own business and made a fortune before retiring. Although he is dead now, Reed believes that his grandfather would like his wife Sue. Kissing Sue goodbye, Reed heads off for his first day on the job. Outside he finds Johnny outside and learns that he wasn't out partying all night, but out running because he is trying to get in shape so he can pass the physical when applying for the FDNY.
As Reed takes the subway into downtown from Washington Heights, he thinks back to the ceremony where the Fantastic Four were forced to turn over the Baxter Building to the City of New York in order to pay their debts to the city when it was decided that the group had to pay for all the damages they have caused over the years. Reed is bemused when he recalls how, after handing over the property, Sue used her powers to make a city official's pants disappear in front of the press, which landed on the front page of the paper. When Reed exits the subway he is asked to approach and enter a limo that pulls up. Inside is the mobster known as Hammerhead who has learned about the Fantastic Four's tight financial situation. Hammerhead explains how the Fantastic Four's former money manager, Terry Giocometti, also swindled him out of money and asks Richards if he wants to join on the vendetta the Maggia has against the embezzler. When Reed refuses, Hammerhead gets angry and asks why he isn't accepting this offer when the rest of the superhero community has seemingly forgotten all about them. Reed thinks about how he met with Tony Stark earlier and was offered a loan until the Fantastic Four could get back on their feet. However Reed declined the offer as a matter of pride, sure that the Fantastic Four could get by on the jobs they have taken up. Reed doesn't tell this to Hammerhead, but tells him he's not interested and excuses himself so he can get to work.
However along the way Reed notices a crowd forming outside the building. He learns that there is a man threatening to jump from the roof. Reed decides to get involved and uses his stretching powers to get to the ledge the man is standing on and convinces him to talk. Reed learns that that the man lost his sixteen year old son to a car accident and his wife had left him due to the strain of the loss. The man, Martin, tells Reed that he has terminal cancer and that he decided to jump off the building because he is afraid of dying alone. Reed decides that that won't do and gives Martin his number telling him to call the moment he is at his last moments and promises to be there.
With the crisis averted, Reed goes about his day job and completes his day and heads home. He arrives to learn that Johnny's girlfriend Kourtney patched things up with him and will be joining them for dinner. He also learns what's for dinner, and what his children have been up too. When Sue asks he strangely silent husband if everything is okay, he gives her the thumbs up as that is what his grandfather would do before jumping out of a plane.


Notes
Continuity
See Also
Footnotes
---
---

Cite error: <ref> tags exist for a group named "Continuity", but no corresponding <references group="Continuity"/> tag was found, or a closing </ref> is missing
Community content is available under
CC-BY-SA
unless otherwise noted.