(5 intermediate revisions by one other user not shown)
Line 1:
Line 1:
 

{{Marvel Database:Comic Template

 

{{Marvel Database:Comic Template

−

| Image = Black Panther The Most Dangerous Man Alive Vol 1 526.jpg

+

| Image = Black Panther The Most Dangerous Man Alive Vol 1 526.jpg

−

| Image2 = Black Panther The Most Dangerous Man Alive Vol 1 526 Textless 001.jpg

+

| Image2 = Black Panther The Most Dangerous Man Alive Vol 1 526 Textless.jpg

 

| Image2Text = Textless

 

| Image2Text = Textless

 

| Month = 2

 

| Month = 2

Line 12:
Line 12:
 

| Editor-in-Chief = Axel Alonso

 

| Editor-in-Chief = Axel Alonso

 

| CoverArtist1 = Francesco Francavilla

 

| CoverArtist1 = Francesco Francavilla

 
+

| Production1_1 = Alan Fine

 
+

| Publisher1_1 = Dan Buckley

 
+

| CCO = Joe Quesada

 
 
 

| Quotation =

 

| Quotation =

Line 19:
Line 22:
 

| Writer1_1 = David Liss

 

| Writer1_1 = David Liss

 

| Penciler1_1 = Shawn Martinbrough

 

| Penciler1_1 = Shawn Martinbrough

−

| Inker1_1 =

+

| Inker1_1 =

 

| Colourist1_1 = Felix Serrano

 

| Colourist1_1 = Felix Serrano

 

| Letterer1_1 = Joe Caramagna

 

| Letterer1_1 = Joe Caramagna

−

| Editor1_1 = Bill Roseman

+

| Editor1_1 = Bill

 
+

| Editor1_2 = Jon Moisan

 
+

| Editor1_3 = Tom Brevoort

 

| Synopsis1 =

 

| Synopsis1 =

 
 
Line 29:
Line 34:
 

* {{a|[[T'Challa (Earth-616)|Black Panther (T'Challa)]]}}

 

* {{a|[[T'Challa (Earth-616)|Black Panther (T'Challa)]]}}

 

'''Supporting Characters:'''

 

'''Supporting Characters:'''

−

* K'Tamo

+

* K'Tamo

 

* {{a|[[Luke Cage (Earth-616)|Luke Cage]]}}

 

* {{a|[[Luke Cage (Earth-616)|Luke Cage]]}}

 

* {{a|[[Samuel Wilson (Earth-616)|Falcon]]}}

 

* {{a|[[Samuel Wilson (Earth-616)|Falcon]]}}

−

'''Villains:'''

+

''':'''

 

* {{a|[[Hand (Earth-616)|Hand]]}}

 

* {{a|[[Hand (Earth-616)|Hand]]}}

 

** {{a|[[Wilson Fisk (Earth-616)|Kingpin (Wilson Fisk)]]}}

 

** {{a|[[Wilson Fisk (Earth-616)|Kingpin (Wilson Fisk)]]}}
---
Latest revision as of 21:45, 17 September 2017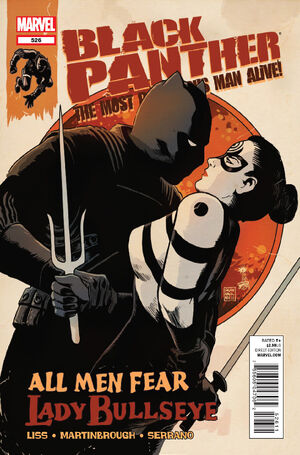 Textless
Issue Details
Previous Issue
Next Issue
Appearing in "The Kingpin of Wakanda, Part 2"
Featured Characters:
Supporting Characters:
Antagonists:
Other Characters:
Locations:
Items:
Vehicles:
Synopsis for "The Kingpin of Wakanda, Part 2"
Synopsis not yet written.

Solicit Synopsis
The war with the Kingpin heats up – with two issues hitting this month! Lady Bullseye and Typhoid Mary are out to kill T'Challa...time to call in Falcon and Luke Cage! The former King of Wakanda and the former Kingpin of crime wage in a deadly game, with the Panther's homeland as the prize!

See Also
Footnotes
---
---
Community content is available under
CC-BY-SA
unless otherwise noted.