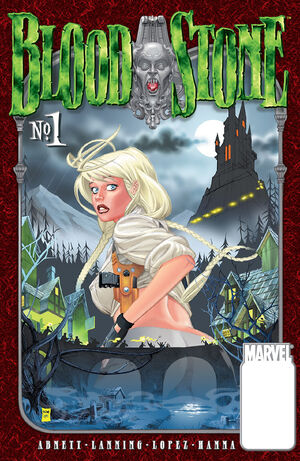 Textless
Previous Issue
Next Issue
—
Appearing in "Blood Runs Thicker..."
Featured Characters:
Supporting Characters:
Antagonists:
Other Characters:
Locations:
Logan International Airport
Items:
Vehicles:
Synopsis for "Blood Runs Thicker..."
Elise Bloodstone and her eighteen-year-old daughter, Elsa, arrive in Boston from London. Elise has inherited the property of her late husband, Ulysses Bloodstone, and must meet with the executor, Charles Barnabas, to finalize the paperwork.
Barnabas greets them at the door of the lavish Bloodstone Manor. He welcomes the two women inside and explains that it has taken him many years to track down Ulysses' surviving family. Elsa finds a portrait of her father hanging in one of the sitting rooms. She laments the fact that she grew up never knowing her father, and has little idea of the dangerous lifestyle that Ulysses engaged in.
While Elise deals with Barnabas, Elsa roams around the manor. While examining a steel skull, she accidentally activates a secret door that leads down into an immense cavern. With curiosity overwhelming her, she creeps down into the cave. There she finds an array of strange trophies and artifacts – one of which is the preserved skull of a Tyrannosaur. The most bizarre oddity however is the mansion's caretaker, Adam. Adam is giant of a man with scars running across his face and hands. He warmly greets Elsa and reveals that her adventurous father was actually a world famous monster hunter. Adam has been in the Bloodstone family's employ for many years.
Elsa examines two more artifacts; one is a choker containing her father's Bloodgem, and the other is a magic lamp. Rubbing the lamp, Elsa inadvertently makes a wish, and finds herself instantly transported to the country of Bosnia. Standing before her is the vampire lord, Dracula, fending off several armed soldiers.


Solicit Synopsis
o THE SCOOP: It's breakneck thrills and titillating chills as Marvel introduces their newest female hero!
o THE STORY: Growing up was tough for Elsa Bloodstone. Her mom was a nerdy archeologist, she was constantly moving from place to place searching for the next ancient wonder, and she never knew anything about her father… until today! What do you do when you discover that your dad was the legendary monster hunter, Ulysses Bloodstone - and that he died doing what he loved best? You take up the mantle and kick some major monster butt … without your mom finding out, of course! Fans of Indiana Jones, Lara Croft or Buffy will definitely dig the hot hero called Bloodstone! With Dan Abnett and Andy Lanning providing the never-rest-for-a-moment story, and beautiful artwork by Michael Lopez, this adventure will be a light-hearted romp through the world of horror and the supernatural! And a character design help from Alex Ross never hurts!
o THE FORMAT: The debut of this four-part, monthly mini-series is 32 pages, with ads.
Although it is never stated conclusively throughout the course of this series, Adam is intended to be the Frankenstein Monster. Adam's physical characteristics and demeanor are drastically different from that shown in other comic stories.

See Also
Recommended Reading
Links and References
Footnotes
---
---
Community content is available under
CC-BY-SA
unless otherwise noted.