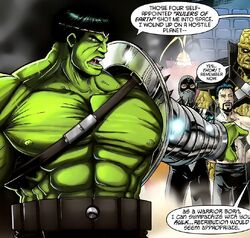 Real Name
Robert Bruce Banner
Status
Occupation
Scientist, doctor, adventurer, king
Characteristics
Origin
Origin
Gamma radiation mutation
Creators and Appearances
History
This version of Hulk presumably has the same history as that of his Earth-616 counterpart.
When Thor returned from his recent ordeal with the massive Ragnarok event, he received word of the cataclysmic attack on earth, led by the Hulk. Thor assembled a group of Asgardians to face the Hulk and his team, Warbound, and they met in the streets of New York. Though Thor sympathized with Hulk's cause, he tried to reason with the beast, but Hulk, not listening to reason, started a fight instead, punching Thor across the city. Warbound and the Asgardians came to blows, ad Hulk leapt away to face the thunder-god. The two had a brief fight that took them across the city, but they were interrupted when a young boy begged them to help a derailed subway, covered in rubble, which had crashed during a city-wide evacuation due to the Hulk's attack. Together, Hulk and Thor saved the subway and the citizens inside, and the two returned to their groups and calls off the fight. Sentry arrived, but saw that there was no threat, as Hulk called off his attack, and Hulk introduced him to Thor.[1]
Powers and Abilities
Powers
Seemingly those of Bruce Banner of Earth-616.
Abilities
Seemingly those of Bruce Banner of Earth-616.
See Also
Links and References
Footnotes
Like this? Let us know!
Community content is available under
CC-BY-SA
unless otherwise noted.