History
The Build Up Armor, is a weapon invented by Tony Stark in order to give himself and his fellow Avengers a powerup. This was necessary due to the fact that their enemies, the Masters of Evil, had been given a powerup as well by Red Skull, thus making them harder to defeat.[1]
The armor was first shown under construction in episode 27. When the Avengers had to split up to take out Red Skull's five bases of operation form which he intended to destroy the Earth with the Gaia Anchors, each of the Avengers' partners was given a special summoning device called the Build Up Plate, that could be placed on the DISK of an Avenger in order to summon the Build Up Armor for him/her. The armor was deployed for the first time by Iron Man in episode 28 to fight M.O.D.O.K.
Armors
For each Avengers, the Build Up Armor is slightly different in design and functioning in order to enhance that particular Avengers' attacks. All versions do include a torso armor and a targeting system, the latter of which is shared between the Avenger and his/her partner.
Iron Man
For Iron Man, the armor equips him with an amplifier for the repulsor on his left hand, greatly enhancing the power of the energy rays fired from this hand.[2]
Wasp
For Wasp, the armor gives her six mechanical stingers which allow her to fire her Wasp Sting attack at multiple targets at once, and with much more power than usual.[3]
Captain America
For Captain America, the armor gives his shield an additional metal ring which increases the Shield's destructive power. With the ring, Cap's shield was able to penetrate Baron Zemo's forcefield and destroy the Gaia Anchor located behind it.[4]
Hulk
For Hulk, the armor enables him to perform a special attack called the Gamma Punch, which involves firing a fist-shaped energy blast at a target.[5]
Thor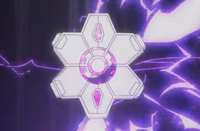 For Thor, the armor gives him a second weapon, the Lightning Star, which is used in conjunction with Mjolnir. When not in use, the star is stored on the back of the torso armor. When deployed, the Lightning Star is charged up with lightning from Mjolnir, and then launched at the intended target as a projectile.[6] The Lightning Star can also double as a shield.[7]
Notes
Although it is not mentioned in the series, it is strongly suggested that Iron Man used the Kree Mact as a power source for the armor.
See Also
Links and References
Footnotes
Community content is available under
CC-BY-SA
unless otherwise noted.