m

 

(10 intermediate revisions by one other user not shown)
Line 20:
Line 20:
 
 
 

| StoryTitle1 = Raging Reptiles

 

| StoryTitle1 = Raging Reptiles

−

| Synopsis1 = [[Steven Rogers (Earth-616)|Captain America]] and [[Natalia Romanova (Earth-616)|Black Widow]] are surrounded by a monstrous-looking band of locals from a wasteland dimension. The leader of the pack is their dimension's The Lizard (aka: Lizard-Ock). He states his case as to why he is not their foe, and Cap promises him he will return to the dimension and help The Lizard's people escape [[Kashmir Vennema (Earth-616)|Kashmir Vennema's]] tyrannies.

+

| Synopsis1 = [[ ()|Captain America]] and [[Natalia Romanova (Earth-616)|Black Widow]] are surrounded by a monstrous-looking band of locals from a wasteland dimension. The leader of the pack is their dimension's Lizard (aka: Lizard-Ock). He states his case as to why he is not their foe, and Cap promises him he will return to the dimension and help Lizard's people

 
 
−

After finally fixing their teleporting device, Cap and the Black Widow jump through various realities in order to make it back home, while being chased by a super-powered kill squad. When it seems that the two have been captured by the squad, they're rescued by the villainous Widow's employer -- yet, another Kashmir Vennema.

+

After finally fixing their teleporting device, Cap and the Black Widow jump through various realities in order to make it back home, while being chased by a super-powered kill squad. When it seems that the two have been captured by the squad, they're rescued by the villainous Widow's employer -- yet, another Kashmir Vennema.

 
 
 
 
 

| Appearing1 =

 

| Appearing1 =

 

'''Featured Characters:'''

 

'''Featured Characters:'''

−

* {{a|[[Steven Rogers (Earth-616)|Captain America]]}}

+

* {{a|[[Steven Rogers (Earth-616)|Captain America]]}}

−

* {{a|[[Natalia Romanova (Earth-616)|Black Widow]]}}

+

* {{a|[[Natalia Romanova (Earth-616)|Black Widow]]}}

 

'''Supporting Characters:'''

 

'''Supporting Characters:'''

 
+

* {{first|[[Kashmir Vennema (Earth-13010)]]}}

−

* <br/>

 
−

'''Villains:'''

+

''':'''

 
+

* {{BTS|[[Vennema Multiversal]]}}

−

* {{a|[[Kashmir Vennema (Earth-616)|Kashmir Vennema]]}} <small>(several alternate versions)</small>

 
 

* {{a|[[Hunt Squad (Multiverse)|Hunt Squad]]}}

 

* {{a|[[Hunt Squad (Multiverse)|Hunt Squad]]}}

−

:* {{a|[[Edward Lavell (Earth-28121)|Eel (Earth-28121)]]}}

+

:* {{a|[[Edward Lavell (Earth-28121)|Eel (Earth-28121)]]}}

 

:* {{a|[[Madcap (Earth-21281)]]}}

 

:* {{a|[[Madcap (Earth-21281)]]}}

−

:* {{a|[[Roger Gocking (Earth-12812)|Porcupine (Earth-12812)]]}}

+

:* {{a|[[Roger Gocking (Earth-12812)|Porcupine (Earth-12812)]]}}

−

:* {{a|[[Jessica Drew (Earth-82121)|Spider-Woman (Earth-82121)]]}}

+

:* {{a|[[Jessica Drew (Earth-82121)|Spider-Woman (Earth-82121)]]}}

 

:* {{a|[[Ulik (Earth-81212)]]}}

 

:* {{a|[[Ulik (Earth-81212)]]}}

−

* {{a|[[Natalia Romanova (Earth-21611)|Black Widow (Earth-21611)]]}}

+

* {{a|[[Natalia Romanova (Earth-21611)|Black Widow (Earth-21611)]]}}

 

'''Other Characters:'''

 

'''Other Characters:'''

 
+

* Earth-12128

⚫
 
−

* {{1st|[[Steven Rogers (Earth-12128)|Agent America]]}} {{Mentioned}}

+

* {{|[[ (Earth-12128)| ]]}}

−

* {{1st|[[James Howlett (Earth-12128)|Wolverine]]}} {{Death}}

+

* {{|[[ (Earth-12128)|]]}}

−

* {{1st|[[Clinton Barton (Earth-12128)|Hawkeye]]}} {{Death}}

+

* {{1st|[[ (Earth-12128)|]]}} {{Death}}

−

* {{1st|[[Jean Grey (Earth-12128)|Marvel Girl]]}} {{Death}}

+

* {{1st|[[ (Earth-12128)| ]]}} {{Death}}

−

* {{1st|[[Scott Summers (Earth-12128)|Cyclops]]}} {{Death}}

+

* {{1st|[[ (Earth-12128)|]]}} {{Death}}

−

* {{1st|[[Anthony Stark (Earth-12128)|Iron Man]]}} {{Death}}

+

* {{1st|[[ (Earth-12128)| ]]}} {{Death}}

 
+

* {{1st|[[Anthony Stark (Earth-12128)|Iron Man (Tony Stark)]]}} {{Death}}

 
+

* {{1st|[[Marc Spector (Earth-39131)|Moon Knight (Marc Spector of Earth-39131)]]}}

 
⚫
 
+

** {{1st|[[Venom (Klyntar) (Earth-91313)|Venom Symbiote (Earth-91313)]]}}

 
+

* {{1st|[[Johnathon Blaze (Earth-13139)|Ghost Rider (Johnny Blaze)]]}}

 
+

* {{1st|[[Ororo Munroe (Earth-13391)|Bloodstorm (Ororo Munroe)]]}}

 
+

* {{1st|[[Dane Whitman (Earth-13019)|Black Knight]]}}

 

'''Locations:'''

 

'''Locations:'''

 
+

* {{a|[[Earth-17121]]}}

−

* Vennema Multiversal <small>(an alternate dimension)</small>

 
 
+

** {{a|[[Vennema Multiversal HQ]]}}

 
+

* {{a|[[Earth-12128]]}}

 
+

* {{a|[[Earth-31391]]}}

 
+

* {{a|[[Earth-43916]]}}

 
+

* {{a|[[Earth-49163]]}}

 
+

* {{a|[[Earth-63914]]}}

 

'''Items:'''

 

'''Items:'''

−

* {{a|Captain America's Shield}}

+

* {{a|Captain America's Shield}}

−

* {{a|Black Widow's Gauntlets}}

+

* {{a|Black Widow's Gauntlets}}

 

* Dimensional Time Control <br/>

 

* Dimensional Time Control <br/>

 

'''Vehicles:'''

 

'''Vehicles:'''
---
Latest revision as of 04:39, 5 April 2019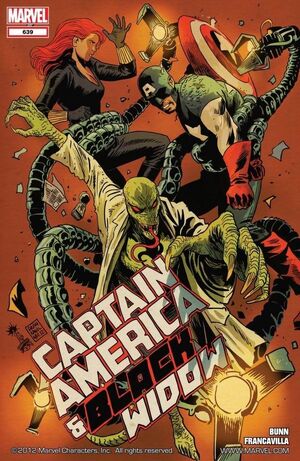 Textless
Previous Issue
Next Issue
Appearing in "Raging Reptiles"
Featured Characters:
Supporting Characters:
Antagonists:
Other Characters:
Locations:
Items:
Vehicles:
Synopsis for "Raging Reptiles"
Captain America and Black Widow are surrounded by a monstrous-looking band of locals from a wasteland dimension. The leader of the pack is their dimension's the Lizard (aka: Lizard-Ock). He states his case as to why he is not their foe, and Cap promises him he will return to the dimension and help the Lizard's people
After finally fixing their teleporting device, Cap and the Black Widow jump through various realities in order to make it back home, while being chased by a super-powered kill squad. When it seems that the two have been captured by the squad, they're rescued by the villainous Widow's employer -- yet, another Kashmir Vennema (Earth-13010).

See Also
Footnotes
---
---
Community content is available under
CC-BY-SA
unless otherwise noted.