We're Getting Mutants in the MCU - The Loop
Play Sound
Below is an index of characters who were once considered canon to Earth-199999 but are no longer.
Apocryphal Characters of Earth-199999
Anthony Stark
Steven Rogers
Bruce Banner
Thor Odinson
James Buchannan Barnes
Elizabeth Ross
Samuel Sterns
Richard Jones
Appearances: The Incredible Hulk
(June 13, 2008)
Aliases: Rick Jones
Richard "Rick" Jones is a young man who the Hulk saved from death by Enclave troops. Sometime after Bruce Banner had obtained the power of the Hulk, he laid low in Manhattan Island. At one point though, the Hulk witnessed two Enclave troops attempting to hypnotize Jones into walking off the side of a building. The Hulk intervened however, and dealt with the two troops with ease. Rick Jones snapped out of it, and thanked the Hulk for saving him, and then witnessed the jade giant revert back into Bruce Banner.

Jones was so amazed and told Banner that he would help out Banner whenever Bruce would need him. Most of the time it would involve tracking down Enclave activity for the Hulk.
Ho Yinsen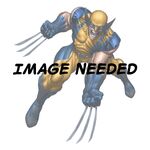 Appearances: Iron Man
(May 2, 2008)

Samuel Wilson
Ivan Vanko
Mangog
Appearances: Thor: God of Thunder
(May 3, 2011)
, Thor: The Dark World - The Official Game
(October 31, 2013)

Mangog was a creature of pure rage that was created by Odin years ago. Over time however, the creature developed a growing hatred for Odin and eventually became a grave threat. Seeing that the creature was too dangerous, Odin locked the creature away in Jotunheim; where it rested for years and years until accidentally being set free by Odin's son Thor. Thirsty for revenge, Mangog fled to Asgard to defeat Odin, who was now regenerating his powers in his Odinsleep. Although Loki had arranged for Mangog's release in the hope that he could defeat this adversary and prove himself as Odin's heir, his attempt to use the Casket of Ancient Winters against Mangog failed because of Mangog's raw power, forcing Loki to contact Thor and help him return to Asgard to ensure Mangog's defeat. After Thor had defeated some of Mangog's allies to deprive him of the hatred that empowered him, Odin awakened, and teamed up with Thor and Loki to defeat the creature once and for all, Thor weakening the creature in combat until Odin was able to disperse Mangog.
Einherjar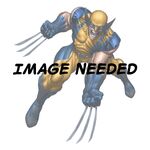 Appearances: Thor: God of Thunder
(May 3, 2011)

The Einherjar are made up of several different units - Fighters, Valkyries, Lancers, Royal Guards, Alchemists, Healers, and Chariots.
Bernhold Renner
R.A.I.D.
Sinthea Schmidt
Anthony Masters
Lancaster Sneed
Marauders
Duhg
Dark Elves
Kurse
Malekith
Dwarves
Eitri
Serpent Society
Klaus Voorhees
Gordon Fraley
Rachel Leighton
Asgardians
Sif
Odin Borson
Heimdall
Hela
Warriors Three
Fandral
Hogun
Volstagg
Frost Giants
Loki Laufeyson
Ymir
Appearances: Thor: God of Thunder
(May 3, 2011)

Ymir is the leader of the Frost Giants, a race of large creatures that have extensive control over ice.

Years ago, Odin managed to steal the Casket of Ancient Winters from Ymir's homeland. Sometime later, wanting the Casket back, Ymir sent hundreds of frost giants to Asgard, in an attempt to regain possession of the Casket. What the giants didn't count on was the intervention of Odin's son Thor. Thor was able to halt the invasion, but could not prevent his friend Lady Sif from being impaled by a frost giant's blade.

Thor was enraged at the frost giants' invasion, and wanted to put an end to their antics immediately. It was then that Loki, Thor's foster brother, devised a mischievous plan of his own. He told Thor to go to the land of the giants and destroy them if he wished. Thor accepted and journeyed into Ymir's realm. He ventured into the land and fought off hordes of Frost Giants before finally attracting the attention of Ymir. Ymir led Thor into his citadel, where Thor fought off more Frost Giants, and became aware of just how powerful Ymir was. From there, Thor destroyed a large beam which enhanced Ymir's powers over the land. Outraged, Ymir decided to take care of Thor himself, but once again, Ymir had underestimated the god of thunder and was met with defeat.

At this point, Loki's scheme was working perfectly. After Ymir's defeat, Loki told Thor that he could never truly "defeat" Ymir, as ice can form and reform. So Loki told his brother to open up a gateway that would unleash tremendous heat and flame into Ymir's realm, which would of course ensure that the Frost Giants never returned to Asgard. Thor, thinking this to be a brilliant plan, began to open the gateway, only to be stopped seconds later by Ymir, who warned Thor that the gateway would unleash a terrible apocalypse when opened. Thor didn't listen and ended up defeating Ymir again in order to fully open the gateway, which to Thor's dismay happened to be the resting place of Mangog; a large beast with considerable control over flame. When the gateway opened, a beam of fire exploded from out of it, disintegrating Ymir within seconds. Whether or not Ymir survived the flame is unknown.
Portrayed by Mitch Lewis.
Rock Trolls
Ulik
Appearances: Thor: God of Thunder
(May 3, 2011)

As part of his quest to make himself look like the ultimate hero of Asgard, Loki sent his adoptive brother Thor to Nornheim, land of the Rock Trolls, where Ulik battled with Thor. Contrary to his plans, Loki was forced to aid his brother in activating the Troll equivalent of the Bifrost Bridge, Frostgrinder, in order to escape, realizing that Mangog was too powerful for him to defeat on his own. Thor defeated Ulik prior to activating Frostgrinder.[2]
Fire Demon
Surtur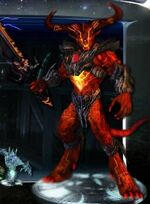 Appearances: Thor: God of Thunder
(May 3, 2011)

when Thor had unintentionally let loose the beast known as Mangog, his foster brother Loki told him that the only way to truly defeat the creature would be to infuse his hammer with a metal known as

Scabrite

, able to absorb large amounts of heat. Thus Thor ventured into the flaming realm of Muspelheim, Surtur's realm and the one place that was abundant with the necessary metal. It was there that Thor realized that it was Surtur's Twilight Sword that had the Scabrite he needed to obtain; however, Surtur wouldn't give it to Thor willingly, and he engaged the son of Odin in an intense battle. Eventually though, Surtur was no match for Thor and his control over wind, thunder, and lightning. He was ultimately defeated and Thor destroyed the Fire Demon's sword in order to collect the Scabrite he needed.
Roxxon Corporation
Valentin Shatalov
S.H.I.E.L.D.
Nicholas Fury
Natalia Romanoff
Maria Hill
Enclave
Kyklops
Appearances: The Incredible Hulk
(June 13, 2008)

The Kyklops was a massive robot super weapon that was designed by the Enclave and unleashed on New York as the Enclave was taking external damage. The war machine's reign of terror was stopped when the Incredible Hulk appeared and assaulted the robot, throwing vehicles at its massive optic, and throwing its foot when it attempted to stomp on him. Eventually Hulk managed to tear the robot apart, destroying it. The Enclave would send an army of other weaker Kyklops to attack high priority targets and guard major locations, though they too were destroyed by either the Hulk or the U.S. Army.[4]
Bi-Beast
Appearances: The Incredible Hulk
(June 13, 2008)

Bi-Beast was an android designed by the Council of The Enclave's leader both to aid in their criminal activities in New York and to recover data from the Hulk. Bi-Beast was aiding a series of Enclave troops when he was spotted by the green goliath, and the two immediately began fighting. Hulk quickly learned that his regular attacks and basic strength were completly shrugged off by the Bi-Beast's tough hide, forcing the Incredible Jade Jaws to rely on his thunder claps and quakes in order to stun the android in order to do any damage. The battle made its way across multiple streets, but eventually the Hulk managed to overpower Bi-Beast, ripping its head and robotic spine off- cutting off the view of the disappointed Enclave leaders.

Bi-Beast's legacy would live on in the form of similar one-headed shock troops used by certain Enclave sects to help battle Hulk. [4]

Keith Ferguson and Chris Edgerly provide the voice to Bi-Beast's top and bottom heads respectively.
Ceres Leader
Minerva Leader
Jupiter Leader
Vulcan Leader
U-Foes
Appearances: The Incredible Hulk
(June 13, 2008)

The U-Foes are a group of gamma-irridiated supervillains comprised of Vector, Ironclad, Vapor, and X-Ray. The team was formed after being exposed to gamma radiation gaining superpowers. Encountering the Hulk, they decided to test their new-found powers to beat him in a four-on-one battle. Despite their new powers and teamwork, the Hulk defeated them all and left the scene.[4]
Simon Utrecht
Appearances: The Incredible Hulk
(June 13, 2008)
Aliases: Vector
Vector was the leader of the U-Foes after he and the three others were exposed to gamma radiation. This was due to his belief in what may push humanity's evolution. After gaining his telekinesis powers, Vector led his team against the Hulk to test their powers, but they were defeated by the fellow gamma-powered hero.[4]
Michael Steel
Appearances: The Incredible Hulk
(June 13, 2008)
Aliases: Ironclad
Ironclad is a superpowered being of strong metal after he and the three others gained their powers through gamma exposure. As a member of the U-Foes, he started to test his powers on the Hulk, bt were defeated by the latter and fled.[4]
Portrayed by Mitch Lewis.
Ann Darnell
Appearances: The Incredible Hulk
(June 13, 2008)
Aliases: Vapor
Vapor was a being of pure gas after she and the other three gained their powers from gamma radiation exposure. As a member of the U-Foes, seeing the Hulk, she decided to test her new powers on him, but she was defeated by the latter and left.[4]
James Darnell
United States Army
Thaddeus Ross
Emil Blonsky
Glenn Talbot
Appearances: The Incredible Hulk
(June 13, 2008)

Glenn Talbot was a major in the United States Air Force, and in charge of the Hulkbusters program that was dedicated to the take down of the Incredible Hulk, but he was an overall failure on all fronts. While he planned and planned various tactics and attacks, the Hulk simply crashed his way through them with little to no effort. Meanwhile, Talbot was attempting to seduce Banner's once girlfriend Betty Ross.

However, Talbot began to break under the mental task of both dealing with the Hulk and Betty's refusal of his increasingly desperate advances, causing him to take a customized suit of Hulkbuster armor designed by Tony Stark and kidnap Betty. This action turned his own men against him, but they had difficulty operating without threatening Betty's life, forcing the Hulk to step in and form an uneasy alliance with General Ross to rescue his daughter. Hulk engaged Talbot in the Hulkbuster armor in single combat, and defeated it, rescuing Betty.

Eventually, his actions against Banner escalated to the point where Talbot himself became a danger to civilian safety, his strategies varying from attempting launch missiles in a civilian area to destroy the Hulk to donning a nuclear-powered Hulkbuster suit to fight him directly, intending to pass off civilian casualties as the Hulk's fault once his foe has been dealt with.

When he was defeated by the Hulk, a self-destruct mechanism activated in his Hulkbuster, intending to kill Hulk along with him and the entire city. Hulk realized this and threw Talbot's suit into the upper atmosphere, where his Hulkbuster armor exploded safely, supposedly killing Talbot in the process.[4]
Stark Enterprises
Just A Rather Very Intelligent System
Virginia Potts
James Rhodes
Ten Rings
Appearances:

Iron Man


(May 2, 2008)

Maggia
Appearances:

Iron Man


(May 2, 2008)

The Maggia is an international criminal organization who are former customers to Stark Industries. After Tony Stark ceased creating weapons, the organization broke off and attempted to steal technology from the Stark corporation directly.[5]
Marco Scarlotti
Appearances:
Iron Man (video game)
Aliases: Blacklash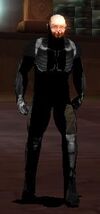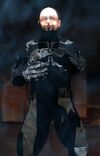 Marco Scarlotti was a former employee of Stark Industries and after that company stopped producing weapons, he started working for the Maggia, former clients of Stark Industries. When Tony Stark started searching for stolen Stark Tech using the Iron Man Armor, he faced a technologically enhanced Scarlotti and had to defeat him in hand-to-hand combat, because of Scarlotti's shield protecting him from repulsor blasts. Finally, Scarlotti was left unconcious before Iron Man destroyed the base, it is unknown if Marco survived.[5]
Whitney Frost
Appearances: Iron Man
(May 2, 2008)

Whitney Frost was presumably a former lover of Tony Stark and was among the highest ranks in the Maggia family, former clients of Stark Industries. When Tony Stark started searching for stolen Stark Tech using the Iron Man Armor, he found himself trying to take down the Nefaria compund, which Whitney was in charge of. The search for her left him in the tunnels of the compound. She was crushed by a piece of the wall of the room she was hiding when the destruction of the weapons protecting her made it explode. [5]
Advanced Idea Mechanics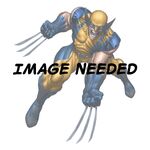 Appearances: Iron Man
(May 2, 2008)

Former clients of Stark Industries who built an army based on stolen Stark technology, with some of it being sold clandestinely by Obadiah Stane.

When Tony Stark started searching for stolen Stark technology using the Iron Man Armor, he faced A.I.M. and their nuclear depots in Russia, facing their own version of Iron Man, the Titanium Man and the twisted Controller. After Iron Man thwarted every attempt of A.I.M. to get Nuclear energy, they decided to launch a massive attack on Stark Industries, kidnapping Tony Stark's secretary Pepper Potts.

After Ms. Potts was saved, A.I.M. decided to deploy a Proton Cannon in charge of the Melter with the intention to attack civilian targets, but they where stopped again by Iron Man.[5]
Boris Bullski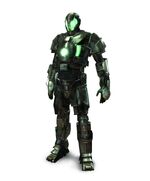 Appearances: Iron Man
(May 2, 2008)
Aliases: Titanium Man
Boris Bullski was a A.I.M. operative protecting their nuclear depots in Russia. When Iron Man started searching for stolen Stark Tech and destroying different terrorist organizations, the two engaged in battle. The Titanium Man armor used nuclear energy as source of energy, making it very powerful. In the end however, Boris was defeated by Iron Man when he cut off his supply of nuclear energy before he could recharge the suit.

To get revenge and Stark Technology, A.I.M. sent Titanium Man and many elite operatives to take down Tony Stark in Stark Industries. Although the efforts of the A.I.M., Titanium Man and the rest of A.I.M.'s forces were finally defeated.[5]
Basil Sandhurst
Appearances: Iron Man
(May 2, 2008)
Aliases: Controller
Powers: Mind Control: The Controller has the ability to mentally control others. Although this power seems to be low-range, not developed extensively or can be weakened by different substances the victim can be protected with, as he couldn't mind-control Iron Man by only the latter willpower.
The Controller was a A.I.M. operative in charge of dismantling a prototype of a flying carrier made by Stark Industries in search for power sources. When Iron Man started searching for stolen Stark Tech and destroying different terrorist organizations, he tried to destroy all A.I.M. cargo. The Controller unsuccessfully tried to mind-control Iron Man, as he managed to destroy every piece of stolen tech, as well as the rest of the A.I.M. operatives but him. He was eventually defeated, however his whereabouts afterwards are unknown.[5]
Bruno Horgan
Bruno Horgan was the owner of a start-up robotics company and developed a suit similar to Tony Stark's Iron Man Armor. His presentation to military officials was a failure, as the power source of the suit melted it, and later chances to show his creation were negated even after claiming his creation was finally ready.[6]

He joined A.I.M. as an operative in charge of developing the Proton Cannon in an island. He was faced and defeated by Iron Man when he was trying to shut down A.I.M.[5]

Sometime after the battle of New York, he attacked Iron Man during a press conference in front of the Stark Tower. After a quick victory Horgan announced that he would be selling the designs in a few days.

Two days later he attacked, and with some effort, secured a victory over War Machine. Which led both Stark and Rhodes to confront Horgan, who promptly was defeated and placed into US military custody.[6]
Portrayed by Gavin Hammon
Obadiah Stane
Ghost
Brendan Doyle
Appearances: Iron Man 2
(May 4, 2010)
Aliases: Mauler
Mauler appeared on the S.H.I.E.L.D. Helicarrier initiating Kearson DeWitt's plan to down the aircraft using bombs. Iron Man disarmed the bombs and eventually defeated Mauler. Doyle carried a bomb which Iron Man blasted to defeat him. Stark fought and defeated Mauler once again disarming multiple bombs in the process.[3]
Firepower
Kearson DeWitt
Appearances: Iron Man 2
(May 4, 2010)

Outside of Kearson DeWitt having worked on the prototype to the Arc Reactor, Pepper Potts also revealed Kearson to have been part of a secret project at Stark Industries called PROTEAN until he was fired by Tony Stark upon discovery of the project and the dangers it exhibited.

Kearson later began working with A.I.M. and forged an alliance with Russian General Valentin Shatalov and the Roxxon Energy Corporation when it became necessary to steal a copy of the J.A.R.V.I.S.' program to advance and run their projects. During a transmission, Kearson DeWitt told Shatalov that there was a spy in his ranks and was displeased that he had brought S.H.I.E.L.D. to their front door.

Faced with losing everything he had worked for, Kearson used the copied J.A.R.V.I.S. program to create Ultimo and then merged his PROTEAN technology with the artificial intelligence, allowing it to grow uncontrollably and quickly transforming it into an enormous robot the size of a skyscraper. With the merge complete, Kearson had his men upgraded the weapon with further PROTEAN implants, and he then merged himself with Ultimo, becoming an organic/machine hybrid.

Upon discovery, War Machine acted as a distraction to prevent Ultimo from moving to another location while Iron Man battled with the internals of the cyborg. Once defeated, Iron Man learned that the effects on Kearson were irreversible and the amalgamation was terminated.[3]
Ultimo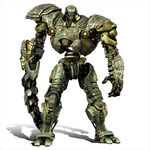 Appearances: Iron Man 2
(May 4, 2010)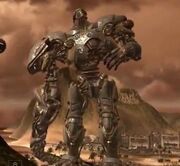 Ultimo was created from the archive version of J.A.R.V.I.S. to destroy Iron Man and War Machine.

He battled War Machine while Iron Man went inside him to destroy the Kearson DeWitt core within. The man could not be separated from machine, and the cyborg was terminated in the process.[3]
Crimson Dynamo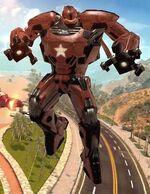 Appearances: Iron Man 3: The Official Game
(April 25, 2013)
Aliases: Crimson Dynamo
The man known as Crimson Dynamo was a Russian ex-soldier and revolutionary sponsored by A.I.M., who stole a suit of armor developed by his government. If he helped A.I.M. deal with Iron Man, he would be given the Extremis technology A.I.M. wanted to steal from Stark Industries in order to help him seize power in his country. He fought Iron Man twice, but each time he had to retreat over his armor suffering damages.

When he was guarding A.I.M. operations in China, Iron Man faced him once more, and the extreme damages suffered during the battle caused Crimson Dynamo's suit to explode.[7]
Ezekiel Stane
Appearances: Iron Man 3: The Official Game
(April 25, 2013)
Aliases: Zeke Stane
Ezekiel Stane is the son of Obadiah Stane, he forged an alliance with A.I.M. in order to take back the company he thought should've been his father's and later his, Stark Industries.

He underwent numerous surgical procedures to merge his body with pieces of technology. Ezekiel fought Iron Man numerous times but was ultimately killed after the damage suffered in one of those fights caused his body of overcharge and explode.[7]

Powers:

Seemingly those of the Ezekiel Stane of Earth-616.
Bio-Tech Enhancements: Stane has upgraded his biological functions & has gained superhuman strength, speed, reflexes, stamina & and an advanced healing factor. He can also fire repulsor energy blasts from his biological hands.
Cybernetic Enhancements:Stane has upgraded himself by fusing an armor with his physiology, enabling him superhuman resilience, advanced weapons systems, computer systems, tactical visors, solar recharge systems & high-speed flight.
Arthur Parks
Aldrich Killian
Appearances: Iron Man 3: The Official Game
(April 25, 2013)
Aliases: M.O.D.O.K.
Aldrich Killian's consciousness was 'downloaded' by A.I.M. prior to his physical death and uploaded into a new, enhanced form. He presented himself to Iron Man, exclusively hinting that the armored hero was responsible for his existence. After a fight in which M.O.D.O.K. tried to show his superiority to Iron Man, M.O.D.O.K. was defeated and his body exploded.

M.O.D.O.K.'s consciousness was uploaded into yet another form, with minor variations, having fixed the supposed miscalculations that led him to lose his first battle against Iron Man, and tried to destroy the Armored Avenger once more, but failed again and his body was destroyed.

When A.I.M. managed to take over the network of Stark Industries, M.O.D.O.K. presented himself to Iron Man in a third enhanced form. To Iron Man was revealed that M.O.D.O.K. was actually a copy of Killian's consciousness and that he was ready to defeat Iron Man once and for all. Iron Man managed to heavily damage M.O.D.O.K.'s physical form, and when he attempted to survive by uploading his consciousness into the network of Stark Industries, Iron Man willingly sacrificed the network (and, therefore, Stark Industries itself) in order to destoy Killian for good.[7]
Trevor Slattery
Ellen Brandt
Edward Savin
Howling Commandos
Timothy Dugan
James Montgomery Falsworth
Jim Morita
Strategic Scientific Reserve
Margaret Carter
Howard Stark
Hydra
Helmut Gruler
Appearances:

Captain America: Super Soldier


(July 19, 2011)


Aliases: Iron Cross

Equipment: Iron Cross Armor

Once Arnim Zola was free to begin tinkering with the power of the reality-warping Tesseract to create new weapons for Hydra, he began to think on how to improve the standard tank. Attempting to rectify the mobility problems of the heavy vehicles, he envisioned a massive mechanical suit to serve a similar purpose. Because the recoil of standard ballistic weaponry would throw off the accuracy of his new mech suit, Arnim Zola created a massive sonic cannon, and mounted it on the suit's shoulder, allowing the Man-Propelled Tank to stun and cause panic in the ranks of the enemy, before closing in with a custom-designed ballistic-shield to engage and crush the debilitated foes in close range. After selecting a pilot, the massive Hydra enforcer, Iron Cross was born.

Arriving at Castle Zemo at an unknown point, Iron Cross surprised Captain America by ambushing the battle-weary and bruised super-soldier after his battle with Baron von Strucker. While Iron Cross' attack would have killed a normal man, Cap survived, though he blacked out, allowing Hydra to capture him and the rest of the Howling Commandos, as well as obtain medical attention for Stucker. Iron Cross held Rogers still as he was escorted alongside Madame Hydra and Zola through the dungeon complex, before he left the Captain in Madame Hydra's care, being needed elsewhere.

Captain America and Iron Cross would cross paths once again when he attacked the Captain in defense of the Red Skull, who was trying to use the Tesseract on the Sleeper. Prepared for the battle this time, Rogers was able to redirect the blasts of Iron Cross' cannon back at him, stunning the suit long enough to make it vulnerable. While Captain America was no where near as strong as the mechanical suited warrior, who could do a massive amounts of damage with each strike, Cap was able to use his superior mobility to keep out of Iron Cross' attack radius and keep needling him. Eventually, the Red Skull himself intervened, firing his grenade launcher into the battlefield, but these grenades could do as much damage to Cross as they could to the Captain, and eventually Iron Cross' suit completely shut down. As Red Skull retreated, the Tesseract in-hand and the

Sleeper apparently awakening, Rogers threw himself at the Skull by using Iron Cross as a ramp, though the effort was in vain, and the Sleeper's attack knocked Cap away, allowing the Red Skull time to escape.

It is unknown what happened to Iron Cross after the battle at Castle Zemo; whether he was able to survive when the Sleeper appeared to cause massive damage to the platforms he and Captain America were fighting on, and whether or not he ever saw the end of the Second World War, but it is unlikely that he survived.[8]
Ophelia Sarkissian
Appearances:

Captain America: Super Soldier


(July 19, 2011)


Aliases: Madame Hydra

Hydra has a longstanding tradition of the role of Madame Hydra, the highest-ranking female in its organization. Little is known about the current Madame Hydra, except that she is respected and feared as a ruthless fighter. First found by Arnim Zola, the HYDRA doctor was impressed by Madame Hydra's brutality and her expertise in poisons, torture, and interrogation. Slightly enamored with the woman, Zola put forward the idea of advancing the woman in rank to the level of Madame Hydra, and once she ascended to the title, she proved to be one of the Red Skull's most loyal lieutenants. When he called her with the rest of HYDRA leadership to join him in Castle Zemo, she thoroughly disgusted Baron Zemo, who glibly commented in his journals that any of the baronesses of the past would faint immediately upon the very sight of her.

After Captain America defeated Baron von Strucker, he was ambushed and captured by the mechanical Iron Cross, and taken to the dungeon complex beneath Castle Zemo. While he was unconscious, Arnim Zola took a sample of Cap's blood to recreate the Super-Soldier Serum, before leaving the Captain himself in the custody of the new Warden of the dungeons, Madame Hydra. Hydra roughly abused Cap, though Zola made it explicit that she was not to kill him yet, and after she restrained him, she took the time to mockingly reveal that she had kidnapped his friends Montgomery Falsworth, Bucky, and Dum-Dum Dugan of the Howling Commandos. Breaking free of the restraints and escaping his cage, Captain America rescued Bucky and prepared a massive prison riot, infuriating Madame Hydra, and freeing the POWs who served as her "test subjects." Once Bucky escaped Castle Zola with a trainful of POWs, Cap turned around and rescued Dugan, and the two split up, with Cap pursuing Hydra before she could kill, or do something even worse, to Falsworth.

Pursuing Madame Hydra across the castle, Cap eventually cornered her in Zemo's Ballroom. She used smoke bombs to disguise her reinforcements from Cap, and fired at him with her custom machine pistols from a ledge far away from him; however, Cap managed to defeat her reinforcements and use his Vibranium shield to reflect the bullets back at her, forcing her to flee. Cap caught her and the two fought hand-to-hand, where Captain America proved to be superior, before finally reflecting her bullets past her, triggering a massive explosion behind her. The blast horribly scared half her face, but she declined Captain America's offer to get her the medical help she needed, claiming her scars were a badge of honor and escaped on an aircraft outside. While she fled Castle Zemo, her final words with the Captain revealed that her commander, the Red Skull, would be on his way to the castle soon. While her fate after the battle is unknown, the consequences of her actions continued to haunt Rogers for the rest of his mission in Castle Zemo and almost led to Falsworth being transformed into a mind-controlled super soldier to use as an assassin for the nefarious purposes of Zola.[8]

Weapons:

Madame Hydra had Arnim Zola use the reality-warping powers of the Cosmic Cube to shrink down a pair of fully-automatic high powered rifles to the size of mere pistols, creating a pair of custom devestating Machine Pistols. Like the process that crafted Strucker's Satan Claw, the pistols proved too costly to effectivly mass-produce, but Hydra's skill and lethality wielding them easily made a single set of them worth it, in Zola's mind.

Alongside her Machine Pistols, Hydra uses an arsenal of deadly poisons, many of which were fine-tuned on the vast number of allied prisoners of war stored in the dungeons of Castle Zemo. Her affinity for poisons was so great, that she developed a special toxic venom to replace her own saliva. In addition, she used a number of posion-gas grenades in her battle with Cap, to both block out his vision of her reinforcements, and to damage him in an attempt to retreat.
Sleeper
Appearances:

Captain America: Super Soldier


(July 19, 2011)


Aliases: Sleeper

The Sleeper was discovered during the Middle Ages by the third Baron Zemo, Heller Zemo. Though they couldn't understand what the Sleeper was, Zemo and his men realized it is something important. Castle Zemo was soon built around the Sleeper's resting place.

Hundreds of years later, during World War II, the Castle was owned by Baron Heinrich Zemo, who thought that he was destined to awake the Sleeper and use it to help him in his world conquest; however, he unwisely made an alliance with Johann Schmidt, commander of the Nazi research division, Hydra. On Schmidt's orders, the soldiers of Hydra occupied Castle Zemo, where Schmidt's top scientist Arnim Zola studied the Sleeper.

In 1944, the castle was infiltrated by the American Super Soldier, Captain America. After he defeated the guards, he confronted Zola's robot, while the Sleeper awoke and destroyed one Allied plane; however, the Sleeper was in turn destroyed by Captain America.[8]
Johann Schmidt
Arnim Zola
Wolfgang von Strucker
Appearances:

Captain America: Super Soldier


(July 19, 2011)


Aliases: Baron Strucker
Baron Wolfgang von Strucker was born into Prussian nobility with familial association to the secret society known as Hydra. Ambitious, arrogant and harboring a particular distaste for the lower-class, Strucker quickly rose through Hydra, becoming proficient in both combat and tactics. Intercepted documents suggest he is pursuing development of advanced weaponry known as the "Satan Claw" for personal use.

During World War II, in the mountains of Bavaria, Captain America encountered him in a tower where a radio dish controlling a powerful cannon is located. Captain America engaged Strucker in combat and, after a deadly battle, managed to defeat him. However the cannon lost control after the radio dish was destroyed and shot down the aircraft transporting the Howling Commandos. After they bailed out of the plane, the cannon headed straight for the tower Strucker and Cap were in. Strucker, in a last ditch attempt to take down Cap, charged at him, sending both Cap and Strucker flying off as the plane destroyed their battleground. As Captain America and Baron Strucker free-fell off the tower, Baron Struck managed to knock out Captain America, and he was last seen laying on the ground unconscious. Later, one of the Hydra personnel said that his recovery would take months.[8]
Jensen
Baron Zemo
Heinrich Zemo
Appearances:

Captain America: Super Soldier


(July 19, 2011)


Aliases: Baron Heinrich Zemo
The twelfth Baron Zemo, Heinrich Zemo was fascinated when he was told the legacy of his family by his father, and of the connection Harbin Zemo and Heller Zemo had with the Sleeper. Heinrich was by far the most arrogant of the Barons, claiming that he was the greatest of them and that it would be he who would awaken the Sleeper. He mused in his journals, chronicling the quest the Zemo Bloodline had long taken, about the Sleeper's origins as possibly hailing from aliens or gods, as well as thinking that "Emperor Zemo" had a nice ring to it.

During this period, Zemo was contacted by a man named Johann Schmidt calling himself the Red Skull. While Heinrich confessed that it was an overly theatrical title, the Baron decided he would meet with him. The two held their discussion in the ballroom of Castle Zemo, though the Baron was disappointed to find that the greatness was lost on Schmidt. He noted that the Red Skull had a single-minded drive for the acquisition of power, and agreed to further meetings, believing an alliance would be mutually beneficial. Over time, the Baron came to admire the way Skull manipulated the political trouble in Berlin to create an army loyal to him: Hydra, and he agreed to let the Skull post troops in the Castle as they worked.

Zemo gained a dislike for Arnim Zola during his partnership with the Red Skull believing that while he was certainly a genius, it didn't make up for his odious personality and he considered the German scientist reckless over ambitious. Zola's work in Castle Zemo made Heinrich nervous, and he eventually confronted the scientist over the danger his work served to both his home, and the treasure contained within. Baron Zemo took his complaints to Red Skull, who forced Zola to back down and restricted him to work only on research. When they arrived, Zola found he was disgusted by Madame Hydra, who he thought displayed too much "mannish affections" and wore to much "scandalous attire", and Baron Wolfgang von Strucker, who he thought was pitiful for wearing the title Baron yet allowing himself to be ordered around by the Red Skull and Zola "like a common domestic".

With his research suspended, Zola entered the Zemo Family library and indulged himself in the history of the Zola bloodline, initially something Heinrich approved of, believing Arnim would learn some real character from it. Whatever Arnim Zola discovered in the libraries, he soon brought to the Skull, and the two began to constantly seek for Heinrich to share more of his family history with them. In short order, this increased interest warmed Zemo up to the two again, and he consented to allowing Zola to begin experimenting in the Castle again, under his supervision. Arnim Zola claimed that he was willing to help him improve Adhesive X, a pet project of Zemo's and a powerful bonding agent, but when they performed an experiment on it, Zola rigged it to cause an accident meant to kill Zemo. Against all odds, the Baron survived the accident, though not without scarring and near-fatal damage. Like his new allies, Zemo continued to pretend it was an accident, while he slowly began to plot his revenge.

Unfortunately for the Baron, during the time he recovered the Red Skull went about destroying the soldiers that had remained loyal to him, and converting the weaker minded ones to his own cause. He found himself a stranger in his own home, and was dismayed to admit the balance of power had shifted, and HYDRA was in control now. It became clear to Heinrich that the Red Skull knew of the Sleeper all along, and he was only still alive to give him information. He decided that if he was to die, he would do so like a true Zemo, and prepared to take vengeance to defend his home and the treasures guarded by his family for generations. He watched on in rage as HYDRA fully occupied the castle, and began to shape it in their own image, but he remained the illusion of being invalid, waiting for his chance.

His diaries would be discovered over time by Captain America while searching through the castle, allowing him to put together the pieces of the underlying mysteries of Castle Zemo. After putting it all together, Rogers speculated that Zemo could have been a useful ally if they had met under different circumstances.[8]
Harbin Zemo
Appearances:

Captain America: Super Soldier


(July 19, 2011)


Aliases: Baron Harbin Zemo
Harbin Zemo was a famed war hero, and is often considered the "first" of the Zemo bloodline. Harbin entered the realm of legend when, 1480, he single-handedly confronted an invading horde with nothing but a sword. Zemo slew every single invader, and the people rewarded him by promoting him to nobility, effectivly making him the first Baron Zemo. He commissioned to have a castle built in the remote mountains, Castle Zemo, which past through his family over the years before Arnim Zola and Hydra took it over as their base of operations, though it's true purpose was kept secret from all but those of his bloodline.

The Castle was constructed with the intention of discovering something ancient beneath the castle known as the "Sleeper", a cause which the Baron found undeniably vital. He continued to oversee upgrades to the Castle's design that were many years ahead of his time, but sadly would not live to see his quest come full circle. Two Barons later, Baron Heller Zemo would be the one to discover the Sleeper.
Heller Zemo
Appearances:

Captain America: Super Soldier


(July 19, 2011)


Aliases: Baron Heller Zemo
Heller Zemo was the third Baron Zemo, and the second notable of the bloodline after Harbin Zemo. Heller Zemo was the one who would complete Harbin's intended quest from the construction of Castle Zemo by being the one to discover the Sleeper beneath the mountains the castle was constructed on. The massive size and advanced technology confused Baron Heller, but like his ancestors before him and those who would come after, he would not give in, and he began to study the Sleeper to find a solution.

Heller Zemo's studies allowed for multiple advancements in technology, and slowly subsequent Baron Zemos began to uncover the Sleeper, allowing the excavation to continue. It would take nine more Baron Zemos before one was ready to awaken the Sleeper however, and Heller Zemo was long dead by the time it happened.[8]
Hilliard Zemo
Appearances:

Captain America: Super Soldier


(July 19, 2011)


Aliases: Baron Hilliard Zemo
Hilliard Zemo was the eighth Baron of the Zemo family, and remembered best by the others as a naive fool. Hilliard believed that the Zemo family should use their immense wealth, power and intelligence to educate the peasantry, a notion that clearly did not catch on in his family line. While Hilliard was long dead by the time Heinrich Zemo awoke the Sleeper that Castle Zemo was created for, he was reflected on in the twelfth Baron's diaries, where he claimed that while he didn't agree with Hilliard, he could at least understand where his point-of-view came from after his interactions with the Red Skull and Arnim Zola. This diary was later discovered by Captain America.[8]
Apocryphal Minor Characters of Earth-199999
Donna
Kleiber
Lohmer
Appearances:

Captain America: First Vengeance

#4

While he has prisoners of various nationalities locked up, Col. Lohmer reminds one of his corporal that the Reich will win because they are united, both in blood and in purpose, unlike their enemies and the usefulness of separating them upon their arrival and of mixing them causes them to fight each other so that they cannot turn against them. He was killed by the prisoners making it look like an accident.[11]
References