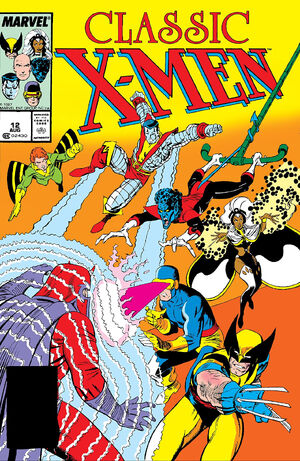 Back Cover Pinup
Previous Issue
Next Issue
Appearing in "The Gentleman's Name is Magneto"
Featured Characters:
Supporting Characters:
Antagonists:
Other Characters:
Races and Species:
Locations:
Items:
Vehicles:
Synopsis for "The Gentleman's Name is Magneto"
Cyclops has sent a message directing the X-Men to go to Muir Island off the coast of Scotland, which they are surprised to learn is owned by Xavier's "housekeeper" Moira MacTaggert. In order to get there, the team must first persuade a reluctant local fisherman, Angus MacWhirter, to rent them his fishing boat. Their mission is to find out why Moira's assistant, Jamie Madrox the Multiple Man, has been out of contact for several days. Before they can dock on the island, however, the boat is disassembled by a massive bolt of magnetic energy, sending them all tumbling into the ocean. They all swim ashore but find that the island is surrounded by a magnetic force field.
Before they can figure out what next to do, the ground beneath them is pulled up into the sky and the are levitated into view of Moira's mutant research center. The X-Men are amazed at the enormity of the facility located there and they wonder aloud just who Moira MacTaggert really is. They are almost crushed against a wall, but launch a quick defensive attack in order to pummel through it. As they recover from a crash landing, the doorway ahead of them bursts open, revealing the X-Men's oldest enemy: Magneto the master of magnetism!
Elsewhere in the complex, the X-Men's blackbird lands, and Moira and Cyclops emerge. They find Jamie Madrox, who is just reviving after having been knocked out. He explains how he was attacked and immobilized by Havok, Polaris and Erik the Red. While Jamie was kept in stasis, they went to Magneto's containment cell, where he had been kept since he was transformed into a small child. Erik then restored Magneto to his prime and tried to enlist him in his cause of destroying the X-Men. Magneto refused to be subservient to anyone else, but did vow that he would destroy the X-Men anyway.
Cyclops rushes off to join the rest of the X-Men, who are not faring well in battle against Magneto. His magnetic powers give him an advantage against both Wolverine's adamantium claws and Colossus's metal body. Storm's lightning bolts have no effect on him either. Magneto covers Nightcrawler in debris and seals Banshee in a cocoon of metal particles. Fortunately, Cyclops arrives and manages to stun Magneto with the full power of his optic blast. Seeing as the group is clearly unprepared to battle Magneto, Cyclops orders them to retreat, much to Wolverine's chagrin. As they are leaving, Wolverine notes a monitor indicating that Dragonfly of the Ani-Men has escape from her containment cell.
While fleeing the scene in the Blackbird, Cyclops informs his team that the recent attacks on the X-Men orchestrated by Erik the Red are a diversion. Erik (who must be an alien, given the technology at his disposal) is really targeting Professor X because of his recent psychic rapport with an alien being. Cyclops says it's imperative they return to Xavier immediately. Unconvinced, Wolverine dismisses Cyclops as a coward. Back on Muir Island, Magneto gloats about his victory over the X-Men and leaves to plot anew. He passes by a door labeled "Mutant X", which begins to glow.
Meanwhile in deep space aboard a starship known as the "Starjammer", the space pirate Corsair tells his shipmate Ch'Od that nine stars are moving into the correct alignment, and so the "Emperor" must be planning to open a stargate. The Emperor's sister Lilandra (the woman that has been haunting Xavier's dreams) is rushing toward the Earth in the hope that Charles and his X-Men might be able to help stop her brother. Before she can get to Earth, however, she is attacked by an Imperial cruiser.
In New York City, Jean Grey is reunited with her parents in the company of the Professor and her roommate, Misty Knight. They are unaware that their reunion is about to be cut short by an attack about to be launched by Erik the Red, Havok and Polaris.


Appearing in "A Fire in the Night!"
Featured Characters:
Supporting Characters:
Antagonists:
Unnamed Nazi soldier

(Only in flashback)

(Death)

Unnamed Polish officers

(Only in flashback)

(Death)

Unnamed innkeepers

(Only in flashback)

(Death)
Other Characters:
Races and Species:
Locations:
Earth

(Main story and flashback)
Items:
Synopsis for "A Fire in the Night!"
A flashback to when Magneto, as a young father living in Russia, first discovered his powers and how, in the beginning, he used them to save people.


Appearing in "Magneto Pin-Up"
Featured Characters:
Synopsis for "Magneto Pin-Up"
Back cover pinup.

See Also
Links and References
[1] plot summary at uncannyxmen.net
Footnotes
↑

First and only known appearance to date besides flashbacks
---
---
Community content is available under
CC-BY-SA
unless otherwise noted.