Doctor Strange in The Multiverse o Madness - The Loop
Play Sound
History
Wanting to live more independently from the Avengers, Clint Barton moved into this small apartment building in Bedford-Stuyvesant, Brooklyn. Clint quickly became friendly with his neighbors especially during their nightly potluck gatherings on the roof of the building. When the landlord Ivan Banionis began raising the rent and Ivan's tracksuit goons began harassing the tenants to force them to move so the building could be sold, Hawkeye forcibly purchased the building using the money he inherited from his brother.[2]
To obscure the stolen drug money that Hawkeye was laundering, he lied to several other superheros saying that he sold his apartment building.[3][4]
Structure
The exact dimensions of the building are unknown, but it appears to be at least four stories tall[5] and houses at least eight apartments.[6] The structure has fire escapes on both the front and rear of the building.[7][5]
While in an intensifying turf war with The Hood, Hawkeye began using the basement of his building as a base of operation. Bryce Bandau dubbed the space "The Fortress of Solid Dudes".[8]
Residents
Aimee and her unnamed roommate
Unnamed single mother and her daughter[6]
Possibly several other unidentified residents
Former Residents
Alternate Reality Versions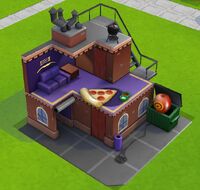 Marvel Avengers Academy (Earth-TRN562)
Hawkeye's Apartment is the residence of Clint Barton and Lucky on the Avengers Academy grounds. It smells like pizza, burnt coffee, and dog hair.[1]
Residents
Notes
The exact address/location of Clint's building is unknown. However:
Trivia
Most individuals seem to live in apartments designated with some relation to their name, and the apartment designations do not seem to follow a traditional sequencing pattern:
See Also
Links and References
References
Like this? Let us know!