History
Compass Rose is one of Legion's sub-personalities.
After her battle with the rogue personality Styx, Rogue who had absorbed Legion's powers and personas discovered Compass Rose among them.
Using this powers, she located Rachel Summers and the X-Men gone some time ago in space. She then teleported herself, along Frenzy, Gambit and Magneto but were separated during the transfer on two places of the space station.
Attributes
Powers
Telepathic Teleportation: Compass Rose possess the powers of locating individuals and teleport to them. The transportation is kind of brutal. For an unknown reason, only Rogue, wielder of her power, was transported right to the point looked for. The passengers were expelled at an other destination, close.
Paraphernalia
Transportation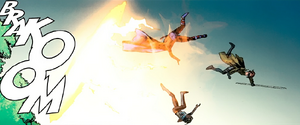 Her or his teleportation power.
See Also
Links and References
References
Like this? Let us know!