History
Overview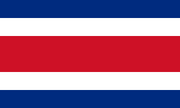 Costa Rica, officially the Republic of Costa Rica, is a country in Central America. It is bordered by Nicaragua to the north, Panama to the southeast, the Pacific Ocean to the west, the Caribbean Sea to the east. It's capital and largest city, San José.
Events
Dai Thomas, Kate McClellan, Alysande Stuart, Alistaire Stuart, and Captain Britain visited Costa Rica on a mission.[1]
In Costa Rica; Esteban purchased Louis Richter's arms and ammunition.[2]
...[3]
In Costa Rica; Black Widow contacted Isaiah Ross her lawyer and manager to take care off Natasha's cat while she was out of the country.[4]
In Costa Rica; a group of American soldiers are being held prisoner by a South American drug lord, and suddenly a new prisoner arrived; Frank Castle aka the Punisher.[5]
On Earth-10001; the Heroes for Hire were investigating illegal weapons smuggling in Costa Rica, Luke Cage and Colleen Wing were killed in an ambush by an artificially enhanced super-powered agent of the Terros cryme syndicate.[6]

Points of Interest
See Also
Links and References
Footnotes
Community content is available under
CC-BY-SA
unless otherwise noted.