History
Daniel Calhoun was a
Exonim
soldier who got hurt during an attack on the force wall of
Fortress X
. Stranded at night he was found by
Mutant Resistance
member
ForgetMeNot
who noticed the wounded soldier on the ground. Calhoun told him to get away from him, in fear that he might be taken captive, but ForgetMeNot instead brought medical supplies to help with his flesh torned injury. As Calhoun made frivolous comments, ForgetMeNot started to apply antibiotics to his leg in hopes of bringing his fever down.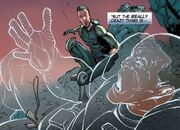 After the application of medicine, he told Calhoun that he should be fine until his fellow soldiers would find him, but Calhoun asked him to stay with him because he said that he didn't remember his own name anymore, only what was on his dogtags. ForgetMeNot stayed with him the entire night with the thought that Calhoun's behavior was due to the fever but by dawn he witnessed Calhoun vanish right in front of his eyes, with only the dogtags left behind of a man who didn't exist anymore.
[1]
Links and References
Discover and Discuss
Footnotes
---
---
Community content is available under
CC-BY-SA
unless otherwise noted.