History
LETS DANCE!, put on you red shoes and dance the blues, LETS DANCE!, to the song they're playing on the RAAAAA-DIIIIO...

-- Venom
David Bowie was an English rock star known for dramatic musical transformations, including his character Ziggy Stardust.[1]
"Rick Jones" sang David Bowie's "Changes", which he dedicated "to my friend Bruce."[2]
When Eddie Brock became Venom once again, he took down all of the orderlies while singing David Bowie's "Let"s Dance" until realizing that he could not remember how the rest of it went.[3]
When Spider-Man and Nick Fury took off in the "Arachno-Rocket", Spidey put on the play list. He went through a few songs one being "Space Oddity", but they settled on "Starman".[4]
The immortal prophet Tiresias stated that in the 1970's, he was in the studio when David Bowie recorded the "Low Album."[5]
Notes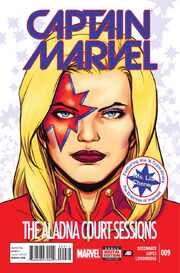 Links and References
Discover and Discuss
Footnotes
---
---
Community content is available under
CC-BY-SA
unless otherwise noted.