History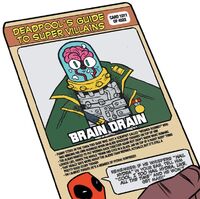 The Deadpool's Guide to Super Villains Cards are a set of 4522 individual educational trading cards depicting villains, monsters, and baddies and providing general information about their background, powers, weaknesses, etc. The cards were created and hand-drawn by Deadpool. Although most contain accurate information, a portion of information appears to have been fabricated by Deadpool. Squirrel Girl relies on these as a primary source of information when facing villains she is unfamiliar with.[3][4][5]
Accessory Cards
A companion card deck, the Deadpool's Guide to Super Villain Super Accessories Cards are a set of 1622 individual cards depicting villains' vehicles, weapons, and paraphernalia.[1][5]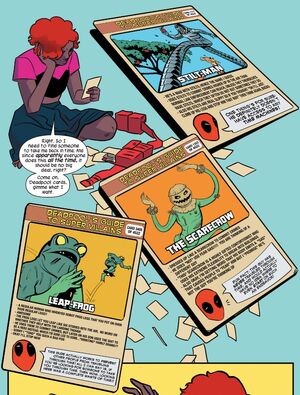 Cards
The main 4522 revealed so far:
The 1622 accessory cards revealed so far:
Notes
There are also Deadpool's Official Unofficial Guide to Super Heroes but most cards simply depict Deadpool looking into a mirror and giving himself a thumbs up.[3]

Trivia
Ms. Marvel has expressed a desire to get her own set of Deadpool's Guide to Super Villains Cards.[7]
See Also
Links and References
Footnotes
↑

Duplicate card numbering

↑

The text of this card discusses a half-man, half-shark individual or creature, but no specific name can be seen.

↑

Duplicate card numbering

↑

Unlike other cards that refer to a specific villain or team, this card refers to the several different individuals who have dawned this title and discusses the main attributes of the individuals using this persona.
Community content is available under
CC-BY-SA
unless otherwise noted.