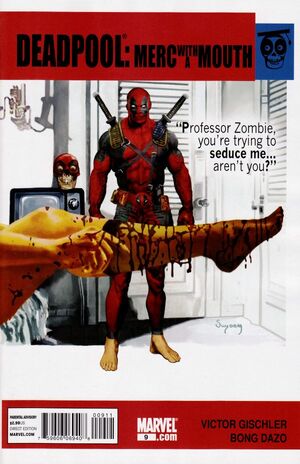 Textless
The Graduate
Previous Issue
Next Issue
Hey, Professor Veronica loves me for who I am. She says my scars are a roadmap of a loner's experiences, the rough texture of living!

-- Deadpool
Appearing in "Next Stop: Zombieville, Part 2"
Featured Characters:
Supporting Characters:
Antagonists:
Locations:
Itens:
Synopsis for "Next Stop: Zombieville, Part 2"
Synopsis not yet written.

Solicit Synopsis
Deadpool and Headpool are playing video games when Headpool starts to complain about being stir crazy and how they haven't done anything useful in awhile. Deadpool leaves and asks Veronica and Betty if there is anything he can help with. Veronica reveals that there is something he could help with, but she has been hesitant to tell him with the mission being so dangerous. Deadpool hears this and just wants to do it more. Veronica explains that the zombie virus tends to only go after supers. She needs a infected super specimen. Deadpool agrees and goes to search for a sewing machine. Veronica asks Betty if she thought Deadpool could actually capture a super. She says that under all the silliness he is really a great mercenary. A.I.M Agent Bill interrupts their conversation telling them that Deadpool needs a large fisherman's net and spray that simulated rotting flesh. Outside there a group of supers are sitting amongst the rubble. One of them tells Deadpool he looks different and he is seen with Headpool on top and Deadpool peeking out of eye holes. Headpool whispers to Cypher that if he is really hungry he should wait three minutes and then follow him. As Cypher follows a large net is dropped on top of him and he is wrapped up. Absorbing man sees where they take Cypher and goes back and tells the others. Back in the lab, Deadpool is getting ready to receive a reward from Veronica. Deadpool enters her room to find her in just a bra and panties. She jumps on top of him and starts ripping his clothes off, except his mask. Later Bill asks him when they were going to work on a plan to get home. Deadpool asks Veronica if he can leave and she says it's ok. The next morning Veronica escorts Deadpool outside to the gateway. The supers that were with Cypher are waiting for them outside...


Trivia
See Also
Links and References
Footnotes
---
---