Earth-889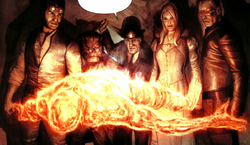 Creators and Appearances
History
Earth-889 is a pre-digital culture which was targeted for annexation by extra-dimensional mutants under the guidance of Agent X-13. Its protectors include a group of mutant adventurers and consulting detectives known as the X-Society.[1]
Residents
Formerly
Notes
As there was also in this world an unidentified levitating mutant following the Subject X, we can supposed there is also a Forge on this world, or another person taking care of this Secret War using mutants.
The title of the story implies that New York (the state) is named "New Albion" in this version of America.
Trivia
An alternate and/or future version of this reality exists under the form of Earth-52012.
See Also
Links and References
Footnotes
Like this? Let us know!
Community content is available under
CC-BY-SA
unless otherwise noted.