Previous Issue
Next Issue
—
Appearing in "The Enchanter's Apprentice!"
Featured Characters:
Supporting Characters:
Antagonists:
Other Characters:
Deities and Invocations:
Locations:
Items:
Synopsis for "The Enchanter's Apprentice!"
As an improbable battle rages on below the castle, Man-Thing is picked up by Jennifer Kale, with the savage Korrek following from behind. Korrek catches up with Kale and the Man-Thing and attacks the two of them. Jennifer suddenly awakens screaming, and as her brother and grandfather burst into the room to reassure her it's all a dream. However, Joshua Kale has his doubts that his granddaughters nightmares being just dreams.
His supicions are validated when Korrek is transported to Earth's dimension through a jar of peanut butter and resumes his attack on Jennifer. However, when Joshua and Andy burst into the room, Korrek believes himself surrounded and flees into the swamp. The Kales are soon visited by Dakimh the Mystic who has come to tell the Kales about the disruption in the Nexus of All Realities caused by the construction being done in the swamp. He has also come to train Jennifer in his mystical knowledge, with her grandfathers permission, Jennifer leaves with Dakimh.
While in the swamp, Korrek is confused with his surroundings and is about to give up his quest when he spots the Man-Thing spying on him. Attacking the creature in a fury, he once again sees that no matter what he does, he cannot harm the Man-Thing and so he stops fighting. While lamenting over his plight, Korrek is visited by Howard the Duck, who has also found himself transported to Earth's dimension as well.
While in the other realm, Jennifer begins her mystical training by Dakimh, however an attack by their enemies leaves Jennifer alone when Dakimh flees during their attack, and she is taken prisoner. While back on the Earth dimension, Howard and Korrek team up to find a way back to their respective realities. Traveling through the swamp with Man-Thing in tow, Korrek is compelled to go to the F. A. Schist construction site after hearing a blood curdling scream. Spotting demons attacking the site, the monsters soon turn their attention towards Man-Thing, Korrek and Howard and close in for the kill. This story is continued in Man-Thing #1.


Appearing in "Frog Death!"
Featured Characters:
Antagonists:
Other Characters:
Races and Species:
Locations:
Synopsis for "Frog Death!"
After months of falling between the dimensional void was stranded on during his battle against the Overmaster, Howard lands back on Earth, however this time he lands in Cleveland. Befriending some children, they take Howard to the nearest cigar shop, where the indifferent owner is given a shock first by Howard's currency (US money with ducks for presidents) and later his appearance.
When asking the children why the cigar shop owner was on edge, they point out Garko, a man who, since moving into the neighborhood, has sat in the window of his fourth floor apartment looking into a jar and occasionally yelling about taking over the world.
Garko debates over the merits of ruling the world, and decides that the point of acquiring power would be to get more, which would equate to killing people. Opting to just cut out the world conquering and skip to the killing, he consumes the potion in his bottle and transforms into a Man-Frog creature.
When the rampaging Garko approaches Howard and the boys, Howard sends them off to call the police while he battles the Man-Frog. During the fight Garko begins to shrink and turn into a real frog. Swinging blindly, Howard accidentally strikes a police officer who has arrived to the scene. Not believing his story about a giant Man-Frog, the police arrest Howard instead believing him to be the maniac that was called in about. As the police car drives away, it runs over the frog body of Garko.


Appearing in "Hellcow!"
Featured Characters:
Antagonists:
Other Characters:
Dracula

(Only in flashback)

Commissioner Gordonski
Jubal Brown

(Death)

Brown's daughter
Thompkins
|Hans

(Only in flashback)
Races and Species:
Locations:
Synopsis for "Hellcow!"
Howard the Duck languishes inside of a Cleveland City jail cell. Police commissioner Gordonski mistakenly believes that Howard is a midget dressed as duck. He attempts to remove his costume, but is shocked to discover that Howard is a genuine duck. Unwilling to risk public humiliation, he orders Howard's release.
Howard decides to develop a strong reputation in Cleveland in the hopes of one day becoming a police officer. He reads a local newspaper, which tells of a series of mysterious farm slayings.
That night, Howard masquerades as a human and wanders the city streets in the hopes of luring the killer out of hiding. Suddenly, a vampiric bovine known as the Hellcow swoops down out of the sky and attacks Howard. It kicks him into an auto-parts store and attempts to drink his blood. Howard keeps Hellcow at bay with a cross-shaped lug wrench, and manipulates her into diving into a pile of tires. As Hellcow attempts to wrest her fangs free from a whitewall tire, Howard destroys her with a stake and hammer.
Although Howard solves the mystery and saves the day, he is denied the chance to become a police officer.


Appearing in "Howard the Barbarian"
Featured Characters:
Supporting Characters:
Antagonists:
Other Characters:
unnamed warrior
guardian giants
Bahndbird
Locations:
Items:
Synopsis for "Howard the Barbarian"
At the mouth of the Cuyahoga river, Howard the Duck contemplates his lot in life and comes to the conclusion that he should commit suicide, because he is unable to make a living in a world of humans. Spying a tower out in the middle of the river, Howard rides a log there and decides to scale the tower and jump off. As he climbs he realizes that the tower is made out of credit cards. Reaching a window near the top, Howard enters for a rest and comes face to face with Beverly Switzler. Killing a barbarian mystically transformed into a dog by fluke, Howard meets Beverly's captor, Pro-Rata. Pro-Rata is a magician that uses accounting skills in order to command his magic and hopes to obtain the Jeweled Key, that once used at midnight with his cosmic adding machine will allow him to become a god. Explaining his origin, Pro-Rata knocks Howard out.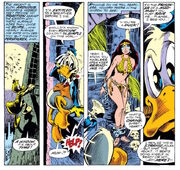 While in New York City, J. Jonah Jameson sends Peter Parker on an assignment to Cleveland in order to confirm reports of a talking duck and to take pictures. While back in Cleveland, Howard revives and finds that he's been changed into barbarian garb, he and Beverly are then sent to another dimension to collect the jeweled key. There Howard is mistaken for a hatchling Bahndbird and is attacked by a barbarian on a steed. Howard manages to break his joust causing the barbarian to wipe out and get knocked unconscious. Commandeering his steed, Howard and Beverly travel to the temple of the Jeweled Key.
There they find it guarded by stone statues and suspended over a pit of spikes. Putting his mind into how to get the key (and chomping on a cigar to boot) Howard has Beverly hold his helmet over the pit while he flicks his cigar at the rope suspending the key over the pit. The ploy works, the cigar burning through the rope and making the key land in the helmet. Leaving the temple they are attacked by the stone statues and a Bahndbird, which destroys the statues.
As the creature approaches Howard and Beverly, they are transported back to Earth, along with the Bahndbird. When Pro-Rata commands Howard to give him the key, Howard tosses it off the tower, however it is caught by the arriving Spider-Man who has been drawn to the tower when it's upper levels were blasted open by the Bahndbird. As Spider-Man battles the Bahndbird, Pro-Rata attempts to blast him with a mystic bolt, however Howard throws his scabbard at the mystic, causing him to misfire and ignite the pollutants in the Cuyahoga instead. In an act of heroism, Howard then knocks himself and Pro-Rata over the edge, however, Howard is saved by Spider-Man, and Pro-Rata lands in the fire to perish alone. After thanking Spider-Man for his help, Howard and Beverly bid the wall-crawler farewell as he webs off to capture the Bahndbird.


Appearing in "Cry Turnip!"
Featured Characters:
Supporting Characters:
Antagonists:
Other Characters:
Races and Species:
Locations:
Synopsis for "Cry Turnip!"
After reading the story "Killmallard" written by Beverly's friend Arthur Winslow, Howard has a nightmare where he lives as the character and he and Beverly are killed battling alien invaders. Waking up from his nightmare, Howard and Beverly talk about their escape from Pro-Rata's tower, and about Beverly's friend Arthur. Arthur, an aspiring and unpublished writer, is just a friend to Beverly, however Howard is still a little jealous of him.
Meanwhile, Arthur is spending yet another night on duty as a night watchman when he hears a crash. Investigating a warehouse with a broken window, Arthur finds a turnip from space. The space turnip contacts him telepathically and tells him that its name is Phelch, and that it is the last survivor of its race and that it has scoured the universe looking for the perfect host body. Arthur tells Phelch about how dull his life is and how he desires to become a hero in the eyes of people. The two make a deal, allowing Phelch to take control of Arthur's body, Phelch would give Arthur the opportunity to be a hero, and in return Arthur would allow Phelch to use his body to experience being human.
The next day, Howard and Beverly are riding the bus when Howard is hassled by the Kidney Lady for smoking on the bus. The two get into an altercation which causes the bus to spin off the overpass, however they are all saved by Arthur, who has become the costumed hero Turnip Man. Feeling that it has completed it's part of the bargain, Phelch then takes control of Arthur's body and kidnaps Beverly so that it may experience sex.
Howard chases after them, not hearing the Kidney Lady vowing revenge on Howard. Arriving at Sunspot Slope, Howard stops Turnip Man before he can make a move on Beverly (which he was failing at miserably anyway because Phelch could only access Arthur's cheesy pick-up lines.) Howard is knocked back by a mental bolt, and realizes that the only way Phelch would have let Arthur carve up his body and wear it as a helmet is if the stem is where his brain is. Howard then plucks the stem, causing Phelch to go mad and try to get away, pulling Howard with him. Howard however directs Phelch to a nearby smoke stack and drops him in where he is incinerated. Returning to Beverly's apartment, Arthur realizes the errors of his way and accept the fact that life is supposed to be full of mundainaties.


Appearing in "Four Feathers of Death! Or: Enter the Duck!"
Featured Characters:
Supporting Characters:
Antagonists:
Other Characters:
Locations:
Items:
Master C'haaj School Graduation Pendant


Synopsis for "Four Feathers of Death! Or: Enter the Duck!"
Leaving a theater after watching the latest Kung-Fu epic, Howard is disgusted by the fact that human culture would glamorize such violence and questions the merit of bastardizing of a culture to make a violent film that encourages young people to imitate. To prove his point, Howard and Beverly are bumped into by a young man who is imitating some of the moves that he saw in the movie. Telling the boy off, Howard and Beverly go into a diner for some food. Shortly after, the boy is thrown through the diner's window by Count Macho, a master of kung-fu and a self proclaimed macho man who will not stand for any effrontery to his manhood.
When Howard tries to talk Macho out of beating the boy a fight erupts in the diner that increases in size as more patrons get up to fight Macho and his hoods. During the scuffle, the boy is stabbed by Macho, and his gang leaves shortly after. When Howard tries to stop them Macho beats Howard, however Howard pulls off Macho's pendant.
In the ensuing chaos, Howard manages to back the crowd away so that Beverly can administer first aid until the authorities can arrive and take him away, Beverly goes with the paramedics leaving Howard to stew over what happened. Hoping to relax by browsing in an adult book store, Howard comes across a who rack of magazines devoted to Kung-Fu. Further disgusted by the wanton glamorization of violence, Howard browses through one of the magazines and happens upon an ad for Master C'haaj, who promises to teach the secrets of any fighting style.
Deciding to beat Count Macho at his own game, Howard goes to Master C'haaj's school where he is welcomed as C'haaj's newest pupil and begins his training. Meanwhile, Beverly is told at the hospital that the boy had died in surgery. Leaving the hospital, Beverly is then captured by Macho's thugs.
Back at the martial arts school, Howard trains his mind and body in the art of Quack-Fu and becomes a master of the fighting style in just under three hours. Given a fighting outfit, Howard suddenly finds himself back outside the adult book store as if the fighting school vanished. Rushing home to tell Beverly of his experience, Howard finds a note on the door from Macho demanding his pendant back. Howard goes to the meeting place and beats all of Macho's goons, and in the fight with Macho, Howard is able to deflect all of Macho's attacks. In a fit of rage, Macho jumps at Howard, who moves out of the way and Macho plummets off the sky scraper to his death. After the two reflect on the whole incident, believing that Macho deserved his fate, but not liking the idea that he had died.


Appearing in "Sleep of the... Just!"
Featured Characters:
Supporting Characters:
Other Characters:
Paul Same's parents

(Only in flashback)

unnamed robber
an old lady
customers at Joe's Bar
Xavier Couture

(Only appearance)

[1]
policemen
Locations:
Items:
Synopsis for "Sleep of the... Just!"
Woken up at midnight by constant pounding on the floor from the apartment upstairs, Howard and Beverly go up to investigate. In the apartment they find Paul Same, a man with a sleeping disorder pounding on the floor. Howard wakes him up, and Paul tells them his life story:
Able to read at age three, Paul was viewed as a child prodigy until he started school, where his boredom and disinterest in doing everything the same as anyone else led to flagging grades and trouble with his folks. Unable to stand up for himself, Paul would drift into daydreams where he would punish those who pushed him around, but this would cause him to fall asleep in the waking world at inopportune times.
With his story finished, Howard questions why Paul never stood up for himself, something which Paul cannot answer, but is inspired by as Howard storms back downstairs to go back to sleep. Finding himself dwelling over the problems he sees with humans, Howard finds he cannot sleep either and goes down to the local bar. While drinking at the bar, Howard becomes the cause of a bar fight which erupts into a full fledged brawl until Paul arrives dressed in pajamas and a face mask. Calling himself Winky Man he tries to dispel the crowd with a candle and rhymes. Before he is pummeled to a pulp, Howard grabs "Winky Man" and pulls him into a dark alley, there Paul wakes up with no memory of what happened.
In the coming days, Paul found himself able to complete his art works while at night his Winky Man persona would go out and target those who would push others around. Finally having enough work to put on a show, Paul's work is savaged by art critic Xavier Coutire, prompting Paul to become Winky Man and attack Xavier. However, Howard intervenes and when Winky's roman candle causes the art galleries sprinklers to turn on, waking Paul up, Howard has Paul stand up to Xavier. When Paul does so, revealing that Xavier wears a wig, Xavier turns it around in front of the press to make it look as though the whole ordeal was a artistic expression, a notion which Paul goes along with when Xavier begins to praise Paul's ability.
After the whole ordeal, Howard feels as though Paul didn't learn anything, however Beverly has a little more faith in Paul.


Appearing in "I Want Mo-o-oney!"
Featured Characters:
Supporting Characters:
Antagonists:
Other Characters:
Locations:
Synopsis for "I Want Mo-o-oney!"
With money tight, Howard and Beverly begin considering their employment options, with Beverly deciding to do more modeling for art classes. When Beverly suggests that they try to make it rich, Howard scoffs at the silly notion deciding that he should find a real job. Sent out to buy supper (Which with their current income amounts to buying chocolate bars) Howard goes to the store, however while browsing the comic books he is outraged at the way ducks are portrayed in the book. Angrily smashing the comic on the ground, Howard is made to buy the comic book by the store manager and is only able to buy one chocolate bar.
Still upset over how ducks are portrayed, Howard tries to air his outrage on a radio call in show and is hung up on when the DJ's think he's a nut. The next day, Howard tries to portray ducks properly by getting a job on "Gonzo the Clown Kiddie Kartoon Korner" a popular children's television program. Casted as Dopey Duck, Howard is pied in the face and not willing to suffer such an indignity punches out Gonzo on live television and is fired even though the children in the audience cheered him on.
While wandering the streets, Howard is recognized by the owner of E-Z Credit Appliance Company, who offers him a job as a collections agent. When he has to call a woman about back payments she owes, Howard wonders why the woman can't make her payments. Calling at the woman's house, Howard finds that she is an impoverished woman who's husband bought the TV and left her with the bills when she has four children to raise. She tells Howard about how she didn't realize that the 40 cent a day payments would equate to paying $900 dollars for a TV set that would normally cost $400 and that it wouldn't last the amount of time it would take to pay it off. Heartbroken with the woman's story, Howard tells her that she can keep the television and that it's paid off and quits his job, finding that he doesn't have the heart for the work.
While browsing in the papers for a job, Howard comes across a challenge made by a wrestler named Emile "The Goat" Klout offering any man who can beat him in the ring $10,000. Howard decides to take the challenge in spite of Beverly's warning about how unbeatable "The Goat" appears to be. Riding to the arena the next day, Howard is once more accosted by the Kidney Lady, who once more accuses him of being a Kidney Thief and spouts off about the conspiracies she believes in.
Arriving at the arena, Howard prepares to face "The Goat" while other opponents are easily defeated by the apparently unbeatable wrestler. When Howard steps into the ring, he uses his smarts and is able to knock "The Goat" out cold, however when his manager realizes that Howard is a duck, he manages to weasel a way out of paying Howard the $10,000 by saying the challenge went out to any MAN who went into the ring. However, after some negotiation, the manager for "The Goat" sets up Howard and Beverly up with enough money to pay off their bills, and the two decide to leave Cleveland for New York and begin hitchhiking their way.


Appearing in "The Secret House of Forbidden Cookies!"
Featured Characters:
Supporting Characters:
Antagonists:
Other Characters:
Locations:
Synopsis for "The Secret House of Forbidden Cookies!"
As their hitchhiking to New York is meeting troubles after Howard gets them kicked out of a car for refusing to put out his cigar, and after narrowly avoiding being struck by a driver who figured Howard was a demon, the two travelers get into an argument and part company. While Howard finds a place to sleep outside, Beverly comes across a crumbling Victorian manor and is invited in by the young Patsy Dragonsworth.
The next morning, Howard is discovered by the Reverend Joon Moon Yuc and his followers the Yucchies, a religious group who believe Howard to be a demon. When Howard tries to get a ride with them (which they refuse to give anyway) they are interrupted by the arrival of horse riding real estate agent Heathcliff Rochester, who mistakes Howard for Reverent Yuc (Believing the reverend's name to be Reverend Duck) who takes Howard off to see a mansion that is for sale at a discounted price, a house which Reverend Yuc and his followers hoped to purchase.
At said mansion, Beverly prepares breakfast for Patsy and her insane mother. Breakfast is interrupted when a bunch of townspeople, who believe Patsy to be a witch show up to tear the house down. Heathcliff arrives with Howard and a band of dogs to drive the locals off. Invited in, Howard and Beverly make up and learn that the townspeople believe that Patsy is a witch and that she is creating monsters and that's why Patsy's mother is trying to sell the house. Patsy insists that she creates no monsters and only wishes to bake cookies. When Reverend Yuc arrives, also believing that Patsy is making monsters, Patsy takes them all to the cellar to show them what she's been working on. The setup is reminiscent to a scene out of Frankenstein, however Patsy insists that she is baking cookies in spite of the fact that there is a humanoid shape under a blanket in the middle of the room. Activating the device under protest, Patsy reveals her creation: A gigantic gingerbread man. As everyone tries to clear the room, the giant cookie-being begins to spring to life.


Appearing in "The Way the Cookie Crumbles"
Featured Characters:
Supporting Characters:
Antagonists:
Other Characters:
Locations:
Synopsis for "The Way the Cookie Crumbles"
Patsy's Gingerbread Man has sprung to life and starts lurching towards all gathered, Beverly and Howard make a break for it. However, Howard decides to turn and fight and begins attacking the Gingerbread Man, eating the monsters leg off. Short a leg, the Gingerbread Man stumbles backwards into a machine causing a chain reaction. Howard and Beverly manage to make it out of the house just before it explodes apparently killing everyone else inside. Howard and Beverly then resume their hitchhiking to New York.
Sometime later, Howard and Beverly are picked up by country western star Dreyfus Gultch who is in New York to sing the national anthem during the All-Night Party's National Convention. Howard and Beverly ask Dreyfus if he can help them get jobs in New York, and Dreyfus (attracted to Beverly) agrees to try and help them out. The two get jobs for the convention, Beverly as a hospitality girl and Howard as a security guard. That night, as they receive their uniforms, they get the first in a series of cryptic notes giving a part of a recipe.
During the convention, Howard takes note of the very lax security (the chief of security is more busy messing around with the hospitality girls to give Howard directions) and dispenses his straight-forward advice on political matters such as the powers the CIA should have and which candidate to follow: Wauldrop or Wauldrap.
That night, Howard goes out with some of the party members and Dreyfus to a strip-club where Howard gets yet another cryptic message. Realizing that it's a recipe for Baked Alaska, Howard realizes that there is a bomb in the building. Rushing to the convention speech being made by Wauldrop, Howard spies standard for Alaska is starting to smoke. Pulling it free, Howard puts it into a seven layer cake which muffles the blast. After the explosion, the cake covered Wauldrop, finding the post as party leader too dangerous quits. Shortly after all present nominate Howard to be their candidate.


Appearing in "Open Season!"
Featured Characters:
Supporting Characters:
Antagonists:
Other Characters:
Locations:
Items:
Vehicles:
Dreyfus Gultch's Limousine


Synopsis for "Open Season!"
Leaving Dr. Strange's Sanctum Sanctorum, Howard and Beverly soon find themselves the target of every hired assassin representing interest groups that seek to kill Howard and ruin the All-Night Parties bid for presidency. After a few botches attempts due to assassin incompetence, Howard and Beverly are rescued by Dreyfus who drives them to the All-Night Party campaign headquarters.
There, Howard becomes privy to the advertising campaign that is being initiated by G.Q. Studley, who wants to reinvent Howard's image and come up with the best P.R. possible. While they are giving Howard a more friendly look, Studley explains to Beverly that Howard is popular enough to warrant the most targeted candidate for assassination above Gerald Ford or Jimmy Carter. However, when Howard rejects his new look, he fires the P.R. campaign and hires one at random out of the phone book: Mad Genius Associates.
Afterward, Howard makes a number of media worthy stories, dumping unrecyclable junk at the door step of the corporation that made them, having parents ride the bus to school with their children, and unveiling his strategy for allowing the military to buy new, more powerful weapons by having the soldiers live in caves. After a flurry of media attention the polls show that 48% of the population wants Howard dead, 30% will vote for him and 22% are undecided.
As Beverly spends a night alone in Central Park wondering what she's getting herself into, she is startled by the hotel bellhop, who -- after Beverly leaves -- strangles a duck to death.
Later, being visited by various lobbyists at Dreyfus Gultch's estate, Howard turns away all their gifts for allowing their interests influence the government should Howard be voted in. Later, Howard addresses the nation and talks about an open debate over Vietnam, his opinion on political scandals, and on violence in entertainment before Beverly ends the conference.
After the conference, Howard is attacked by assassins backing the consumer, automobile and oil industries, narrowly escaping death each time. Returning to the hotel, Dreyfus shows them the front page headline, which features a doctored photo of Howard and Beverly in the bath together.


Appearing in "Scandal Plucks Duck"
Featured Characters:
Supporting Characters:
Antagonists:
Other Characters:
Locations:
Items
Synopsis for "Scandal Plucks Duck"
With headlines featuring a doctored photo of Howard and Beverly in a bathtub together (an obvious phony) ruins Howard's chance at winning the election to become President of the USA. The Bellhop at their hotel has traveled up to Canada to tell his employer, Le Beaver, that his mission is a success.
While in New York City, after the election is over, Dreyfus tells Howard that his connections in the CIA told him the scandal was orchestrated by somebody in Canada, and that their bellboy was hired by them. Dreyfus gives them a lead informing him that the boy had moved to Ontario. After some convincing by both Beverly and Dreyfus, Howard agrees to travel up to Canada and force the mastermind to confess in order to clear their good names, and the image of the All-Night Party.
Boarding their plane, they are unaware that it is rigged by the Bellhop who tries to make the plane crash and kill them both. The plane does crash, in Canada near their destination, however Howard and Beverly survive the crash. They are rescued by Sgt. Preston Dudley of the RCMP along with his horse Prince and his dog Elizabeth. Telling Dudley their story, Dudley deduces that the culprate is none other than Pierre Dentifiris, an extremist Canadian nationalist who loathes the United States. Taking them to Dentifiris' home, they found a crippled old man. Pierre tells them that he hated America, and that after the US military foiled a plot in which he had use beavers to dam Niagara Falls, he hated America even more. When the US bombed the beavers, the incident apparently aged Pierre 73 years and made him a cripple. Believing that Pierre cannot be their man, Howard and Beverly leave.
That night, they are attacked by the Bellboy who is dressed up like Uncle Sam who has come to kill them. However, Howard is able to incapacitate the Bellboy with the help of Dudley, but they find that in the commotion Beverly has been kidnapped. Tracking her down, they find her the captive of Pierre at Niagara Falls. Pierre is in a giant beaver exoskeleton calling himself Le Beaver. Challenging Howard to a duel on a tightrope, Howard chickens out and when Le Beaver tries to follow, he loses his balance and falls into Niagara Falls.
After Dudley frees Beverly, they praise Howard as a hero, however Howard doesn't feel that way based on his cowardly actions.


Appearing in "Swan-Song... Of The Living Dead Duck!"
Featured Characters:
Supporting Characters:
Antagonists:
Other Characters:
Locations:
Items:
Vehicles:
Synopsis for "Swan-Song... Of The Living Dead Duck!"
Hatching out of an egg, Howard suddenly is chased by a giant hand into a room where small people react with hostility to his presence. He is suddenly approached by a giant ape named Kong Lomerate, who's word is law, he crushes Howard with a giant stamp that reads "Canceled" in flaming letters once lifted from Howard's spot.
Surviving and find himself climbing a wintery mountain top, Howard enters the home of the Guru, and finds Omega the Unknown living inside. He asks Omega what the meaning of life is, "Gimme it straight! Why am I?" asks Howard, to which Omega responds "Why not?" He and Omega then go on a boat ride which leads to Howard being caught in a whirl pool. Dropping into a room where Beverly is waiting, she opens her face to reveals a flower, which squirts water in his face. Howard then retreats back into the egg that he hatched from.
Howard realizes soon that this is all a dream, and when he tries to get a glass of water to down some aspirin, the spout pours out webbing and Spider-Man materializes, Howard realizes he's still dreaming. When Spider-Man offers him a book titled "When I Say No I Feel Guilty, A Guide to Assertive Behavior" Howard violently rejects the self-help book and Spider-Man vanishes. Howard tries to wake himself up but to no avail, so he decides to travel over to the coffee shop to think.
There he finds the coffee shop is filled with his foes: The Bellhop, The Gingerbread Man, Pro-Rata, Turnip Man, Gonzo, and Winki Man. All of whom name call Howard, turning around and leaving, Howard runs into Dr. Strange, who takes him back to face Le Beaver once more.
As Howard confronts Le Beaver, he is mocked by the Kidney Lady. Deciding to flee once more, Howard is stopped on the tightrope over Niagara Falls by Sgt. Dudley who makes him do a customs declaration. Howard loses his balance and falls down into the water, and finds himself in a Hell-like place, with all of his friends and foes taunting him.


Appearing in "Quack-Up!"
Featured Characters:
Supporting Characters:
Antagonists:
Other Characters:
Locations:
Synopsis for "Quack-Up!"
Having been asleep since his battle with Le Beaver and plagued by bad dreams, Howard's condition worries Beverly enough to call a doctor. When the doctor identifies that Howard is suffering from a breakdown and needs rest, the two decide to let Howard sleep while they go for coffee.
Howard awakens and finds that he is being patronized by voices in his head. Going out to find Beverly, Howard finds her having a good time with the doctor in the nearby coffee shop and in a brokenhearted jealousy decides to split. Going to a Black Dog Bus Lines ticket counter, Howard buys a ticket for the soonest bus and to the end of the line, little knowing that he purchased a ticket back to Cleveland.
On the bus, Howard meets Winda Wester, a young girl who has been put on the bus to go to Cleveland in order to get an exorcism, because her parents think she's possessed because she likes to make funny faces and noises as a means of making herself feel good.
Howard and Winda soon are accosted by various followers of different religions all trying to get Howard to accept their books as the cure for what ails him. Howard gets pushed around enough where he begins to get agitated. To make matters worse, it turns out the Kidney Lady is riding on the bus. Believing that Howard has been following her as part of the "Kidney Conspiracy", she resumes antagonizing Howard, and he eventually loses his temper and gets in a fight with the Kidney Lady.
As the religious nuts and Winda all try to stop the fight, all the commotion distracts the bus driver enough to cause him to drive off the highway and crash. While surprisingly everybody survives the crash, however Howard, Winda and the Kidney Lady are all taken away in an ambulance under police custody.


Appearing in "Mind-Mush!"
Featured Characters:
Supporting Characters:
Antagonists:
Other Characters:
Locations:
Items:
Vehicles:
Synopsis for "Mind-Mush!"
Waking up in a jail cell, Howard soon learns that he, Winda and the Kidney Lady are being brought before a traffic court in Sauerbraten County, Ohio, for the fight they started on the Black Dog bus they were riding. Brought before the judge, the Kidney Lady tells a sob story about how when she was a young woman she was seduced and ran away from home with a spiritual book seller, and after being wined and dined in Cleveland she woke up one morning to find him gone, leaving a note saying that he had been drafted. She tells the judge, that she has kept the last thing he left for her, a copy of the book he was selling "The Human Kidney, Seat of the Soul" and that she has tried her best to live by its teachings. That, weighed against Howard's violent outburst during her story, and Winda's confession that she was going to Cleveland for an exorcism, convinces the judge that the Kidney Woman is free to go and sentences Howard and Winda to spend time in the Sauerbraten County Medical Facility.
There, the two are processed by nurses and while Winda is interviewed by Doc Avery, Howard is locked in a padded room until the isolation makes him willing to take the medication that the nurse brings to him. Listening to Winda's story, Doc Avery tells her that the home address she gave them belongs to a vacant lot, leaving Winda to believe her family has left her. The Doc tells her that they may arrange for an exorcism (something he will do to prove that one isn't needed) and takes Howard in. However, Howard isn't so responsive as he is in a drug induced stupor. Their interview is cut short when there is a scream from outside. Going out to check it out, Howard and Doc Avery are shocked to see the rock band Kiss materializing out of Winda's head.


Appearing in "Rock, Roll Over and Writhe!"
Featured Characters:
Supporting Characters:
Antagonists:
Other Characters:
Kiss (Psychic projection, hypothesized from a parallel dimension)
Dr. Avery
Races and Species:
Synopsis for "Rock, Roll Over and Writhe!"
With the rock band Kiss materializing out of Winda's mind, panic erupts in the sanitarium. After subduing the security, the Catman tells Howard the word, which is "When you meet reality head-on -- Kiss it, smack in the face!" before disappearing back into Winda's mind, but not before one of the sanitarium nurses can snap a picture of the spectacle.
When nurse Barbara brings this photo and an x-ray of Howard to the headmaster Dr. Reich, the doctor is upset when he hears that Doc Avery has called in an exorcist to deal with Winda, he commands Barbara to stop Avery before its too late to their plans. While in a padded cell, Howard snaps out of his drug induced stupor and tells Winda a little about his life. How as a duckling he was the first born and subject to high expectations. Growing up he started off as a folk singer, but moved from job to job until he was caught in the dimensional Nexus that brought him to Earth.
When Barbara comes down to tell Avery to desist in bringing in an exorcist, she finds that she is too late and that the Doc has called in his old university friend Daimon Hellstrom to help. Viewing Winda, Daimon concludes that Winda is not possessed by demons, but has some latent psychic abilities (which may have reached to a parallel reality and conjured Kiss' appearance), and deems her fit for release, however he doesn't quite diagnose Howard. When the two go out to discuss Howard's origins, Daimon and Avery finds members of the Yucchies on the premises. When they realize that they were let in the compound, they realize that they had come for Winda. The two then rush inside.
Meanwhile, Barbara grabs Winda away while Cecil keeps Howard restrained, Howard is eventually knocked out and left in the padded cell by himself. In Dr. Reich's office, Reverend Yucc (who survived the house explosion two issues ago) is meeting with Dr. Reich to see Winda and perform a ceremony himself.
Going down to the cellar, Reverend Yucc tortures Winda by hitting her in the face with a rose. While upstairs Howard is revived by Daimon and Avery, and the three go down to the basement. There Hellstrom tries to access his Satanic abilities and turn into Son of Satan, however Reverend Yucc -- aware of Hellstrom's nature -- casts a counter spell that interferes with the transformation, instead of turning Hellstrom into the Son of Satan, Hellstrom's Satanic half is transferred to Howard instead turning him into the Duck of Satan.


Appearing in "A Duck Possessed!"
Synopsis for "A Duck Possessed!"
Possessed by the Satanic portion of Daimon Hellstrom's soul, Howard frees Winda and the two fly out of the mental hospital. However, the demonically possessed and evil Howard leaves Winda alone on the side of the road when she almost makes them crash when she touches his satanic trident. While back at the hospital, Doc Avery threatens to write up Dr. Reich for what is happening in the institution, and Daimon speeds off to try and catch up with Howard and Winda.
Howard has flown to Cleveland seeking out Beverly, and finds her in Paul Same's apartment (having gone there after realizing Howard was gone and figured Cleveland would be the first place he'd go) Howard flies to Sunspot Slope where he begins demanding that Beverly explain what she was doing with the doctor while he was sick and what her true feelings are for him.
Daimon and Winda (who was picked up by Daimon) arrive and Daimon runs down Howard with the car as the two bail from it. Howard destroys the car and attacks Daimon. However when the Satanic soul, now in full control now that Howard's consciousness was knocked out, attacks Daimon, Daimon uses the opportunity to reclaim his demonic half.
In the process of doing so, Howard's soul is dissipated into a smoke that allows him to simultaneously live the lives of everyone in Cleveland before Son of Satan reconstitutes his soul and returns it to his body. Later, at Paul Same's apartment, Daimon calls Doc Avery who tells him that Winda and Howard are free to go, while in Dr. Reich's office, Dr. Reich orders Barbara and Reverend Yuc to pack up and relocate to Yuc's private university where they will begin the next phase of their plan.


Appearing in "The Island of Dr. Bong"
Featured Characters:
Supporting Characters:
Antagonists:
Other Characters:
Locations:
Items:
Vehicles:
Synopsis for "The Island of Dr. Bong"
While on their cruise home from the nation of Bagamon, Howard, Beverly, Winda and Paul relax and enjoy the much-needed vacation. Howard finally has shut out the voices in his head, however he is knocked overboard when a shuffleboard puck hit by Winda strikes him in the head.
Realizing Howard can't swim, everyone rushes to toss him a life ring, when suddenly out of the water comes a giant sea monster wearing a top hat (Yes, a top hat). While the creature attacks the ship, Howard notices that it has a button on its side that activates its pleasure centers. Pushing the button, the sea monster enters a euphoria and leaves the ship alone.
Pulled back ashore, Howard is considered a hero and the captain of the ship holds a formal dinner and invites Howard and his friends along. When the main course turns out to be duck a l'orange, Howard runs up to the front of the ship to throw up. Resting in a deck chair, Howard is almost creamed by a giant falling rock. When everyone else comes outside to check what the noise was, the ship is suddenly bombarded with rocks, killing some of the passengers and incapacitating the boat.
As the crew tries as many ways as possible to call for help (even going so far as sending out a message in a bottle) one of the boulders cracks open like an egg and a giant stone swan flies out. As Beverly instinctively grabs onto it, Howard grabs onto her to be pulled along for the ride. They are deposited on a nearby bell-shaped island and end up landing in quicksand.
Sinking, the pair are rescued by a bunch of humanoid animals, one of which is a humanoid duck. Rescued, they are met by the creatures' master, Dr. Bong, who welcomes them to his island.


Appearing in "Zen and the Art of Comic Book Writing"
Featured Characters:
Supporting Characters:
Antagonists:
Other Characters:
Locations:
Items:
Vehicles:
Synopsis for "Zen and the Art of Comic Book Writing"
With a deadline looming, and instead of presenting readers with a reprint, series writer Steve Gerber submits a written essay on why the continuation of last issue's story is late and talks about moving from New York to Las Vegas, and about his experiences, observations, and criticisms of the comic book industry.


Appearing in "Doctor Bong!"
Featured Characters:
Supporting Characters:
Antagonists:
Other Characters:
Locations:
Items:
Vehicles:
Synopsis for "Doctor Bong!"
When we last left Howard and Beverly they were confronted by Dr. Bong, who had invited them to come to his castle. Howard refuses, however, as he walks away Dr. Bong clangs his bell immobilizing Howard and has his legion of mutates to take Howard to a room in the castle while he shows Beverly around. When Beverly asks how Dr. Bong can afford such an expensive set up, a castle with high tech gadgets, Dr. Bong tells her it's merely props and that nothing is functional. He then shows her the nerve center of his castle: A room with a single office setup and a typewriter.
Meanwhile, Howard wakes up to find himself locked in a room in Dr. Bong's castle. He also comes across a book that turns out to be Beverly's old diary. Howard is interrupted by the entrance of Fifi, one of Dr. Bong's creations that is a female humanoid duck, come to bring him a meal.
Meanwhile, back aboard the S.S. Damned, the stones suddenly vanish and all the damage (And death) caused by the strange rockfall disappear, turning out to be a clever illusion. When Dr. Bong appears and demands they leave, lest they suffer a worse fate, Winda and Paul try to appeal to the captain to help them rescue their friends Beverly and Howard. The captain refuses and sets course back for the states, Winda and Paul then watch as Dr. Bong's island suddenly disappears.
Back in Dr. Bong's castle, the Doctor tells Beverly about his life: How he, Lester Verde, was picked on as a boy. One day, his mother encouraged him to write down silly names of the kids who picked on him, telling him that the pen is mightier than the sword. It was advice he took to heart, and soon became a brilliant writer who could manipulate the words he wrote to pretty much tell the truth but in the most devastating and damning way. When his writing style was criticized in his university writing class, he wrote an article that got his teacher fired on allegations he was a drug user. This is where, in his art class, he first met Beverly who was modeling for the class. When Lester tried to ask her out, Beverly rejected him. When Lester saw that she had a boyfriend, he used his influence to end their relationship by telling his parents that she wasn't Jewish, Lester would later be pulled out of school and eventually die in a winter car accident trying to see Beverly.
Getting a job writing headlines for various tabloids, Lester would eventually be assigned a job as a rock critic, but to give his work some edge he eventually got involved with the rock band Mildren Horowitz and His Band, and got personally involved with their brutal and vile stage acts. During one such act, a prop guillotine ended up cutting off Lester's hand.
As Bong continues his story, upstairs Howard is told by Fifi that Bong intends to experiment on Howard as well in order to turn him into a creature similar to the ones that live with Dr. Bong. Not wanting to be experimented on, Howard bolts out of the room and crashes in on Bong and Beverly, but Howard is quickly subdued by Bong's creatures and taken to his lab for experimentation. Bong gives Beverly an ultimatum: Become his wife, or Howard dies.


Appearing in "Metamorphosis"
Featured Characters:
Supporting Characters:
Antagonists:
Other Characters:
Locations:
Dr. Bong's Himalayan Fortress
Items:
Vehicles:
Synopsis for "Metamorphosis"
Placed in Dr. Bong's Evolo-Chamber device, Howard is about to undergo an experiment conducted by Dr. Bong. However, Beverly won't allow it and starts trying to stop the process by fiddling with the controls. It begins a chain reaction which causes an explosion. Howard is saved by Fifi who carries the Duck to safety, while Dr. Bong and Beverly assume that Howard was destroyed in the explosion. Beverly tries to escape, and soon finds that Bong's castle has been transported to the Himalayan mountains. Bong catches up to her and teleports away with her so that they can get married as part of her deal with him.
Meanwhile, Fifi takes Howard back up to his room where he transforms into a human being. Given a new set of clothes, he and Fifi escape Bong's castle in a Bongsaucer. While somewhere out at sea, Dr. Bong appears aboard a Russian vessel that is in danger of being attacked by a US boat for coming too close to American waters. Bong offers to take the ship to safety if the Captain agrees to marry him and Beverly aboard the ship.
As this is occurring, Fifi and Howard cross over into American airspace just near New York City, but are shot down by US military planes when they are unable to communicate with them via radio. The ship crashes in central park, and Fifi dies as a result of the crash, however Howard manages to slip away and cusses out the crowd of gawkers that had come to comment about Fifi's duck-like features. Wandering off to a park bench to figure himself out, Howard is badgered about his next course of action, or if he should just give up on life or not, by a haunting image of his duck self. He is snapped out of his thoughts when a police officer tells him not to sleep on the park bench and move along. Howard then travels off in the lonely night trying to figure out what he should do next.


Appearing in "Howard the Human"
Featured Characters:
Supporting Characters:
Antagonists:
Other Characters:
Locations:
Items:
Vehicles:
Synopsis for "Howard the Human"
Wandering the streets of New York trying to figure out what to do with himself now that he's been turned into a human, Howard gets firsthand experience of life on the streets in New York City. Ending up in Grand Central Station, Howard goes to the bathroom to clean himself up and ends up meeting the drunken derelict named Mad Dog, who asks him for change (and just about anything of value that Howard can give up) Howard is talked into buying the man some coffee, however when the coffee shop owner will not allow Mad Dog into the shop, Mad Dog snaps and goes into a rampage in the store. Inside, Lisa Pope is listening to her former co-worker Elton (both are unemployed) pour his heart out to her. However finding him pathetic, she notices Howard's apathy to the situation when Howard walks away from the fight and chases after him finding him interesting.
Taking him home, she tells Howard all about her life, and about her issues with Elton before coercing him into bed and having sex with him. While at the castle of Dr. Bong, Bong learns that Howard had survived and managed to escape to New York. Furious that his fowl foe had escaped, Bong teleports himself to New York to find Howard.
Outside Lisa Pope's apartment, Elton has been waiting outside, feeling that Lisa doesn't know what she's doing throwing herself at a strange man bursts into her apartment thinking that Howard is taking advantage of her "delicate womanhood." When the two focus their attention to Howard, they're both shocked find not a man, but a Duck. Howard, oblivious to the fact that he's changed back into a duck, decides to take a shower. While there he realized that his coital encounter with Lisa had caused the mutation to reverse itself, before Howard can do much else Dr. Bong appears in the shower with him vowing to destroy his foe once and for all.


Appearing in "Scrubba-Dub Death!"
Featured Characters:
Supporting Characters:
Antagonists:
Other Characters:
Locations:
Items:
Vehicles:
Synopsis for "Scrubba-Dub Death!"
While taking a shower in Lisa Pope's apartment, Howard's much needed shower is interrupted by the arrival of Dr. Bong who has come to kill Howard once and for all. However Howard manages to escape Bong and make it out onto the streets, where he manages to strike Bong's bell helmet with a tire iron activating his teleportation device and sending him to points unknown. Realizing that he's now nude, Howard steals some unflattering clothing (proclaiming him a "Foxy Lady") and tries to get a job, he ends up taking a dish-washing job at a restaurant.
He is shown the ropes by the exiting dishwasher, Sudd, who is leaving this job to work for SOOFI (Save Our Offspring From Indecency) a group that tries to ban offensive material. When Sudd accidentally leaves some cleaner in the microwave and turns it on, it explodes turning him into a monster made out of soap suds, and goes on a rampage destroying all things that he finds offensive. In the slum neighbourhood that Sudd is ravaging, the locals who are sick of the drug dealing and other crimes cheer on the monster in spite of its murderous rampage.
Feeling responsible, Howard and the shop owner find an antidote printed on the side of a bottle of the same cleaner and mix a batch which they throw on Sudd, causing him to dissipate, ending his rampage but bringing the ire of the neighbourhood who believed that Sudd was doing what nobody else was willing to do.


Appearing in "If You Knew Soofi...!"
Featured Characters:
Supporting Characters:
Antagonists:
Other Characters:
Locations:
Items:
Vehicles:
Synopsis for "If You Knew Soofi...!"
Fleeing from an angry mob for destroying Sudd, Howard flees his boss into his apartment. Deciding to leave and setup someplace else, Howard learns his boss hailed from Cleveland. More surprising, Howard also learns that his boss is named Beverly Switzler (call him Lee for short), and is the uncle of Beverly. Leaving the apartment, Lee tells Howard that he can make himself at home as the apartment is rented out for the rest of the month.
Meanwhile, all across the city, members of S.O.O.F.I. (Save Our Offspring From Indecency) have launched a campaign of terror against all those they find offensive. Blowing up adult theaters and offensive rock concerts with their suicide bombers dressed up as smiley faced cleaners. Their campaign of terror has those who are in support of removing offensive materials from society at odds with SOOFI's violent means to eliminate the perceived problem.
Watching the news Howard, is suddenly roused by a knock at the door. There to greet him is the Supreme SOOFI, leader of the SOOFI movement. The Supreme SOOFI knocks out Howard with one of their gasses Formula 410. When Howard wakes up he finds himself dressed up tacky clothing. Confronted by the Supreme SOOFI once more, the Supreme one has decided to select Howard as the first to be put in the SOOFI brainwashing device, as their numbers have been thinned out in their campaign. Using the Blanditron device on Howard, the Supreme SOOFI is shocked when it doesn't work when Howard punches her in the face, breaking her mask. With her movement ruined, Howard leaves the Supreme SOOFI behind begging Howard to return and join her ranks.


Appearing in "May the Farce Be with You!"
Featured Characters:
Supporting Characters:
Antagonists:
Other Characters:
Locations:
Items:
Vehicles:
Synopsis for "May the Farce Be with You!"
Relaxing on the roof of Lee Switzler's apartment, Howard is waiting for Paul and Winda to arrive in New York from their cruise. Howard is suddenly attacked by a giant salt shaker with simian arms and legs and a giant house fly, both of which he is able to fight off. Howard is suddenly visited by Dakimh the Enchanter and the Man-Thing, who have come to gather him to help them save the universe again. In spite of Howard's protests, they are all teleported back to the Land Between Night and Day, where they are reunited with Korrek (Earth-616) and Jennifer Kale.
There, Dakimh brings them to the Eternal Waters to show them a story and tells all present of a distant time in the realm of Megrim a realm ruled by a demon named Sombra, who once every millennium or two chooses a mate from the realm's strongest warrior. The most recent winner produced an offspring named Bzzk'Joh (Pronounced Berserk Joe). Bzzk'Joh is now a powerful force in the universe which Dakimh hopes to eliminate with the Farce, a powerful universal energy source which would allow those to "Yok it Up". When Dakimh endows Howard with a rifle that utilizes the Farce before disappearing.
Howard, still refusing to help and retreating to the kitchen of Dakimh's castle for a meal, is attacked by a giant pickle. Howard is saved by the timely arrival of the Man-Thing who destroys the pickle monster by burning it when it begins to fear him. As Howard laments over his situation, they are suddenly startled by Jennifer screaming. Rushing back to the Eternal Waters, Howard and Man-Thing find that Bzzk'Joh has appeared out of the water and grabbed Jennifer.


Appearing in "Star Waaugh"
Featured Characters:
Supporting Characters:
Antagonists:
Other Characters:
Locations:
Items:
Vehicles:
Synopsis for "Star Waaugh"
With Jennifer grabbed by Bzzk'Joh, he pulls her down into the Eternal Waters, however not before Jennifer uses her magical powers to animate Naac-P30, and Tutu, two Druid Droids that help Howard, Korrek and Man-Thing stop Joh. When Howard still refuses to help, Korrek threatens Howard. Howard concedes when he tries to use the gun that was given to him by Dakimh and it turns out that all it does is shoot a comedic flag.
Boarding Dakimh's ship the Epoch Weasel into the universe to get to Joh's base the Imperium Emporiun, the group escapes one of their delivery truck weapons. However their ship is damaged forcing them to land at the Hollywok Cantina. There they try to find transport dealing with Real Californians. Being told to speak to Big Mac about getting transport, Korrek tries to do so politely, however he violently attacks Mac when he refuses to help transport them causing the Real Californians to attack them. Howard manages to dispel them using the Farce through his gun incapacitating them all.
Securing a new ship, the group manages to burst into Bzzk'Joh's Imperium Emporium, a giant space ship themed after a box store. There they fight through Joh's army, and free Jennifer and escape just as the Emporium is set to explode, destroying Joh and all his followers in a massive explosion.


Appearing in "Where Do You Go -- What Do You Do -- The Night After You Saved The Universe?"
Featured Characters:
Supporting Characters:
Antagonists:
Other Characters:
Locations:
Items:
Vehicles:
Synopsis for "Where Do You Go -- What Do You Do -- The Night After You Saved The Universe?"
Jennifer Kale, Korrek, and the Man-Thing drop Howard off back at Lee Switzler's apartment in New York before departing once more. Howard realizes that Winda and Paul's ship should be pulling in at dawn. Finding that he cannot sleep, or distract his mind with television, Howard decides to take a walk outside to mull over everything that has happened to him in the last while and figure out what to do with himself.
Along his walk, his foot is grabbed by a drunken man who is dreaming about a woman who left him and is crying for her to stay. Howard is unable to pull his foot free and soon becomes a target for three thieves who hope to rob them. Howard manages to dispel them and free himself by putting out his cigar on the drunk man's hand causing him to scream loud enough to scare the thieves away.
Bumping into a bag lady, causing her to drop all her possessions, Howard apologizes only to be chewed out by the woman who gathers up her things and spits in his face. Later, when a woman is attacked by a man at a bus stop, Howard rushes to her rescue to find that she's punched him out, and that they were husband and wife having another failed attempt at spicing up their romance life.
Howard decides to stop at an all night donut shop to find that owner tied up and the register cleaned out. Howard unties the man and accepts a free coffee as he listens to the owner talk about how a customer tied him up and robbed him over a pastry that broke one of his teeth. Realizing it's dawn, Howard rushes to the port just in time for Paul and Winda's arrival. Reunited once again, Howard jumps into Winda's arms and passes out from exhaustion.


Appearing in "Getting Smooth!"
Featured Characters:
Supporting Characters:
Antagonists:
Other Characters:
Locations:
New York City

Macy's Department Store
Fifth Season Restaurant -- 51st off Park

Dr.Bong's Himalayan Fortress
Items:
Vehicles:
Synopsis for "Getting Smooth!"
When Paul has $2000 cash to blow, he takes Howard out to buy a new suit and then takes the fowl and Winda out to the most fancy restaurant in the city, the Fifth Season. Along the way, Howard recounts the events that led to Paul's current monetary windfall, how while on the cruise he made money after drawing a portrait of Iris Raritan, a rich socialite. Loving the drawing, she also introduced him to others who would be willing to pay top dollar for his work.
Arriving at the restaurant, they have some trouble getting in, until Paul advises the waiter that he is a friend of Raritan. There they meet Iris who is arranging a Circus show for a party she's throwing with a "Mr. Thraller" (Secretly the Ringmaster of the Circus of Crime.) She then invites Paul, Howard and Winda to the party.
While at Dr. Bong's castle, Beverly, feeling neglected bursts in on Dr. Bong's work and demands that he pay attention to her, a request he eventually complies with. While back in New York, the trio prepare for the party when Howard gets a phone call from Lee Switzler in Cleveland who offers Howard a job. At the party, the trio hob-nob with the rich and Howard and Winda find it a hard time adjusting to being the subject of the idle rich's scrutiny. When the Circus of Crime appears and puts on a show, soon everyone is put under a hypnotic spell and robbed. Believing Howard may be a money making addition to their circus, they take the mallard with them. While the party goers begin to snap out of their trances, Howard is taken away in the Circus of Crime's truck. In order to force Howard into working for them, the Ringmaster threatens to implicate Howard with their crimes.


Appearing in "Repercussions..!"
Featured Characters:
Supporting Characters:
Antagonists:
Other Characters:
Jake the bartender
Ralph the mechanic
Races and Species:
Locations:
Synopsis for "Repercussions..!"
Forced to be part of the Circus of Crime's act, doing a comedy routine, Howard is forced into furthering their criminal goals. When Howard questions if Ringmaster has any idea how his thefts effect people's lives and questions his showmanship, he is violently shoved. Almost prophetically, one of the circus patrons Ignatz Hubley, drinking the last of his earnings since he's been unemployed realizes that his money had been stolen when he has to go home and pay his wife the money he promised to keep for her. Enraged, Ignatz gets himself a gun and tries to hold up a gas station.
Meanwhile, Iris having known that she was hiring the Circus of Crime in hopes of catching them for a lark, is tracking them with Winda and Paul in order to rescue Howard from their clutches. However, Paul and Winda become sick of Iris' selfish spoiled-rich-girl attitude and leave her. Winda is attacked and raped by a man on the street, and Paul ends up going to the gas station which is being held up by Ignatz.
Coincidences continue to pile upon each other, as the Circus of Crime's truck stops at the same gas station and the Ringmaster is also held at gun point. When the other Circus members and Howard enter the gas station, Ignatz tries to make a run for it. He is run down by Iris, the collision causes Ignatz to fire his gun which strikes Paul.
Later at a hospital, Howard calls Lee to come up and watch over Winda and Paul -- both hospitalized -- while Howard makes Iris realize that her actions had consequences to them, and Howard begins to plan how they are going to capture the Circus of Crime.


Appearing in "Circus Maximus"
Featured Characters:
Supporting Characters:
Antagonists:
Other Characters:
Locations:
Items:
Vehicles:
Synopsis for "Circus Maximus"
Howard has a bad dream where a court, judged by Beverly and watched by a jury of many Howards, over the charges about if he's negative. After the kangaroo court session's sentencing, Howard -- angry -- exclaims that he's not negative, he's angry.
He is suddenly awoken by Lee who has just arrived and Howard and Iris decide to leave the hospital in order to track down the Circus of Crime and bring them down. Meanwhile, in Dr. Bong's castle, Beverly has finally adjusted to her married life and is thankful to Dr. Bong into forcing her to marry him. However, she begins to have second thoughts when Bong tells her that he intends to hunt down and kill Howard.
Meanwhile, Howard and Iris have tracked down the Circus of Crime and take pictures of them robbing people during one of their acts. When they are spotted, Howard and Iris fight off the Circus members with ease, Howard then leaves Iris with the evidence against the Circus of Crime while Howard decides to wander off to Cleveland alone to mull over his memories of the place.


Appearing in "Thief of Bagmom!"
Featured Characters:
Supporting Characters:
Antagonists:
Other Characters:
Locations:
Items:
Vehicles:
Synopsis for "Thief of Bagmom!"
Howard wakes up in the morning to find that Paul, Beverly, and Winda have all gone out shopping without him, and he grumpily reflects on his lot in life. Almost spilling his coffee, Howard is relieved until the inevitable spilling occurs when Winda bursts into the room causing him to startle and spill his coffee all over himself. The grumpy duck then vents his anger and frustration at everyone, until Bev and the others start showing off what they had purchased.
When the Persian rug which they had bought suddenly flies off with Beverly and Winda on it and flies off to point unknown. Howard and Paul aren't left puzzling out for too long when two Arabian soldiers burst into the room and start demanding where the carpet is. However, the two begin fighting off their attackers until their neighbors show up to see what all the commotion is. When the known Arabian knights realize that the police may be contacted, they try to escape by jumping out the window, but plummet five stories to their deaths.
Wondering how they are going to find Winda and Bev, the two spy a lamp that was also one of their purchases. Deducing that if the carpet was magic, maybe the lamp is as well. Rubbing the lamp, Paul wishes to be brought to the girls, all it says is "Gotcha" in smoke, but suddenly the phone rings. When Howard answers it, it's a radio station calling to ask who is buried in Grant's Tomb, Howard responds with "I dunno -- Grant I guess!", and wins a contest to the Mideastern country of Bagamon.
The country itself is walled out from the outside world and is still ruled by a Caliph, who is behind in the times and has a son Hassim who has been educated in American and a court magician named Wijid. Hassim is trying to get his father to modernize the city, while Wijid has presented the caliph with a carving of a donkey. When Beverly and Winda suddenly appear on the flying carpet, they are forcibly made part of the caliph's harem.
Meanwhile, Howard and Paul are forced to parachute into the town, and come across a thief who tries to kill them. Using the lamp to eliminate the language barrier, Howard and Paul end up teaming up with the thief when they are spotted by the authorities. The thief, Ali Wazoo, takes Howard and Paul down to the thieves underground railroad, where they travel to the thieves oasis hideout. There they meet the Prince of Rogues, and while planning how to rescue Winda and Bev, they spot Hassim talking to members of Roxxon Oil who are trying to secure rights to drill for oil in Bagamon, and Hassam is working with them in enticing the caliph to let them do so.
Hearing that Hassim intends to use western consumer goods and the American woman inducted into his father's harem to try and convince him to sign the deal, Howard storms after them trying to rally the Roxxon representatives sense of nationalism by convincing them to do something about two American's who are being held against their will. Believing that his father would be totally sold with a talking duck as a gift, Hassam and the Roxxon reps kidnap Howard and drive away.
Howard is brought before the caliph who is having his harem entertain him, and Wijid has modified his mule statue with jewels and a coin box for people to ride. When Hassim and the Roxxon reps show up presenting the consumer goods and Howard as as gift to try and convince him to sign off the rights, Howard tries to talk the caliph out of it. However, the caliph is distracted by a dance that Bev and Winda are putting on and Hassim's constant badgering to sign the contract.
When the thieves burst through the floor and attack, also confirming Howard's claims that Hassim intends to exploit the countries oil riches. With his plan foiled, Hassim tries to escape in a plane with Winda and Bev as his hostages. Howard chases after him in the statue of the donkey, which has also been modified to fly by Wijid.
Howard rescues the girls, and uses the donkey's "missile launcher" (a metal statue that throws spikes) to destroy the propeller on Hassim's plane, causing him to crash in Israel. Afterwords, in gratitude, the caliph sends Howard, Bev, Winda and Paul home on a cruise ship. There Paul tries to use his last wish on something the genie inside the lamp refuses to grant, when Howard asks what it is, Paul says he doesn't want to say, however Winda picks up on the hint and is flattered.


Appearing in "The Duck and the Defenders"
Featured Characters:
Supporting Characters:
Antagonists:
Other Characters:
Locations:
Items:
Vehicles:
Synopsis for "The Duck and the Defenders"
A new group of super-villains called the Band of the Bland (villains who all share one thing in common: Not a single one has had an original thought ever.) have gathered together under the leadership of Dr. Angst, who suggests that they should get some big money job, and suggests that they assassinate presidential candidate Howard the Duck.
The next day, Howard and Beverly are kicked out of a hotel, and while looking for an old friend of Beverly's who lives in Greenwich village, they stumble upon Dr. Strange's Sanctum Sanctorum and meet the Defenders. Invited in by Dr. Strange who is intrigued by Howard, the whole group is attacked by the Band of the Banal who believe themselves powered up on an element called Prometheum.
Dr. Strange is struck down early in the battle and he transfers his mystic powers to Howard. Howard and the Defenders then battle the Band of the Banal until Dr. Strange can regain consciousness and reclaim his powers. Dr. Strange then easily finishes off the group, explains to them that Promethium was just a placebo and turns them over to the police.

See Also
Footnotes
---
---
Community content is available under
CC-BY-SA
unless otherwise noted.