History
Origin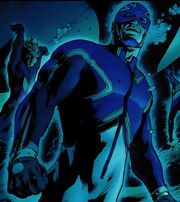 Sir James Braddock and his son Brian Braddock designed the Braddock Exo-suit for the European Defense Initiative. It allowed the wearer enhanced strength, force field protection, and flight.
Initially designed with a British flag motif, subsequent versions of the suit were redesigned to represent other EU members such as Captain Spain, Captain France, and Captain Italy.
Capabilities
Allows the user to fly at supersonic speeds
Enhances his physical attributes, giving him superhuman strength, endurance and durability.
Forcefield generator.
Communication system with E.D.I. and the other Captains.
See Also
Links and References
References
Like this? Let us know!