Appearing in "The Sword is Drawn"
Featured Characters:
Supporting Characters:
Antagonists:
Other Characters:
Locations:
Vehicles
London Underground (Tube) train
Items:
Synopsis for "The Sword is Drawn"
Shadowcat is fast asleep when she is suddenly awoken to a barrage of hands patting makeup on her and grabbing her out of bed and dressing her in her outfit. She walks out of her dressing room and finds she is on the set with the X-Men in a studio by Mojo. She cannot believe her friends are alive.
She walks over to Psylocke and sees that she has no eyes. She steps back and all the X-Men act as if they are not themselves. Shadowcat does not understand but soon runs across Rachel Summers who is attacked by the rest of the X-Men and bound. Shadowcat goes to touch her and phases her out of her bonds. Phoenix blasts out of the room. Shadowcat turns to see the X-Men are really wolves in disguise and the director, Professor X, tells his pack of Warwolves to attack. Shadowcat screams, trapped against a wall. She then wakes up and realizes it was all just a dream.
She continues to phase through the wall and Lockheed and goes outside. While walking the beach, she sees the sunrise as the Phoenix sign. In the Celtic Sea, Meggan also sees the Phoenix sign and races into the lighthouse base. She flies past a TV where it is announced that the X-Men have been killed in Dallas, TX and Psylocke was among those dead. She begins to cry and finds Captain Britain mourning his sister by making himself drunk. He yells at Meggan and she goes off to her room and finally decides to seek out Shadowcat at Muir Island.
Meanwhile, Shadowcat finds Nightcrawler fighting robots in a "danger room" sequence on Muir Island. She stops the sequence by phasing in the panel to the room. They then discuss their dreams as they walk to the main house. They realize they both had the same dream and decide maybe Phoenix was trying to send them some sort of mental distress call. When they reach the house, there is a knock at the door. They open it to find a large being walk in. She announces her name is Gatecrasher and as she is saying why she is there, Meggan flies in. She is taken back by the guest and Gatecrasher decides the only way to tell why she is there is for Saturnyne to do it. She pulls out a crystal and a holographic projection of Saturnyne appears. She says that she has sent her contracted employees, Technet, to gather the being known as Phoenix since she causes some chaos to universe.
Shadowcat refuses to hand over her friend and starts to get ready to fight Gatecrasher. Suddenly, the rest of Technet teleports in and begins to attack the three. A lizard-being called Bodybag "eats" Meggan and Shadowcat and Nightcrawler teleports away.
Meanwhile, Phoenix appears in what looks like another Mojo-set and she falls into a party of clowns. They begin to bind her and the Warwolves suddenly teleport in behind her and attack. She starts to fight back and finally escapes outside and realizes she is on Earth and in England. She goes into the subway and finally makes it to a train and blasts off the back as the Warwolves are just getting aboard. They begin to howl in the subway tunnels. Outside, Gatecrasher and the rest hear the howling and Yap senses Phoenix.
Nightcrawler makes it to the lighthouse and finds the drunk Captain Britain. He takes him out to the sea and throws him in. Brian wakes up and flies back to the lighthouse where he confronts Nightcrawler. He is so angry over his sister's death that he hits the floor and Nightcrawler tells him that he and the others need help.
Phoenix roams the London streets. She goes to a department store window and is suddenly "eaten" by Bodybag. Gatecrasher says that he can let the other two women go but keep Phoenix. They are about to leave when the Warwolves attack. They take out a couple of Technet's gang and then Nightcrawler joins in and uses one of the Warwolves to cut open Bodybag's storage of the three women. They help fight both the Warwolves and Technet.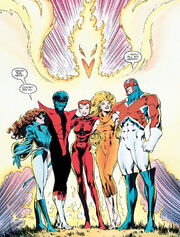 Captain Britain arrives and is quickly taken out by Scatterbrain. Nightcrawler finally decides they must act as a team if they are to win. He helps free Phoenix who helps Shadowcat and Meggan. They all finally break free and and attack together. They get the Warwolves running and Gatecrasher finally gives up and teleports her team away.
Back in the Scottish Highlands, the group gathers around a campfire and tells old stories of past battles and memories. As they talk, they realize that the dream Professor X had should not be left even though the X-Men are gone. They all determine that it is their duty to take up their swords like King Arthur drew Excalibur and be a team. They all agree and together form the team Excalibur.


Appearing in "Warwolves of London"
Featured Characters:
Supporting Characters:
Antagonists:
Other Characters:
Races and Species:
Locations:
Items:
Synopsis for "Warwolves of London"
In a deserted factory complex near Loch Daemon in the Scottish Highlands, Tweedledope plays around with a small metallic gadget. He fills it with various stuff such as beans, trash and metal and misuses it as a cocktail shaker. When his eyes fall on a wanted poster of the Crazy Gang, he suddenly looses interest in his toy and throws it away. The metallic object opens its eyes and comes to live - it is Widget.
In the meanwhile, Excalibur and the police encounter a hostage situation in London. While Dai Thomas is reluctant to send in young girls like Kitty Pryde or Rachel Summers, Captain Britain reassures him that Excalibur will handle the situation. In the meantime, Kitty and Rachel talk to police officer Ray Mulholland on the rooftop of the building, impressing him with their mutant powers.
The two women then phase through the roof to check out the hostage situation while Mulholland is attacked by a warwolf who kills him and strips him from his skin.
Kitty and Rachel move into a storage room adjacent to the larger room where some hostage-takers hold about 20 people as hostages. Kitty phases her face through the wall, telepathically reporting details about the layout of the room. Suddenly, Rachel suffers a seizure and looses her consciousness - exactly in the same moment as Ray Mulholland gets killed by the warwolf. Her scream alarms the hostage-takers and they search the storage room for any intruders, discovering the unconscious body of Rachel and dragging her into the main room. Kitty utilizes a white blanket to dress up as a ghost and phases through the main room ceiling, howling and threatening the confused hostage-takers. One of the men shoots at her with a pump gun but doesn't hit her due to her phased status.
Alarmed by the shot, Captain Britain, who waited on the outside, decides to storm the building. Rachel, suddenly awakened, releases the Phoenix and disarms the hostage takers, rendering them unconscious by smashing them against a wall. When Captain Britain enters the scene, Kitty and Rachel already dealt with the situation. Merchant Banker Nigel Frobisher approaches Rachel and offers her to "express his gratitude more privately" - an offer which disgusts Rachel. She is still confused about her seizure and tells her teammates that she felt a despairing psychic scream of a person who seems to be entirely erased from existence without even leaving a mind trace.
Back in Merlin Mews, Rachel feels the same sensation again when Jacko Petrie is killed and skinned by a warwolf disguised as police officer Ray Mulholland.
One night later in Merlin Mews, Kitty mourns over the pictures of the X-Men and her friend Doug Ramsey who are supposed to be dead after the Mutant Massacre. She remembers some of the fiercest enemies she and the X-Men opposed over the years and is interrupted by Captain Britain who tries to cheer her up. He invites her to join her on a trip into town, but she refuses because she is working on a secret device she calls the "Doppelgänger Module".
On the west coast of England, Meggan and Nightcrawler fly to Brian Braddock's lighthouse. Meggan suggests that Excalibur could use it as a secret Headquarter and shows Nighcrawler around in a kind of sightseeing tour. He is impressed by the location. While Meggan makes some tea in the kitchen, he encounters a strange vision in a storage room where he is attacked by alien species. In the nick of time, he teleports out of the room and back into the kitchen, but when he wants to show Meggan what he just saw, the storage room is empty.
In London, Rachel accompanies Captain Britain to Fraser's Bank at Thameside where she is approached by Nigel Frobisher again. She is distracted by a telepathic message from Meggan and Kurt, announcing that they will return to London tonight, and Frasier uses this moment to touch her. Rachel pushes him away with her Phoenix power, watched by an amused Captain Britain. He is startled by the entrance of a blonde woman he immediately recognizes as Courtney Ross, his former girlfriend, who is now the vice president of the bank. They sit down and talk about old times.
In Merlin Mews, Kitty finishes her Doppelgänger Module which will allow her to mask herself as Phoenix by sending out her unique energy pattern. She dresses as Phoenix as well, somewhat uncomfortable with the skintight suit and the high heels, and moves out into the streets of London, planning to draw the warwolves' attention. The warwolves want to capture Phoenix in order to take her back to Mojo, so she hopes they will be lured to her. Meggan and Nightcrawler return to the Mansion, not aware of her departure. Nightcrawler is taking a bath and startled by Meggan who fixed him a mug of hot chocolade.
Returning from the bath, Nightcrawler discovers Kitty's invention in Captain Britains lab. He is immediately alarmed and telephatically calls Rachel, who is currently visiting the Shakespeare Company in London. She leaves the theater and starts searching for Kitty who just met police officer Mulholland and some companions. Mulholland mistakes her for Rachel Summers and he and his companions reveal that they are warwolves. Kitty phases when the first warwolf strikes her, but then her powers get scrambled and she cannot phase back from solid state. The warwolves capture her and drag her away. Phoenix, Meggan, Captain Britain and Nightcrawler appear at the scene, but they cannot stop the warwolves from abducting Kitty. Together they decide that they must rescue her teammate before the enemies turn her into a warwolf.


Appearing in "A Warwolf Possessed"
Featured Characters:
Supporting Characters:
Antagonists:
Other Characters:
Locations:
Items:
Synopsis for "A Warwolf Possessed"
In a deserted factory complex near Loch Daemon in the Scottish Highlands, Colin McCay plays "tag" with Widget. The boy is hiding from Vixen who payed a lot of money to get the orphaned boy into custody. Vixen's armed troopers search the facility and try to lure the hungry boy with Fish'n Chips. Eventually, they surround the child, but before capturing him, Widget opens a dimensional portal and Colin happily disappears. The soldiers return to Vixen with empty hands.
In the meanwhile, in the London Underground, the Warwolves appear at Hob's End Station, together with the captured Kitty Pryde. They steal some more skins, push a woman onto the rails and disappear into a dark tunnel. The woman's life is threatened by an approaching underground railway, but Captain Britain manages to save her in the nick of time while Rachel stops the train with her telekinetic powers. The civilians celebrate the super heroes, but when Nightcrawler appears at the scene, they get afraid and panic because of his demonic appearance. Eventually, the police enters the station and tries to sort things out. Captain Britan demands that the police officers inform Scotland Yard special agent Dai Thomas, who will vouch for Excalibur. Excalibur is inhibited from following the warwolves into the tunnels until the situation is sorted out. Nightcrawler notices that one police officer shows a very odd behavior - he is smiling to himself and seems to be very amused. The mutant secretly follows him into a tunnel. There he is ambushed by the policeman who turns out to be a warwolf. Nightcrawler is captured and taken into their secret underground headquarter.
In the meantime, Kitty Pryde's kidnappers reach the headquarter. Some warwolves are waiting for new skins and are provided with the latest stolen bodies. One warwolf tries to steal Kitty's skin, but after finishing the procedure, only the skintight Rachel suit is left - no sign of Kitty's body. The other warwolves mock their colleague who becomes quite depressed about the fact that he is the only one without a proper human skin. In the same moment as Kitty's life is at stake, Rachel Summers feels her pain due to their PSI link. She changes into her Phoenix form, leaves the subway station by tearing a big hole into the ceiling, and flies away. The police demands that Captain Britain will pay for the destruction of public property.
In Fraser's Bank, Thamesside, Nigel Frobisher is amusing himself with his secretary when he sees the Phoenix in the sky. He immediately looses his interest in the woman and decides that he and Phoenix are meant for each other. Courtney Ross, who is sitting in her office, reflects about her time with Brian Braddock while watching the Phoenix rising.
Rachel telepathically reports to Captain Britain and Meggan that Nightcrawler was attacked. The two leave the subway station and run into the tunnel in order to find the secret headquarter of the warwolves. In the headquarter, the warwolf who just tried to skin Kitty Pryde, shows a very odd behavior. Another warwolf, carrying the captured Nightcrawler on his back, enters the headquarter and offers him to take the mutant's body instead. The skinless warwolf is disgusted by Wagner's appearance, but his companions force him to take the body without complaint. While trying to suck out Nightcrawler's life, the warwolf suddenly starts beating his comrades and then begins to grow long hair. Soon all warwolves begin to melee with each other while Nightcrawler uses this situation for an escape attempt. He is captured by one of the warwolves, but then Captain Britain and Meggan enter the headquarter and save him from being skinned. Together they defeat all warwolves and capture the one with the long hair who shows a strong resemblance to Kitty. Meggan is confused because her scent is a mix of warwolf and Kitty, but suddenly two human hands open the warwolves mouth from the inside and Kitty Pryde fights her way out of the alien's body. She phased into her opponents body when he tried to kill and skin her while Rachel helped her to keep her conciousness cohesive. From the inside Kitty could control the warwolves' actions and used him to fight the other warwolves.
Excalibur is clueless about what to do with the captured warwolves - they are aliens and can't be arrested or put on trial. Eventually, Exalibur donates the Warwolves to the London Zoo.


Appearing in "Moving Day"
Featured Characters:
Supporting Characters:
Antagonists:
Other Characters:
Races and Species:
Locations:
Items:
Synopsis for "Moving Day"
The British Crimelord Vixen has decided to break into the ultra maximum security prison Crossmoor in order to free its most popular convict: The Juggernaut. Her armed troops weld an opening into the prison's roof and enter the complex. Before reaching Marko's cell, they are surrounded by security . Vixen's people turn off the lights and escape, finally reaching the Juggernaut's high security cell where the Juggernaut is trapped in a stasis cage. Vixen offers him her help in exchange for his assistance in her plans.
In the meantime, the army arrives at the prison complex and surrounds the building with tanks. Nevertheless, they are unable to prevent the prison break. The Juggernaut destroys the prison wall and most of the prisoners escape, beating up the guards. The Juggernaut destroys most of the tanks while Vixen and her troops fly away with jet packs. Suddenly, the rampaging Juggernaut is stopped by a punch in his face. Surprised, he meets Captain Britain who orders him to give up. The Juggernaut hits Captain Britain and throws him some hundred meters into the desert surrounding Crossmoor.
The other members of Excalibur try to track down the prison fugitives. Kitty Pryde stops a stolen security car full of armed convicts by phasing through the motor. She then confuses the prisoners who shoot at her with various guns, so that Lockheed can get behind them. Hit by his fire breath, they give up. Nightcrawler fights another group of prisoners in hand-to-hand combat and defeats them by using his acrobatic skills.
Meggan captured some prisoners as well and returns them to the prison. There she discovers that Juggernaut is brutally beating up Captain Britain. She challenges the Juggernaut who mocks at her. Meggan tells him that she draws her power from Mother Earth herself and becomes as large, muscular and powerful as the Juggernaut. Before she can hit him, Kitty reaches the scene and phases Meggan through the Juggernaut's body, telling her that she found a simpler solution for the problem. Eventually, Rachel Summer's psychic attack knocks the Juggernaut out and he can be arrested.
In the city of Newcastle, Rupert Holloway, a freak possessed with the idea of making contact with alien species, meets Widget who calls him "friend". Widget opens a dimension portal and Rubert steps through the portal, convinced that an alien race reached Earth and choose him as representative for the human race. Reaching the omniverse, he meets Opal Luna Saturnyne.
After defeating the Juggernaut, Excalibur moves from Merlin Mews in central London to Brian Braddock's Lighthouse at the West Coast of England. Living in London would be too dangerous for innocent by-standers, so the team decided to move their headquarter to this remote and lonely location. Together they transport their belongings in boxes and crates into the lighthouse which soon becomes quite crowded. Captain Britain accidentally ruins Kittys software by smashing the box to the ground. Kitty is in a very bad mood because she caught a cold and still misses the X-Men and her old friends. In addition, heavy rain starts pouring down and Excalibur is forced to remain in the lighthouse for some days. Soon, they all realize how confined the space truly is and start getting on each other's nerves.
The storm continues for the next few days. Captain Britain resorts to heavy drinking, an old habit, and misses his bathroom shift. The bathroom usage is regulated by a tight schedule and Kitty punishes Captain Britain by taking an extensive bath and not letting him into the bathroom. Suffering from a hangover, Captain Britain moves to the kitchen where Lockheed and Meggan started a fire in an attempt to fix a Hot Toddy. Eventually, Rachel Summers takes Brians whisky supplies and throws them into the sea. He is shocked by this action, but his teammates explain that they are worried about his heavy drinking. Angry about this, Brian leaves the lighthouse and flies away into the storm while Meggan is feeling guilty for driving him away. Nightcrawler comforts her.
Kitty, still suffering from the flu, is jealous about her new roommate Rachel's vitality, looks and health while she has problems to even remain solid form for unpacking her stereo. When she connects her computer to the power supply, the entire lighthouse goes dark. Searching the fuse in the cellar, she is suddenly confronted with a strange mirror image of herself and Lockheed.
Brian Braddock flies to London where he meets his old love Courtney Ross. He talks to her about his sense of guilt regarding the supposed death of his sister Psylocke and about his problems with Meggan. He cannot speak with Meggan about intellectual topics and misses the discussions and stimulation he experienced during their old relationship. He and Courtney come very close to each other, but are interrupted by a telepathic call from Rachel, ordering Brian back to the lighthouse. In the lighthouse, Kitty describes what she has just experienced in the cellar. Excalibur discusses if they should relocate their headquarters but finally decide to stay in the lighthouse. Brian apologizes to Meggan for his behavior, and the woman immediately forgives him.


Appearing in "Still Crazy After All These Years"
Featured Characters:
Supporting Characters:
Antagonists:
Other Characters:
Spider-Man

(Appears on a computer screen, TV, or hologram only)

Cyclops

(Appears on a computer screen, TV, or hologram only)

Wolverine

(Appears on a computer screen, TV, or hologram only)

Storm

(Appears on a computer screen, TV, or hologram only)

Colossus

(Appears on a computer screen, TV, or hologram only)
Locations:
Items:
Vehicles:
Synopsis for "Still Crazy After All These Years"
Courtney Ross looks over a photograph of her kissing Captain Britain. As she packs up to leave the Fraser's Bank where she works, the Crazy Gang appear and try to capture her. They fight and Courtney fights them off and starts to run out of the building. She jumps into a taxi and finds it to be driven by Arcade and Miss Locke. They tell her that she is part of their exercise and that the Crazy Gang work for Arcade. Then they knock her out with some sort of weapon.
The next day, Shadowcat gets some money from a Fraser's Bank ATM. She walks into a clothing store and checks on Phoenix who she is trying to get into some business clothing. Phoenix hates the outfit and makes Shadowcat change into an outfit that Rachel would wear normally. Shadowcat blushes when men in the store start gawking at her. She goes to pay for the clothes and realizes that the money she got from the ATM is fake money.
At the lighthouse, Nightcrawler trains his acrobatic skills and Meggan walks in. He grabs her and starts to toss her around the room and then teleports behind her and they both fall to the ground. They have a brief moment and are about to kiss when Brian calls to them both from upstairs. Meggan takes off and Nightcrawler hits himself over the head for trying to kiss her. Upstairs, the team talks about the fake money and that it shows pictures of Courtney Ross in deadly positions about to be hurt. They deduct that the money is from Arcade and that he must have Courtney held prisoner. Captain Britain attempts to take off to save her and the team stops him and they try to come up with a plan and find Arcade's hideout on the reverse side of the money.
Meanwhile, Arcade and Ms. Locke introduce Courtney to his new amusement park in Strangeways. He tells Courtney that her, Brian, and the X-Men are the only ones who have gotten the best of Arcade and he is paying them back for it. He is going to use Courtney to get Brian to come after her. He says that he is going to kill her and then sends her through a doorway onto a stage where she is to make jokes for a crowd of monsters. They begin to boo and throw knives at her and so she gets the point and starts to tell a joke.
Elsewhere, Moira MacTaggert and Callisto talk on a train going to London. Moira explains that she has gotten reports from the mediscans that she ran on Excalibur and there is an anomaly with Phoenix's scan. The train starts to go under a bridge and suddenly is teleported away. Widget is seen creating a portal on the bridge and he starts to look for his friends, Nigel and Rupert, but can't find them.
In Strangeways, Arcade is waiting for Courtney to get booed off the stage and apparently the monsters are loving the jokes she is making. Even Ms. Locke cracks a smile. Arcade is angered by this since it is not according to his plan.
Meanwhile, Excalibur walks into Strangeways and sees the Crazy Gang waiting for them. They sneak up on them and start to attack. Captain Britain is attacked by Tweedledope who has made a mind-switching device. He attaches it to Brian and their minds swap bodies. Captain Britain who now has Tweedledope's brain starts to attach devices to the others on the team and Meggan swaps minds with Knave and Nightcrawler with Jester. Shadowcat takes off and warns Phoenix what is happening. Before Phoenix moves she is attacked by a psychic-scream from her baby brother Nathan Summers. She is attacked by Brian and lashes out the Phoenix Force destroying the Executioner. She then acts as Executioner did and takes up his outfit. Shadowcat and Lockheed are the only two left and as Arcade sends Courtney Ross into a trapdoor on the stage, and the rest of the team is taken in to the park, he announces to Shadowcat that he will get her and her "little dragon too".


Appearing in "Send in the clowns!"
Featured Characters:
Supporting Characters:
Antagonists:
Other Characters:
Locations:
Items:
Vehicles:
Synopsis for "Send in the clowns!"
In Arcade's new
Murderworld
version, Strangeways,
Courtney Ross
falls through a trap door and is automatically dressed like Alice in Wonderland. In a strange, surreal surrounding, she meets
Excalibur
and the
Crazy Gang
, unaware of the fact that their minds were switched by some kind of mind swap device.
Captain Britain
, trapped in the body of
Tweedledope
, tries to tell her, but she doesn't understand his guttural babbling.
Rachel Summers
, who is possessed by the Executioner, wants to kill Courtney with her axe, while
Nightcrawler
(in Jester's body) fights off Tweedledope (in Captain Britain's body).
Arcade and Ms. Locke are watching the battle from the control rule. Suddenly, the monitors go blank and Kitty Pryde phases through the control panel, thus disrupting the electronics. She grabs Arcade and forces him to follow her into the "play area" while Lockheed guards Arcade's assistants.
Courtney flees from Rachel into a house and locks the door, but Arcade - now followed by the Executioner himself - breaks through the wall and panics. In the meanwhile, Kitty Pryde phases into the control tunnels and tries to install a program by Doug Ramsey, once written in order to sabotage Murderworld.
Arcade grabs a weapon and dresses in Roman armor, trying to defend himself from the dangers of Strangeways. He is spooked by Kitty Pryde and tries to shoot her, but the bullets cannot harm her phased body. Courtney is caught by Jester, enjoying himself in Nightcrawler's body, and strapped onto a conveyor belt, directly leading to a giant saw blade. While she slowly moves towards the saw, Jester and Nightcrawler duel with swords. In the nick of time, Courtney is saved by Arcade, but she knocks him down and escapes on a rocket which moved directly into the "Space Wars" section of Strangeways.
Ms. Locke and an assistant shoot at Lockheed with a fire extinguisher and then escape from the control room, while Excalibur and Crazy Gang, still trapped in their opponent's bodies, are fighting each other on various playgrounds. After a rough space ride, Courtney lands in a concert hall, filled with an audience consisting of creamy pies. While the band "Cat's Laughing" plays, all heroes and villains land in the audience. Still fighting, the entire hall changes into a very creamy mess. Finally, Captain Britain manages to reverse the mind swap device - due to the enhanced mechanical abilities of Tweedledope's body - and gives it to Courtney. Shadowcat explains her how to use it and so Courtney uses the device to swap all bodies again. Eventually, she attaches the device to Rachel Summer's back, but nothing happens. Rachel still swings her axe at her, but Kitty phases Rachel and then slips into her body entirely in order to free her from the Executioner's influence.
After Rachel broke free, Excalibur summons the police who arrest the Crazy Gang and Arcade. Meggan is confused when Captain Britain comforts Courtney - a fact which is also registered by Nightcrawler who just started to develop feelings for Meggan.
In the evening, Courtney is alone in her apartment and surprised by Saturnyne who kills her and takes her identity. Nightcrawler, heavily disguised, and Captain Britain visit the pub "Flying Fish". While drinking beer, Nightcrawler asks his companion about his relationship with Meggan. Brian is reluctant, but then tells Kurt about his frustration and about his feelings towards Courtney. After leaving the pub, Brian flies away, buys some flowers and visits "Courtney" in her apartment - unaware of the fact that Saturnyne replaced her - where they kiss.


Notes
See Also
Footnotes
---
---
Community content is available under
CC-BY-SA
unless otherwise noted.