Previous Issue
Next Issue
—
Appearing in "The Fantastic Four"
Featured Characters:
Antagonists:
Other Characters:
Races and Species:
Locations:
Items:
Vehicles:
Synopsis for "The Fantastic Four"
Chapter 1
A shadowy figure fires a flare out of a window. The flare forms the words "The Fantastic Four!"[Continuity 1]
Susan Storm is having tea with a friend. When she sees the flare, she turns invisible, gets into a cab,[Continuity 2] and offers the surprised driver a banknote when she reaches her destination.
Ben Grimm is trying to find a coat that fits him. A clerk in the haberdashery sees the flare. Grimm bursts out of the too-small door, rips a manhole out of the street, follows the sewers, and bursts out when he thinks he has reached his destination. He is struck by a taxi which is wrecked.
Johnny Storm is working on his latest hot rod in a service station. The mechanic sees the flare, which turns into the number 4. Johnny bursts into flame and flies away, destroying his car. The authorities treat him as an enemy attack, so he reluctantly melts the jets that come after him. A nuclear heat-seeking missile locks onto him, and, just as Johnny's flame starts to fade, an impossibly long pair of arms grab the missile and throw it out to sea.
Johnny's savior is the same man who fired the flare. He greets Susan, Ben, and Johnny with the words, "There is a task that awaits us ... a fearful task!" But how did these four people become so fantastic?
To beat the Communists into space, scientist Reed Richards, sister and brother Sue and Johnny Storm, and pilot Ben Grimm sneak off into space in a rocket.[Continuity 3] In space, the four are bombarded by cosmic rays.[Continuity 4] The auto-pilot lands the ship back on Earth,[Continuity 5] where they find themselves physically transformed and possessing remarkable new abilities. Sue can turn invisible. Ben has transformed into an orange, muscular "thing" with super-strength.[Continuity 6] Reed's body became highly malleable, allowing him to stretch into any shape. Johnny's body bursts into flame, and he can fly. They decide to use their abilities to become the super-team known as the Fantastic Four. They give themselves the individual names Mr. Fantastic, Invisible Girl, Human Torch, and the Thing.[Continuity 7][Continuity 8]
(Chapter 2) The Fantastic Four Meet the Mole Man!
Atomic plants in the Soviet Union, Australia, and South America have been mysteriously attacked by cave-ins. Another attack occurs in Africa, where a huge monster burrows out of the ground but is recalled by a human figure. The Fantastic Four travel aboard their private jet to Monster Isle, which Reed has deduced is the same distance from each attack. There, they are attacked by a giant three-headed monster. Reed stops the monster, but a cave-in separates Reed and Johnny from Ben and Sue. Beneath the island Reed and Johnny land in the Valley of Diamonds, which temporarily blinds them. The Mole Man appears, revealing he is responsible for the attacks.
(Chapter 3) The Mole Man's Secret!

The Mole Man explains his origin. Having been ridiculed by humanity, he went off alone in search of the legendary land at the center of the earth. Eventually, he washed ashore on Monster Isle. Making his way through a cavern, he was caught in an avalanche and rendered almost blind.[Continuity 9] However, due to his other heightened senses taking over, he mastered the subterranean creatures[Continuity 10] and built himself an underground empire.
Meanwhile, on the surface, Ben wrestles a rock monster. Ben and Sue find their teammates listening to the Mole Man's plan to invade the surface world. He sends his monster army against the Fantastic Four. Whilst Johnny distracts the biggest one, the team flees through a tunnel, which Johnny seals shut behind them. After the Fantastic Four escape in their jet, Mole Man destroys the island so the surface world cannot trouble him again.[Continuity 11]


Appearing in "When Strikes the Silver Surfer!"
Featured Characters:
Supporting Characters:
Other Characters:
Races and Species:
Locations:
Items:
Vehicles:
Synopsis for "When Strikes the Silver Surfer!"
With no threats to deal with currently, Reed and Sue decide that it's time to finally take their honeymoon. While Ben tries to get in touch with Alicia. When Ben arrives at Alicia's home, he finds that Silver Surfer has come to visit her. Jealous and enraged, Ben attacks the Surfer and the two engage in a battle.
While in the Himalayas, Johnny and Wyatt notice that the locals are evacuating the place en mass, and decide to investigate the situation. After setting up camp they spot a giant creature in the shadows and decide to track it. While back in New York, Ben and the Surfer's battle takes them into the warehouse district of the city.
Back in the Himalayas, Johnny and Wyatt catch up with the mysterious creature, learning that it's Lockjaw of the Inhumans. Johnny is happy to have found the creature as it's teleportation ability could help them reach the Hidden Land of the Inhumans. While back in New York, the fight between Ben and the Surfer is broken up by Reed and Sue. Reed talks some sense into Ben and has him apologize to the Surfer. Accepting the apology, the Surfer repairs Ben's air-cycle, and creates some flowers for Ben to give to Alicia before departing.


Appearing in "The Hulk"
Featured Characters:
Supporting Characters:
Antagonists:
Other Characters:
Locations:
Items:
Vehicles:
Synopsis for "The Hulk"
Part 1: The Coming of the Hulk
At an Army base in the desert, Doctor Bruce Banner is readying the first test of his invention, the G-Bomb. General "Thunderbolt" Ross wants to know why Banner keeps delaying the test. His daughter Betty tries to calm him down, with little success. Banner tells Ross that the final countdown has begun. His assistant, Igor, demands that Banner share his work so that someone may check his calculations. "I don't make errors, Igor," says Bruce, and, when Igor threatens him, "You know how I detest men who think with their fists."
Banner takes a last look at the bomb with binoculars. He notices a teenage boy in a car, tells Igor to halt the countdown, and hurries after the boy in a jeep. Igor, who supposedly defected to the U.S. from the Soviet Union, is a spy and decides not to stop the countdown so that America will lose its greatest nuclear physicist. Banner gets the boy into a trench, but, before he can jump in himself, the G-Bomb explodes! Gamma rays saturate Banner's body.
Hours later, Banner regains his senses. The boy, Rick Jones, who drove onto the base on a dare, brought him back to base. Banner waits for some kind of symptoms to appear. When night falls, Jones turns on a "radio," actually a Geiger counter. Its clicking increases, and Banner changes into a huge grey figure. "Get out of my way, insect," says the figure, shoving Jones aside. He pushes through the wall, wrecks a jeep full of soldiers when it hits him, and wanders off to hide. Jones follows.
Part 2: The Hulk Strikes!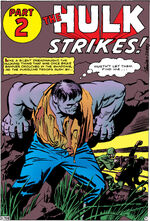 The thing that was once Banner, with Jones trailing him, sneaks past the soldiers trying to find him and finds Banner's cabin. Inside, Igor is trying to find Banner's notes. He shoots at the Hulk, without effect. The Hulk takes away his gun and crumples it with one hand. He picks up Igor and slams him down on a lab bench. Jones notices a folder taped to the bottom of a large beaker, labeled "Top Secret: Report on Gamma Ray Bomb," and takes it. The Hulk picks up a photo of Banner and says, "I—I know that face!! But it is weak—soft!! I hate it! Take it away!" Jones reminds him that he is Banner. The Hulk briefly remembers what happened, then says, "I don't need you! I don't need anybody! With my strength—my power—the world is mine! As for you—you are the only one who knows who I really am!" He advances on Jones. The sun comes up at that moment, and the Hulk changes back into Banner.
Part 3: The Search for the Hulk
The MPs storm in, arrest Igor, ask Banner about the Hulk, take the folder, and leave. Betty comes to apologize for her father's outburst and tells him he should get medical attention. Banner says he'll call her and shows her out. He tells Jones that he's afraid he will change again at sunset.
Part 4: Enter... the Gargoyle!
In his cell, Igor uses a transmitter overlaid on his thumbnail. The message finds its way to the Gargoyle, a deformed Soviet scientist and secret agent, who travels by submarine and short-range missile to the desert. Banner and Jones take a jeep out into the desert before night falls, in case he changes again. He does change, and the Hulk wrecks the jeep. He recognizes the area near Ross's house and decides to visit Betty. At the same time, Betty decides to take a walk. She encounters the Hulk and faints in his arms. The Gargoyle appears.
Part 5: The Hulk Triumphant!
The Gargoyle shoots the Hulk and Jones with drug-filled bullets, making them like robots. They follow him to a truck, whose driver also gets shot. Ross finds Betty, who was frightened by her encounter but says, "In spite of everything, there was something... something sad about him!! Almost as though he was seeking... help!" Ross says, "If it takes an eternity, I'll find that monster!"
The Gargoyle and his captives reach a sub on the coast and get into a jet. As they streak towards the USSR, the sun rises on the Hulk, who changes back into Banner. Upon landing, the Gargoyle is astounded to find a man instead of a monster. He begins to cry, because he wants to be normal too. Banner treats him with radiation, which makes him look normal but takes away his super intelligence. The man who was once the Gargoyle realizes how the state has used him, so he puts Banner and Jones on a jet for home and blows up his base along with himself.


Appearing in "A Clash of Titans"
Featured Characters:
Supporting Characters:
Antagonists:
Other Characters:
Locations:
Several unnamed locations
Items:
Vehicles:
Synopsis for "A Clash of Titans"
Continued from last issue...
The unconscious body of Bruce Banner is found at sea by Lady Dorma who takes the surface dweller back to Atlantis for recovery after giving him a pill that will allow him to breath underwater for 24 hours. Having Banner taken to her chambers for recovery she is spied by Mistress Fara, a rival for Namor's affections. She decides to tell Namor about Dorma's "other man" after a meeting Namor has with Vashti, once again quarrelling over what to do with the surface dwellers. The already angry monarch impulsively storms to Dorma's quarters to confront her over Banner. As the two lovers argue, Banner revives and their fight causes him enough stress to transform into the Hulk.
The Hulk, seeing Namor attacking a girl that helped him, pounces at the undersea monarch. The two fight as both Dorma and Fara witness the battle. During the fight, Dorma is knocked out due to the collateral damage caused by the two titans clashing. Fera decides to try and take this opportunity to kill Dorma so that she can have Namor to himself. Ironically, the Hulk and Namor's fight causes a wall to collapse on the two, Fera being an unwilling shield for Dorma's body, sacrificing her life and protecting Dorma. Namor digs Dorma out and finds that she is still alive, but Fera is dead, unaware of her treachery.
Wanting the battle to end before any of his people can be injured, Namor attacks the still rampaging Hulk and their fight causes massive tidal waves. Eventually, Namor is able to knock the Hulk out of the water and into the sky. Following the plummeting Hulk, the Sub-Mariner finds the battle is over when he discovers the unconscious Hulk transforming back into Bruce Banner and so he retreats back to his kingdom to leave Banner at peace.


Appearing in "Spider-Man!"
Featured Characters:
Supporting Characters:
Antagonists:
Other Characters:
Races and Species:
Locations:
Items:
Synopsis for "Spider-Man!"
Part 1
A shy, unassuming high-school student, Peter Parker prefers the company of his teachers to that of his classmates, who call him "Midtown High's only professional wallflower." His only living relatives, Uncle Ben and Aunt May, think the world of
him.
One evening, while attending a demonstration of radioactivity at General Techtronics Laboratories East, Parker fails to notice a spider drop through a "radioactive ray" and receive a massive dose of radiation. It bites him and dies. Light-headed, Parker leaves the demonstration, only to be nearly run over by a car. He leaps to safety but is surprised to find he has jumped much further than intended—he lands on the side of a building and clings to the bricks by his fingertips. He quickly climbs to the roof and, once there, accidentally crumples a steel pipe in his hand. He believes that he has inherited the spider's speed, strength, and climbing ability. He begins to ponder the possibilities.
Shortly thereafter, Parker sees a wrestling ring and a sign: "$100 to the man who can stay in the ring three minutes with Crusher Hogan." He goes home, changes, puts on a hood, and returns to the ring. Hogan laughingly calls Parker the "Masked Marvel," but Parker lifts Hogan over his head and carries him up a post. Afterward, a man in the crowd introduces himself to Parker as a television producer, encourages him to go into show business, and gives him his card.
At home, Parker makes himself a spider-themed costume, a supply of sticky web fluid, and two jets for his wrists that can shoot the fluid. "Here comes the Spider-Man!" he says.
Part 2
The Spider-Man appears on television and becomes a celebrity. One evening, he goes backstage and finds a guard chasing a thief. Spider-Man lets the thief escape and, when the guard complains, tells him, "That's your job! I'm thru being pushed around ... by anyone!"
Some days later, Parker returns home and learns from a policeman that a burglar has killed his Uncle Ben. The police have cornered the man in the deserted Acme warehouse. Parker dons his costume and swings to the scene.
Once inside, he frightens the man by crawling down the wall toward him. Parker then covers his gun hand with web fluid and knocks him unconscious. When he sees the man's face, he recognizes the thief who got away at the studio. He wraps the burglar in webbing and leaves him for the police to find. Shocked, Peter realizes that, if he had caught the burglar, his Uncle Ben would still be alive. He eventually learns that with great power comes great responsibility.


Appearing in "Rocked by..the Shocker!"
Featured Characters:
Supporting Characters:
Antagonists:
Other Characters:
Races and Species:
Locations:
Items:
Synopsis for "Rocked by..the Shocker!"
The Shocker has returned, and his first theft is of the clay tablet in the possession of George Stacy. After easily knocking out Stacy, the Shocker steals the tablet from Stacy's safe. He then finds his underworld connection and tells him (Rather violently) that he will sell the tablet to the highest bidder.
When Peter Parker learns of the theft he goes looking for his old foe as Spider-Man. He finds the Shocker and tries to capture him, but the Shocker proves too much for the wall-crawler and manages to escape. Peter resumes his civilian guise so that he can see his Aunt May off on her vacation to Florida. Peter also happens upon an article about Curt Connors in the Bugle and muses about his last encounter with the Lizard, and how great it would be to work for Connors. While Jameson, still recovering in the hospital is fuming about another front page headline that reports Spider-Man in a positive light.
When Peter later meets up with Gwen, they are surprised to see Flash Thompson is back in town on leave. However, when Flash makes a harmless flirtatious remark towards her Peter loses his temper. Which upsets both Flash and Gwen who leaves Peter to mull over his current relationship problems.
When the Shocker attacks his next target: an armored car. Spider-Man manages to defeat the Shocker and stop him from stealing the armored car's payroll. After webbing up the Shocker, one of the guards aboard the truck shoots at Spider-Man, forcing him to flee. Although he stopped the Shocker, Spider-Man finds it a hollow victory because Gwen's still mad at him, and he didn't get a single picture of his fight against the Shocker.


Appearing in "Thor the Mighty and the Stone Men from Saturn!"
Featured Characters:
Antagonists:
Races and Species:
Locations:
Items:
Vehicles
Synopsis for "Thor the Mighty and the Stone Men from Saturn!"
Donald Blake, a doctor from the United States, is visiting Norway. At the same time, a ship from Saturn lands nearby as advance scouts for a planned invasion. A local fisherman spots them and alerts the villagers, but they dismiss him. Blake overhears and goes to look for himself. When he steps on a twig, the aliens notice him. He flees into the hills, where he loses his cane. He runs into a cave, but the other entrance is blocked by a giant boulder. A secret door opens, revealing a chamber where Blake finds a walking stick. He tries to move the boulder with the stick but is unable to get leverage. Frustrated, he hits the boulder with the stick, and, in a flash of light, the stick transforms into a hammer, transforming Blake into Thor, the mythical Norse God of Thunder.
Part 2: The Power of Thor!
Thor easily lifts the boulder and leaves the cave. He verifies that the hammer has all the powers of Mjolnir, Thor's legendary weapon. He discovers it gives him the power to create storms and that the hammer is indestructible and will come back to him if thrown. Meanwhile, the alien armada shows up on Earth's radar screens. When fighter jets scramble to meet them, they project an image of a huge dragon and frighten away the pilots. When the ground forces fire missiles, they explode harmlessly against the ships' force fields. Thor speeds to the defense of the Earth.
Part 3: Thor the Mighty Strikes Back!
When Thor attacks the aliens, they drop a cage over him, but he tears the bars open. They aim their disintegration beams at him, but his hammer smashes their guns. They unleash their Mechano-Monster, but he smashes it to bits. The aliens return to their ships and give up their invasion. Thor changes back to Dr. Blake, whom the soldiers ignore when they come to look for the invaders.


Appearing in "And Soon Shall Come the Enchanters!"
Featured Characters:
Supporting Characters:
Antagonists:
Other Characters:
Locations:
Items:
Vehicles:
Synopsis for "And Soon Shall Come the Enchanters!"
Our story beings with Thor taking some R & R time to visit a New York soda shop where he entertains the local teen set by answering their questions about the far off realm of Asgard. Thor explains where it's located and that it's ruled over by his father, the all-powerful Odin. After this story, Thor takes leave to return to the doctors office where he operates in his mortal guise of Donald Blake. There, in his guise of Blake, Thor is visited by his patient Mr. Markham who is worried about the results of recent x-rays he had taken. Blake puts the man's mind at ease by telling him that he has a clean bill of health.
Meanwhile, in the realm of Asgard, Balder and Sif are well into their quest to learn the plans of the beings known as the Enchanters. Along the way they are attacked by the Living Talisman, a mystical force that serves the Enchanters. Taking on physical form the Living Talisman attacks the two Asgardians, who after a brief battle manage to fight off and seemingly destroy the Living Talisman. With the Talisman's defeat the Enchanters reveal themselves: They are Magnir, Forsung and Brona. The trio explain to Balder and Sif that while they were content to rule their own realm, they now seek to overthrow Odin and rule the entire realm of Asgard. They attempt to dispatch Balder and Sif by mystically transmuting the ground into quicksand. With no means of escape, Balder and Sif use their mystical powers to teleport themselves to Earth.
On Earth, they pay a visit to Donald Blake's office where they seek Thor's help in stopping the Enchanters from carrying out their coup in Asgard. They have a little trouble at first, being unaccustomed to New York City, but eventually find their way to Blake's office. As they explain to Blake what is happening, back in Asgard, the Enchanters believe that an intervention by Thor would put their plan at risk. As such, they decide to make a two pronged attack: Magnir and Brona travelling to Earth to battle Thor, Balder and Sif, while Forsung continues on to Asgard to battle Odin.
Transforming back into his godly form, Thor learns the full story and is shocked by the news and agrees to go into battle to stop the Enchanters from taking over Asgard. As the three Gods plan their next move, Magnir and Brona arrive on Earth to carry out their mission to destroy the Earthbound Asgardians.
This story is continued next issue....


Appearing in "Doctor Strange Master of Black Magic!"
Featured Characters:
Supporting Characters:
Antagonists:
Unnamed customer

(First appearance)

Nightmare

(First appearance)
Other Characters:
Races and Species:
Locations:
Items:
Synopsis for "Doctor Strange Master of Black Magic!"
A man tormented by nightmares comes to Doctor Strange to seek aid. Doctor Strange promises to help. He travels in spirit form to his old master who lives in a remote mountain temple in Asia. The master tells Strange to depend on his magic amulet if danger threatens. Back in his mortal form Strange visits the man he has promised to help. When the man falls asleep Doctor Strange enters his dream in spiritual form. Inside the dream, Strange is met by a figure bound in chains who presents himself as Mr. Crang. Then another form appears, Nightmare, Strange's ancient foe. Meanwhile the dreaming man awakes. He realizes the dreams are caused by all the men he has ruined. He grabs a gun to shoot Doctor Strange who is kept from reuniting with his mortal form by Nightmare. Doctor Strange uses his amulet to call upon his master who places a hypnotic spell on the man. Doctor Strange slips out of the dream dimension to grab the gun before removing the hypnotic spell. The man confesses his crimes.


Appearing in "The Origin of Doctor Strange"
Featured Characters:
Supporting Characters:
Antagonists:
Other Characters:
Races and Species:
Locations:
Earth

(Main story and flashback)
Items:
Synopsis for "The Origin of Doctor Strange"
Doctor Stephen Strange is a famous surgeon who works only for money, not caring for his patients nor interested in medical research. An auto accident damages the nerves in his hands severely and he can never perform an operation again. The proud Strange refuses to work for others and ends up on the street. He learns about the healing powers of the Ancient One and travels to his sanctuary in India. The Ancient One refuses to heal Strange because of his selfish motives, but sudden snow forces Strange to remain in the sanctuary until the snow thaws. Here he witnesses the Ancient One's pupil, Baron Mordo, launch magical attacks upon his master. Mordo casts a spell upon Strange to stop him from warning the Ancient One of the attacks' origins. Strange, therefore, resolves to learn the secrets of black magics to defeat Mordo himself. The Ancient One accepts Strange as his disciple and dispels Mordo's spell, which he had known about all along.


Appearing in "The Fearful Finish--!"
Featured Characters:
Supporting Characters:
Antagonists:
Other Characters:
Locations:
The Realm of Non-Existence
Items:
Spell of Vanishment (as a scroll)
Spells
Vehicles:
Synopsis for "The Fearful Finish--!"
Racing through a mystical portal to prevent a killer bolt of mystical energy from striking Clea, Doctor Strange manages to deflect it back against Umar. Trying to escape, Doctor Strange and Clea are attacked by many mystical barriers, and spells that are cast by Umar. Unable to free themselves, Doctor Strange calls upon the Ancient One for help. The Ancient One transports the two back to Earth.
Seeing Umar's determination as a threat, the Ancient One banishes Clea to a realm where she will be safe from her. The Ancient One then attempts to do the same thing to Doctor Strange (who begins to wonder if the Ancient One is losing his mind) however Strange resists. When asked why he is trying to send his deciple to another realm, the Ancient One replies by saying that Umar now walks the Earth!


Notes
Prologue, introductions, and epilogue by Stan Lee.
Continuity
See Also
Footnotes
---
---
Community content is available under
CC-BY-SA
unless otherwise noted.