Previous Issue
Next Issue
Appearing in "X-Men"
Featured Characters:
Antagonists:
Other Characters:
Races and Species:
Locations:
Items:
Vehicles:
Synopsis for "X-Men"
Brief Summary
At Xavier's School for Gifted Youngsters in Westchester County, New York, Professor Charles Xavier summons his students telepathically. When the Beast, Angel, Iceman, and Cyclops arrive, he puts them through a series of exercises to hone their mutant talents. Xavier then introduces them to a new student, Marvel Girl, to whom he explains the purpose of his school: his students do receive an education, but they are also the first line of defense against evil mutants.
Meanwhile, at Cape Citadel, Magneto causes a rocket to crash. The next day he takes over the whole base and claims it in the name of Homo superior (i.e. mutants). When Xavier hears about the incident, he sends his X-Men on their first mission. Cyclops uses his eye beams to make a hole in Magneto's force field, thus alerting him to their presence. Magneto launches a volley of heat-seeking missiles, which lock on to Angel; Iceman knocks most of them out, and the Beast catches the last one.
Magneto then sends metal debris at Angel; Cyclops destroys it. Magneto flings a burning tanker truck at the team; Iceman covers them with an ice shield, and Cyclops blasts a tunnel under the flames so that they come up near Magneto. Unprepared for such power and resourcefulness, Magneto sets up another force field and levitates himself to safety.
Detailed Summary
A man is seen waiting inside his large exclusive private school. Suddenly, he "calls out" mentally to his students stating that he is Professor X and he is ordering them to appear in class at once. Then four costume-clad people appear and report for their lessons: Cyclops, the Angel, Iceman and the Beast. Angel and Cyclops help the professor get comfortable in his chair. Iceman plays a prank on Beast and freezes his arm. Angel has to pull the two off each other and Professor X begins their training lessons using his "training machine".
The Beast is first and is given timed lessons to help him with his agility skills. He first grabs a taut wire with his toes in a second and a half. He then spins wildly on the wire and jumps through the room in exactly three seconds. Then he practices his balancing skills while Cyclops slackens the wire tension causing him to jump off and land on his feet. The Angel takes his turn and tests out his wing reflexes. He flies around jet flames, through a giant closing clamp and then skips through a bladed spinner without a slip. He becomes overconfident and when a sound concussion blasts around him, he loses his edge and begins to fall but then recovers. Iceman asks the professor to allow him to take more risks even though he is the youngest student. The professor tells him not to rush things. Iceman then feels that if he is going to be treated like a kid, then he will start acting like one. He finds "snowman items" and puts them on to joke around. Beast throws a ball at him since he is off-guard and Iceman reacts quickly creating an ice "boomerang-sled" sending the ball right back at Beast. Cyclops shows off his leadership skills and uses his beams to stop the group from goofing off. Professor X stops the team and readies them for the new student who has just arrived by taxi.
A redheaded woman steps from the cab and the group begins bantering with each other about the fact that a girl is joining the school. The team goes and changes while the woman enters and is greeted by Professor X who apparently sent her [Jean Grey] a letter to be enrolled as a student of his school. She questions the type of school that she sees and Professor X states that it is a school for the "specially gifted", mutants, like herself and the others. The professor introduces the rest of the team, using their real names and codenames, to Jean Grey, whom he says is now known as Marvel Girl. She shows off her powers of telekinesis to the rest of the team by moving chairs and books. The Beast, tries to give her a kiss and she turns him upside-down and spins him wildly in the air then throws him onto the couch. Professor X then tells the group their mission is to protect the world from mutants who would harm humans or other mutants.
Meanwhile, just such a mutant named Magneto, is hiding near Cape Citadel watching a missile launch. He uses his powers of magnetism to control the missile and send it crashing off-course into the nearby waters. The Army and NASA standby and are astounded that the missile was destroyed. They conclude that someone tampered with the missile prior to launch. The next day, the Daily Globe newspaper states that this was the sixth missile to be destroyed and a "phantom saboteur" has struck again. Then the soldiers begin seeing weapons firing randomly and tanks being controlled remotely. A message suddenly is written out in metallic dust in the sky and reads, "Surrender the base or I'll take it by force. - Magneto." While the message is being read by the soldiers, Magneto launches a missile from a silo near the base. He causes it to fall into the sea near an unmanned target ship. Magneto then walks into the base and takes control of it. He uses his powers to entrap the soldiers in a "magnetic-fence" from which they cannot escape.
The X-Men are alerted to the crisis at the Cape. They each get ready into their uniforms and ready to go. They are driven to the airport in Professor X's Rolls Royce and take his private jet to the Cape. The X-Men arrive and request the army hold off firing on the base for fifteen minutes. Cyclops uses his power to make a hole in Magneto's magnetic force field and this alerts Magneto of their presence on the base. Magneto fires heat-seeking hunter missiles at the team. Angel causes the missiles to lock onto him and follow him around in the air, while Iceman freezes them with snowballs. One missile gets through and Beast catches it with his feet. Marvel Girl then telekinetically sends it off into the sea. Magneto is amazed at the team's abilities and sends a pile of metal hurtling at Angel. The team stops to help him, while Magneto rolls a flaming barrel of rocket fuel at them. Iceman quickly encases the team in an ice cocoon when suddenly the tank blows up.
Magneto thinks he has won and starts to walk off when suddenly Cyclops' beam shoots out from the ground. The team emerges and begins to strike at Magneto full force. Magneto takes flight via magnetic repulsion and blocks the team from following him with a magnetic force field. They eventually breach it and Magneto has already disappeared. The army is gracious that the base is safe once again and thanks the X-Men for their help. The team then flies back home in the jet, while Professor X telepathically congratulates the team for a job well done.


Appearing in "Iron Man Is Born!"
Featured Characters:
Supporting Characters:
Antagonists:
Wong-Chu

(First appearance)

(Apparent death)

Wong-Chu's Red Guerillas

(First appearance)
Other Characters:
Races and Species:
Locations:
Items:
Synopsis for "Iron Man Is Born!"
In a closely guarded lab, Anthony "Tony" Stark shows off a new invention to US military defense officials. He has developed micro-transistors capable of powering up things such as magnets; turning them into powerful weapons strong enough to pull open a thick metal door from a distance. They increase magnetic force a thousandfold! Stark impresses the military brass with his new inventions, while at the same time impressing the ladies of the international jet set with his dashing good looks and incredible personal wealth.
Across the globe, the evil Red tyrant Wong-Chu takes over another small village in Vietnam, defeating its strongest men in contests of judo. Meanwhile, Tony Stark has arrived in Vietnam to observe the testing micro-transistor-powered weaponry, which allow heavy items like mortars to be reduced in size no larger or heavier than a flashlight. Accompanying a squad of soldiers equipped with his weaponry on a patrol through the jungle, he accidentally triggers a tripwire that detonates a landmine. The wounded Stark is captured by Wong-Chu's forces and taken to their nearby headquarters. Wong-Chu realizes his prisoner is a "famous Yankee inventor" and decides that he will put him to work in service of the Communist insurgency even though doctors determine the young inventor only has days to live before "shrapnel reaches his heart."
Wong-Chu falsely promises that he will have a surgeon save Stark's life if he will agree to develop new high-tech weapons for him. Even though he saw through Wong-Chu's words to his true intentions, to make him work until his death, Stark agrees, in order to try and save his own life with his technical abilities and Wong-Chu's resources. Given access to scrap metal and tools, Stark promises he will deliver a "fantastic weapon," but sets out in building a mechanism that will help stop the shrapnel from penetrating his heart. He is given an assistant named Professor Yinsen, a famous physicist whom Stark had read about while in college. Working together, the two finalize work on Stark's project: an iron body suit with a chest plate that will keep the shrapnel at bay through use of transistor-powered magnets.
Just as Stark has donned the life-saving suit and begun to power it with electrical current from a generator, Wong-Chu attempts to come check on his prisoners. Professor Yinsen rushes out into the hallway shouting at Wong-Chu and is shot dead by armed guards, buying the precious seconds Stark needed to fully charge the armor. Tony Stark, as Iron Man, hears the murder of his friend and swears he will avenge his death. He tries to rise and steady himself in the Iron Man armor, but discovers it is like learning to walk again. He quickly gets the hang of operating the armor and evades detection from Wong-Chu by leaping to the ceiling and holding himself there using suction cups. After Wong-Chu leaves the room, the tyrant heads outside to "amuse himself" with his favorite sport, challenging the villagers to a duel of judo.
Iron Man descends from the ceiling and finds a coat and hat, with which to cover his armor, and wanders outside to find Wong-Chu tossing people around in the judo arena. Iron Man challenges Wong-Chu, then takes off his coat and hat to reveal the shocking visage of Iron Man! The metal monster walks up to Wong-Chu, picks him up, and twirls him around before tossing him into the brush. Wong-Chu demands that his guards open fire on Iron Man, but the bullets just bounce off the armored figure's metal chest plate. Iron Man then uses "reverse magnetism" to repel the enemy weapons. Wong-Chu tries to get to the speakers of the nearest building, in order to put a bounty on Iron Man, but Stark manages to create electrical interference and switch the radio's channel, telling Wong-Chu's troops through the speaker to flee their leader before the Iron Man "slays [them] all." Iron Man cuts down the building's door using a transistor-powered buzz-saw, but as soon as he enters the Communist menace fells him with a file cabinet loaded with rocks.
Wong-Chu escapes to order the execution of all his prisoners, but Iron Man, low on energy and too weak to continue pursuit, uses his armor's lubrication system to launch a stream of oil towards an ammunition depot near the fleeing Wong-Chu. He then sets fire to the oil stream using a miniature torch in one of the armor's gauntlets, causing the ammo dump to explode, and seemingly killing Wong-Chu. His batteries now recharged, Iron Man dons his coat and hat and walks away into the jungle.


Appearing in "The Coming of Whiplash!"
Featured Characters:
Supporting Characters:
Antagonists:
Other Characters:
Races and Species:
Locations:
Items:
Vehicles:
Synopsis for "The Coming of Whiplash!"
Continued from last issue... In order to defeat the Grey Gargoyle, Iron Man put his chest plate at risk and now, in order to save his life, SHIELD agent Jasper Sitwell is attempting to remove Iron Man's mask. When even a miniature explosive proves incapable of removing the helmet, Sitwell leaves the scene to find Tony Stark to aid in saving Iron Man's life (little does Sitwell know that Stark is really Iron Man.)
Meanwhile, aboard an illegal casino on a cruise ship just over the boarder into international water, Morgan Stark (Tony's cousin) has gotten himself deeply in debt to the Maggia (who operate the ship), and he is brought to their leader, the Big M.
In order to square his debts with the Maggia he offers to bring them Iron Man, given that Morgan is the only surviving relative of Stark, they figure he has a chance. However, they inform him that if he fails he will be at the mercy of their costumed assassin: Whiplash.
Traveling to Stark Industries, Morgan manages to get past security due to his relation to Tony, and makes off the scene with Iron Man's body with a half-baked story about being there on his cousins behalf. Conscious, Iron Man soon becomes aware of Morgan's plot to betray him when Morgan is boasting out loud while driving back to the docks. As Morgan's attention is turned towards driving, Iron Man plugs in his recharger in a back seat cigarette lighter adapter to recharge his armor.
Allowing himself to be brought before the Big M, Iron Man springs up and makes short work of the Big M's goons, however, in the fight Iron Man gets himself sealed in the room where the Big M puts those that Whiplash is to handle.
As Iron Man tries to get out, Whiplash enters to deal with the golden avenger.. This story is continued next issue..


Appearing in "The Coming of the Avengers!"
Featured Characters:
Supporting Characters:
Antagonists:
Other Characters:
Races and Species:
Locations:
Items:
Synopsis for "The Coming of the Avengers!"
Loki, having been previously captured by Thor, is being held prisoner at the Isle of Silence in Asgard. His physical form may be confined there, but by means of thought projection his disembodied self travels to Earth in search of revenge. He spots Thor in his human identity of Dr. Don Blake, but resists defeating him as it would be a hollow victory compared to defeating him as Thor. After hours of searching, Loki happens across the Hulk and devises a wicked plan to entice Blake to transform into Thor. He projects a mental image of dynamite on the tracks of a nearby railway bridge. The Hulk spots the dynamite and attempts to snuff it out, accidentally destroying the bridge. Suddenly, a train appears on the tracks traveling towards the wreckage. Valiantly, the Hulk manages to hold the tracks up long enough for the train to pass safely before allowing it to collapse. Unfortunately the damage has already been done and Loki's plan was successful.
Hours later, newspapers print articles about the Hulk being on the rampage again and a manhunt begins. The Hulk's friend, Rick Jones, reads the article with disbelief and meets with members of the Teen Brigade in order to find help to track Hulk down to find the truth. They attempt to contact the Fantastic Four but Loki interferes with the radio signal, diverting it to Don Blake. He decides to transform into Thor to help the Teen Brigade. Unknown to Loki, the radio signal is also picked up by Ant-Man, the Wasp, and Iron Man, who also travel to assist.
Later, the Teen Brigade are disappointed that the Fantastic Four hadn't responded to their message when they finally get a reply. They inform the Teen Brigade that they are too busy with another case but they have a hunch that other heroes may have received their distress call. Suddenly Thor, Iron Man, Ant-Man and the Wasp arrive. Loki realizes that the other heroes will only interfere with his plans and lures Thor away by creating a mental image of the Hulk. Upon catching up with this fake "Hulk", Thor attacks and realizes it isn't real, and immediately suspects Loki. He then returns to Asgard to face his brother.
Meanwhile, Iron Man, Ant-Man and the Wasp track down the Hulk with the help of Ant-Man's ants. He is working at a circus pretending to be a robot called Mechano. They attempt to capture him by causing the ground below him to cave in, by dropping a steel cylinder onto him, and trying to catch him in a net. Hulk manages to escape the circus. Iron Man gives chase but the Hulk cripples his battery, and escapes while Iron Man repairs it.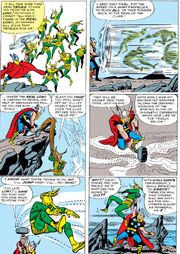 Back in Asgard, Thor asks permission from Odin to meet Loki on the Isle of Silence to question him. Odin accepts but warns that he cannot interfere between the two brothers' quarrel. As Thor sets out across the Sea of Mist he is attacked by Loki's traps. First, he narrowly escapes tangle roots that threaten to drag him down into the depths. Next, a volcano erupts releasing volcanic gas globules capable of sapping the strength of any god. Thor manages to evade these by diving into the sea. On the island, Loki spots Thor's empty boat and wonders with disbelief if Thor has already been defeated. Suddenly, a giant water spout appears in front of him as Thor emerges from the sea to face him. He throws his hammer at Loki, only to have it deflected by a hastily-made ice shield. Loki calls upon a Rock Troll, which begins to drag Thor beneath the ground. At the last moment, Thor uses his hammer to summon lightning which dazzles the troll, causing it to relinquish his hold. Thor angrily swings his hammer at Loki, who has created multiple mental images of himself to confuse him. Thor counters this by spinning his hammer fast enough to blow all the figures away, revealing the true Loki. Soaking up the magnetic flow from the earth with his hammer, he captures Loki via magnetic attraction and takes him back to Earth to clear the Hulk's name.
On Earth, Iron Man, Ant-Man and the Wasp continue to pursue the Hulk to an auto factory in Detroit. Thor appears with Loki to clear Hulk's name. Suddenly Loki makes himself radioactive forcing the heroes to retreat. Luckily, Loki stands over a trapdoor and Ant-Man's ants trigger a switch, dropping him into a lead-lined tank. Upon celebrating their victory, Ant-Man and the Wasp point out how well they could work as a team, and that they should work together in the future. The Wasp suggests they should call themselves the Avengers, and everybody agrees.
And there came a day, a day unlike any other, when Earth's mightiest heroes found themselves united against a common threat! On that day, the Avengers were born, to fight the foes no single super hero could withstand!


Appearing in "The Origin of Daredevil"
Featured Characters:
Supporting Characters:
Antagonists:
Porky

(Main story and flashback)

Sam

(Main story and flashback)

Slade

(Main story and flashback)
Other Characters:
Races and Species:
Humans

(Main story and flashback)
Locations:
Earth

(Main story and flashback)
Items:
Synopsis for "The Origin of Daredevil"
One night at Fogwell's gym, a number of the bruisers that work there are enjoying a game of cards, when they're interrupted by the arrival of Daredevil, who has come looking for their boss, the Fixer. Fighting them, Daredevil reflects back to his past, and the events that led to his becoming this new costumed hero:
Daredevil is Matthew Murdock, son of "Battling" Jack Murdock, a prize fighter past his prime, who wants his son to get a real education instead of fighting. While his father tries to find honest work, his son is taunted by his peers and so begins training in secret.
One day, while Jack has no choice but to sign up with the Fixer, a shady fight organizer, Matt saves a blind old man from being run over in the street, but gets run over himself. The chemical truck spills its radioactive waste on Matt, blinding him. Matt soon realizes that all of his other senses have been heightened from this accident and continues his training.
Meanwhile, "Battling" Jack is experiencing a comeback that restores his self-esteem. Matt goes to law school and befriends Foggy Nelson. One night, the Fixer orders Jack to throw a fight, but when he refuses and instead wins the match, the Fixer has Jack killed.
After his father's funeral, Matt graduates from law school and opens his own law firm with Foggy, and they hire a secretary named Karen Page. Meanwhile, Matt decides to avenge his father by taking up the identity of Daredevil, creating a costume and converting his walking stick into a billy club weapon to fight crime.
Returning to the present, Daredevil continues to fight the Fixer's men, while across the city, Foggy goes to find Matt to help him to work, but he doesn't find him either at home or at the office. When he asks Karen, she shows tender sympathy for Matt's condition.
Back where the action is, Daredevil finds the Fixer and tracks him down to the subway with his keen senses. Switching back to his Daredevil guise, he chases the Fixer down the subway terminal until the Fixer suffers a severe heart attack. After the police round up the rest of his crew, Daredevil returns to his civilian guise and shows up for work, his co-workers worried about his well-being.


Appearing in "Brother, Take My Hand!"
Featured Characters:
Supporting Characters:
Antagonists:
Other Characters:
Races and Species:
Locations:
Synopsis for "Brother, Take My Hand!"
While visiting the troops in Vietnam, Daredevil meets with Willie Lincoln, a soldier who was blinded during a tour of duty. When Lincoln tells Daredevil that he used to be a New York cop, but was discharged because he was accused of accepting a bribe, Daredevil suggests that once he gets back stateside Lincoln should look up Matt Murdock and take him on as a lawyer.
When Lincoln does return to the States, he does eventually manage to get Murdock as a lawyer, who clears Lincoln's name, and gets him his job back. That night, Matt and Daredevil protect Lincoln from attackers who have come for revenge for his recent victory in the case.


Appearing in "Nick Fury Agent of SHIELD: The Man For the Job"
Featured Characters:
Supporting Characters:
Antagonists:
Hydra

(First appearance)

An unnamed agent (Only appearance; dies)
Imperial Hydra

(First appearance)

Agent H

(First appearance)

Several unnamed agents

(First appearance)
Other Characters:
Races and Species:
Locations:
Items:
Vehicles:
Synopsis for "Nick Fury Agent of SHIELD: The Man For the Job"
Col. Nick Fury reports to the Pentagon where he is mysteriously cloned. Full of questions, he is then escorted to the streets above where the clones have been positioned to protect Fury from hidden assassins. Shoved into a car, another attack is thwarted by various spy gadgets that the car is equipped with. He is told about SHIELD and that the attacks have come from HYDRA, where the agent responsible for the failed attacks on Fury is killed by Agent H, who replaces him. At SHIELD HQ, Fury is greeted by Tony Stark, who is in charge of the Special Weaponry Section and told that he has been chosen to lead SHIELD in their mission to destroy HYDRA. At first, Fury is reluctant, but after uncovering a bomb that had been rigged to blow up him and high-ranking officials, he quickly takes control and agrees to lead SHIELD.


Appearing in "Origin of the Silver Surfer!"
Featured Characters:
Supporting Characters:
Antagonists:
Other Characters:
US Air Force

"Blue Leader"
"Barboy Brigade"

(Mentioned)

"Den Mother"

(Mentioned)

USSR

Unnamed commissar
Unnamed colonel

Chinese communists
Unnamed Zenn-Lavians

(Only in flashback)

NYPD

(Only in flashback)

Hulk

(Only in flashback)

Fantastic Four

(Only in flashback)
Races and Species:
Zenn-Lavians

(Main story and flashback)

Humans

(Main story and flashback)

Zenn-La fauna (Flashback and depiction from the museum of antiquity only)
Unnamed primitive species

(Only in flashback)
Locations:
Zenn-La

(Only in flashback)

(First appearance)

Museum of antiquity

(Only in flashback)

Unnamed planets (Flashback and depiction from the museum of antiquity only)
Fourth Dimension

(Mentioned)
Items:
Mental Transportation Element

(Only in flashback)

Study-Cubes

(Only in flashback)

Cyberno-Materializer

(Only in flashback)

Weapon Supreme

(Only in flashback)

Mental-Constructor

(Only in flashback)
Vehicles:
Zenn-La Star Ships (Depiction from the museum of antiquity)
Zenn-Lavian ship for Norrin Radd
Events:
Zenn-La history (Depiction from the museum of antiquity)

Dawn of Time/Ultime Beginning
Age of Warfare
Golden Age of Reason
AGe of Space Travel


Synopsis for "Origin of the Silver Surfer!"
The Silver Surfer flies through Earth. He spots a spaceship crashing into an ocean and manages to save its pilot, who turns out to be John Jameson. The Surfer brings Jameson back to his fellow astronauts, but they think of the Surfer as an enemy and open fire on him. The battle follows the Surfer straight to China, where he decides to speed things up and manages to outmaneuver the soldiers.
Next, he recalls his first encounters with the Hulk and Dr. Doom. He also remembers his life on his birthplanet, Zenn-La, and his beloved girlfriend Shalla-Bal. Surfer also recalls how the planet was attacked by Galactus and how he made his pact to save the planet, and in exchange he would search new planets for him to feed on, as the Silver Surfer! And finally, Norrin remembers his encounter with the Fantastic Four and how they freed him from Galactus, but that he is now in exile here on Earth. But he promises not to give up and continue exploring.


Appearing in "The Wonder of the Watcher"
Featured Characters:
Supporting Characters:
Antagonists:
Other Characters:
Unnamed doctors
Unnamed neighbors of the Prosilicans
Races and Species:
Unnamed neighbors of the Prosilicans
Locations:
Unnamed galaxy

Unnamed neighboring world of Prosilicus
Items:
Synopsis for "The Wonder of the Watcher"
The Watcher observes a team of doctors attempting to save a patient in the emergency room. The patient dies, and the doctor laments the fact that humanity does not have the technology and ability to save everyone. The Watcher also laments the fact that he cannot intervene. In a long flashback, the Watcher details why he and his race cannot interfere in the affairs of other races. Many eons ago when the Milky Way was still forming, the Watcher's race was already ancient. In possession of technology far more advanced than any other race in the galaxy, the Watcher's people are in disagreement: find other races and lift them up from their primitive excistence or pursue a policy of noninterference. The Watcher's father, Ikor, supports the former policy and Emnu, a rival, supports the latter. Ultimately, Ikor's side wins out and their race travels the stars, finding a planet called Prosilicus. The Prosilicans are given the gift of unlimited atomic energy and are left to their own devices. Advancing thousands of years in just a short time, some of the Prosilicans choose to create offensive weapons and attack a nearby planet. In an act of mutually assured destruction, the other planet sends its own nuclear attack at Prosilicus. Both are quickly destroyed. Confronted by a Prosilican crawling from the rubble of his destroyed planet, the Watcher and his father resolve to stay out of the affairs of other species.


Notes
Includes prologue, introductions, and epilogue by Stan Lee
See Also
Footnotes
---
---
Community content is available under
CC-BY-SA
unless otherwise noted.