Jurassic World: Dominion Dominates Fandom Wikis - The Loop
Play Sound
The Flowers of Krakoa are flora created by and native to Krakoa that possess certain powers.[5]

History
While planning to create a sovereign mutant nation on Krakoa, Professor X recruited Cypher to assist with translation. Together, Professor X, Cypher, and Krakoa worked in the Krakoan Flower Fields to cultivate the Flowers of Krakoa.[6]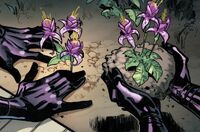 After Krakoa was revealed to the world, Professor X had his X-Men plant Habitat and Gateway flowers across the Earth. Additionally, any nation willing to recognize Krakoa's sovereignty and grant each mutant diplomatic immunity could receive access to the medicines synthesized from the flowers Human Drug L, Human Drug I, and Human Drug M.[5]
Flowers of Krakoa were cultivated en masse by Multiple Man's dupes at the Red Farm on Mars and in the Krakoan Harvest Center in the Savage Land.[7][2]
When Wanda Maximoff was murdered at the Hellfire Gala, the Krakoan Gateway in Manhattan's Central Park sprouted everbloom blossoms. Vision recognized the flowers as native to Wundagore Mountain not Krakoa just prior to Professor X's arrival to inform the Avengers of Wanda's death.[8]
Types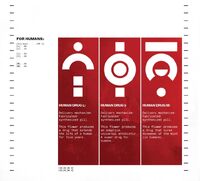 The Flowers of Krakoa possessed numerous properties and at least six subtypes exist including:[5]
Trivia
Krakoan flowers produce a dramatically high volume of pollen.[2]
See Also
Links and References
References
Like this? Let us know!