Cobra Kai Season 4 - The Loop
Play Sound
The Forbidden City (Chinese: 紫禁城) is a palace complex in Dongcheng District, Beijing, China. The Forbidden City was imperial palace and winter residence of the Emperor of China from the Ming dynasty to the end of the Qing dynasty.

History
20th century
In February 25, 1972, President Richard Nixon visted the site on his tour of China.[1]
Modern Age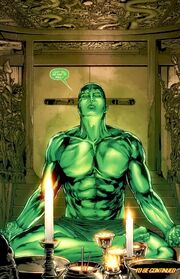 When the Chinese government invited Tony Stark, he and his bodyguard Iron Man observed that the Forbidden City was still forbidden to all but high-level commanders - but the Chinese insisted that these commanders were still commoners.[2]
The site was also used as a secret base to house Radioactive Man when he was not on missions. He was given a sealed chamber in which visitors could only enter if they are wearing radiation suits.[3]

Following the Mutant; Kid Omega threat in Switzerland various nations such as China activated their Sentinels program to defend their nation from the Mutant threat. Various Sentinels stood guard of the Forbidden City.[4]
See Also
Links and References
https://en.wikipedia.org/wiki/Forbidden_City
Footnotes
Like this? Let us know!