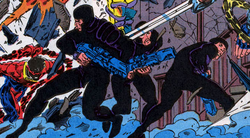 Identity and Affiliations
Origin
Creators and Appearances
History
The Friends Of Humanity is a group started by Graydon Creed, a man infamous for his bigotry against mutants. He and his disciples have caused damage on many occasions, whenever there is a possibility to harm mutant rights, and they are agitating to force lawmakers to reinstate The Mutant Registration Act.
Groups inspired by or splintered from the Friends of Humanity include the survivalist Humanity's Last Stand and the religious fundamentalist Church of Humanity.
Paraphernalia
Equipment
Electromagnetic Scrambling Pulse
See Also
Links and References
Footnotes
Like this? Let us know!
Community content is available under
CC-BY-SA
unless otherwise noted.