Galactus-Buster Armor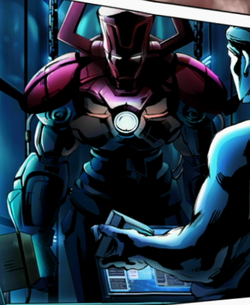 Official Name
Galactus-Buster Armor
Owners
Physical Characteristics
Origin
Creators and Appearances
History
The Galactus-Buster armor was built by Tony Stark of Earth-30847 after the defeat of Galactus. Using data gained from his battle, he realized he barely defeated the cosmic entity. Being pretty lax with armor modifications, he began construction on the armor afterwards.[1]
Notes
The armor is only seen in Iron Man's ending in Marvel vs. Capcom 3: Fate of Two Worlds. It is not useable within the game.
See Also
Footnotes
Community content is available under
CC-BY-SA
unless otherwise noted.