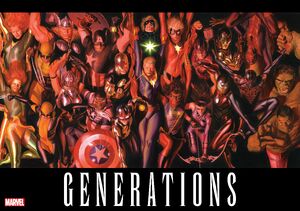 (Gallery)
Once upon a time, a skinny kid from New York City picked up a shield and charged into battle… a prodigal son lifted a sacred hammer and proved himself worthy… and an arrogant genius forged an armor that would harness his true potential. And together, they became Earth's Mightiest Heroes. Today, that heroic legacy lives on in the next generation of heroes – and it will be put to the test as the Marvel Universe's greatest champions unite and charge headlong into tomorrow!
[1]
Videos
See Also
Notes
This maxi-series was first hinted at with a teaser published in Marvel Entertainment's Twitter account on February 16, 2017,[2] being officially announced on March 24 by ABC News.[3]
References
Community content is available under
CC-BY-SA
unless otherwise noted.