History
During an invasion of rogue Skrulls on an alien hospital in the core of a black hole, Jessica Drew went into labor. While barricaded inside a delivery room, Jessica gave birth to her son Gerald without medication. Upon seeing to his immediate well-being, she got off the table, killed every insurgent Skrull before her, and passed out.[2] A few days later, Jessica and her son moved back to Jessica's apartment.[3]
Gerry lives at home in Jessica's apartment in New York City, where family friend Roger Gocking the Porcupine babysits him while Jessica performs her hero duties.[4]

Powers and Abilities
Powers
Spider Physiology: Gerry has inherited several spider-like superhuman powers and abilities from his mother, Jessica Drew. So far, his powers include: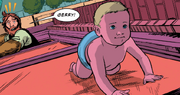 Regenerative Healing Factor: Gerry possesses a regenerative healing factor that enables him to rapidly heal himself at an accelerated rate.[4]
Pheromone Secretion: Like his mother, Gerry's metabolism generates certain types of pheromones that can create fear, elicit attraction and/or repulsion on others. But due to his age, He has very little control over this ability.[4]
Venom Blasts: Gerry's body apparently possesses an inordinate amount of bio-electricity that he can instinctively channel and discharge through his hands, just like his mother can. So far, they are only strong enough to destroy objects and mildly electrocute people.[4]
Strength level
Superhuman for someone his age, at least enough to injure a peak human, Black Widow.
Weaknesses
Due to his age, He has very little to no control over his superhuman powers.[4]
Links and References
Discover and Discuss
Footnotes
---
---
Community content is available under
CC-BY-SA
unless otherwise noted.