Wiki Targeted (Entertainment)
Play Sound
History
Origin
When the Titan Uranus was ambushed and killed by his children led by Cronus, his blood impregnated Mother Earth with the Gigantes.[2]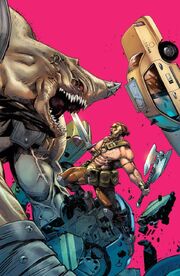 Gigantomachy
Gaea later incited them to revolt against Zeus and the Olympians,[2] the "Gigantomachy".[5]
Zeus, aware of the incoming revolt, sired the demigod Hercules as the gods' champion. Hercules led the gods into battle, and the gigantes were defeated and many imprisoned in Hades alongside the Titans.[5]
Powers and Abilities
Powers
Superhuman Strength
Superhuman Durability
Superhuman Stamina
Superhuman Speed
Average Strength Level
Far greater than the average person
Miscellaneous
Representatives
Zeno, Callias,[6] unnamed others
Notes
There is no known relation between the Giants of Otherworld, and the Gigantes (nor the Giants of Jotunheim).[7]
See Also
Links and References
Footnotes
Like this? Let us know!