Chi
Chi or Qi is the bio-electric energy that surrounds all life-forms. Some people have been able to train themselves to enhance their minds and bodies. It can also be used to heal themselves and others. Many martial artists have some level of skill in Chi manipulation.
K'un-Lun
Chi energy is utilized to great effect in the hidden nation of K'un-Lun. The residents are trained in various practices to manipulate this energy.[1]
Iron Fist
The Iron Fist is the greatest source of Chi energy on the planet. Shou-Lao was an immortal dragon who became the source of this power. During a performance of the dragon riders of K'un-Lun for the entertainment of its Yu-Ti, Shou-Lao went berserk and attacked the city's leader. He was slain by Quan-St'ar, who cut out the dragon's heart. Enraged at this, Yu-Ti banished Quan-St'ar from the city and revived the dragon by melting its heart and placing it in a sacred cavern.[2] From this moment, each Iron Fist had to accomplish the final test of defeating this dragon in order to absorb part of its power. He was reborn over 66 times.[2] Danny Rand defeated the dragon, and in the course of the battle had the dragon-shaped tattoo burned on his chest. After defeating Shou-Lao he plunged his hands into the brazier containing the dragon's immortal heart and it charged him with the power of the Iron Fist.[3][4]. The Steel Serpent was able to steal the energy of the Iron Fist from Danny, but due to his lack on concentration and skill with the power it consumed him and was returned to it's rightful owner.[5]
Immortal Weapons
Chi energy is used by the Immortal Weapons the champions of the Seven Capital Cities of Heaven. Each uses their chi in various ways;
Power Man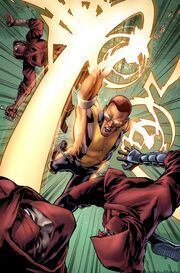 Victor Alvarez was caught in a explosion and was hit by fragments of his father's visor. This allowed him to absorb the bio-electric energy of the 107 people who were also caught in the explosion. This granted him superhuman strength, speed, agility, durability, generation of personal force fields and accelerated healing; Victor glows when empowered in the same way when Iron Fist powers up his chi fist punch. He can explode chi outward through punches, and can channel messages through bio-electric frequencies. Victor once absorbed chi from multiple sources simultaneously, briefly growing giant-sized with increased strength. He sometimes experiences memories of those who died in the tenement's explosion.[12]


(See Also: https://en.wikipedia.org/wiki/Qi)
[top] [Edit Chi]

Community content is available under
CC-BY-SA
unless otherwise noted.