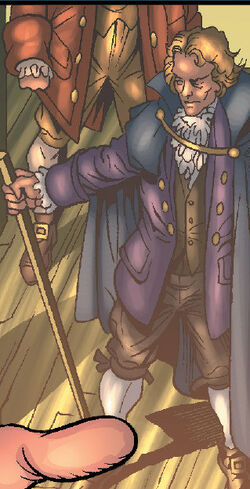 Relatives
Harbin Zemo (distant ancestor, deceased),


Hademar Zemo (distant ancestor, deceased),
Heller Zemo (great-grandfather, deceased),
Unnamed great-grandmother (deceased),
Herbert Zemo (grandfather, deceased),
Helmuth Zemo (father, deceased),
Unnamed uncles (deceased),
Hartwig Zemo (son, deceased),
Isla Zemo (daughter-in-law, deceased),
Hilliard Zemo (grandson, deceased),
Gretchen Zemo (granddaughter-in-law, deceased),
Unnamed Kleinenshvitz (great-grandson or daughter, deceased),
Hoffman Zemo (great-grandson, deceased)[1],
Hobart Zemo (distant descendant, deceased),
Herman Zemo (distant descendant, deceased),
Heinrich Zemo (distant descendant, deceased),
Hilda Zemo (distant descendant, deceased),
Helmut Zemo (distant descendant),
Heike Zemo (distant descendant, deceased),
Wendell Volker (distant descendant),
Miss Klein (distant descendant),


Mr. Fleischtung (distant relation)

Status
Occupation
6th Baron of Zeulniz
Characteristics
Origin
Creators and Appearances
History
Little is known about Hackett Zemo. It is known that his father had been killed by their descendant, a time traveling Helmut Zemo. In a later jump in time, Hackett tried to have Helmut killed.
Powers and Abilities
Powers
None
See Also
Links and References
Footnotes
Like this? Let us know!
Community content is available under
CC-BY-SA
unless otherwise noted.