Doctor Strange in The Multiverse o Madness - The Loop
Play Sound
Wendigo!
Appearances
Featured Characters:
Supporting Characters:
Antagonists:
Other Characters:
Race and Species:
Locations:
Items:
Vehicles:
Synopsis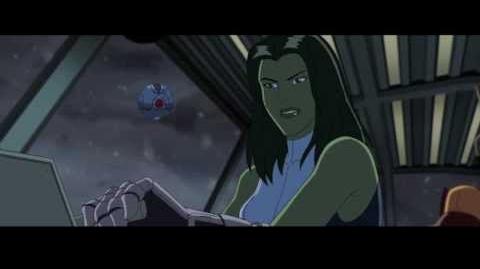 The Agents of S.M.A.S.H. encounter Wolverine during their Canada vacation where he has been bitten by the Wendigo. Wolverine's healing factor restores him to normal as Wolverine states that the Wendigos have bitten the people at the ski resort. Wolverine and the Agents of S.M.A.S.H. encounter the Wendigos where they end up fighting them while trying to not to get bitten or scratched. Hulk finds that the Wendigos are being controlled by the Wendigo King . After the first fight, A-Bomb discovers that he has been scratched by a Wendigo. A-Bomb looks up the information where they must end the Wendigo curse by defeating the Wendigo King. When Wolverine and the Agents of S.M.A.S.H. arrive near the Wendigo King's lair, they end up fighting their way past the Wendigos to a tram as A-Bomb succumbs to the scratch and transforms into a Wendigo. During the fight on the tram, Wolverine had to cut the cables to the tram to escape from the Wendigos. Hulk and Wolverine discover that She-Hulk, Red Hulk, and Skaar have been infected by the Wendigos and have transformed into Wendigos. Hulk was reluctant to fight back as ends up scratched. Hulk ends up smashing the side of the mountain to cause an avalanche that buries his infected teammates. Hulk and Wolverine find the Wendigo King's lair and fight past the Wendigos in order to get to the Wendigo King (whose power is from another world). Hulk and Wolverine have a hard time fighting the Wendigo King up to the point where Hulk transforms into a Wendigo as he fights the transformation. Using the fastball special, Hulk throws Wolverine towards the Wendigo King's necklace which undoes the Wendigo curse on everyone. Afterwards, A-Bomb smashes the remains of the necklace to evade a sequel to the Agents of S.M.A.S.H.'s fight with the Wendigo.
Notes
Hulk comments that the first time he and Wolverine met they beat the snot out each other, this is likely a reference to their first meeting in Incredible Hulk Vol 1 181.

Interestingly enough that issue also included Wendigos.
See Also
Links and References
References
Like this? Let us know!