Appearances
Featured Characters:
Supporting Characters:
Antagonists:
The Beast

(Apparent death)
Other Characters:
Locations:
Items:
Vehicles:
Drone Train
Military Transport
Synopsis
While escorting Abomination to stand trial for his crimes, Rick Jones mentions that there was a legend of a Spirit of Vengeance that resides in Death Valley. Ghost Rider crashes the Agents of S.M.A.S.H.'s prison transport in Death Valley to target Abomination. Ghost Rider uses his penance stare on Abomination which burns the gamma out of him and regresses him back to Emil Blonsky. Then he targets Red Hulk for Thunderbolt Ross' roll in the creation of Hulk which leads to Ghost Rider dragging Red Hulk to a bad place on a military train that he took control of with the the Agents of S.M.A.S.H. in pursuit. When Red Hulk finally repents the fact that he should've had a failsafe placed on the gamma bomb that created the Hulk, Ghost Rider spares Red Hulk as they get close to a creature that would've disposed of Red Hulk. The Agents of S.M.A.S.H. and Ghost Rider evaded the creature and made it back to Death Valley. When A-Bomb invites Ghost Rider back to Vista Verde with them, Ghost Rider states that there is still some evil in the world. Ghost Rider then summons his motorcycle and rides off.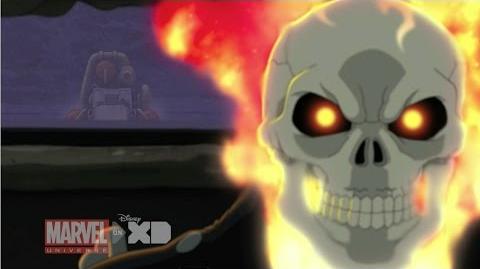 See Also
Links and References
References
Like this? Let us know!