Boba Fett Returns - The Loop
Play Sound
History
Ichors was one of Angela's main weapons alongside Xiphos.[4] She lent it to Meresyn in order to duel with her in Hel.[5]
Properties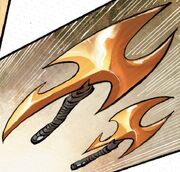 Ichors is a liquid metal, double-edged scimitar that can take the form of any bladed weapon.[1] It can also be split into two[6] and take the form of a whip.[5]
Alternate Reality Versions
In this alternate reality experienced by the Angela and Sera of Earth-616, Angela didn't meet Sera during her fight against the monster that had been killing Anchorites at their temple, resulting in the loss of her left arm. Angela later replaced her lost arm with a part of Ichors.[7]
See Also
Links and References
Footnotes
Like this? Let us know!