Everything you need to know, from our community of experts.
Guardians of the Galaxy 101
The Guardians of the Galaxy
is a group of heroes who opposed the
Phalanx
conquest of the Kree system (and many who had opposed
Annihilus'
incursion into their universe), and banded together in an attempt to prevent any further catastrophes from ever occurring.
On the recommendation of ally Nova, the group established a base of operations at the space station Knowhere, which conveniently possessed a teleportation system with near-universal range. An intelligent, super-powered dog called Cosmo acted as Knowhere's chief of security and worked closely with the new team during their first missions.
After an initial clash with the revitalized
Universal Church of Truth
, the team's investigation of a mass of "Limbo ice" revealed a semi-amnesiac man who identified himself as
Vance Astrovik
, a.k.a. Major Victory of the
Guardians of the Galaxy
of
Earth-691
. Astro's declaration inspired the as-yet-unnamed team to adopt the "Guardians of the Galaxy" name for their own.
Community Essentials
Here's what superfans from Marvel Database and other Guardians of the Galaxy Wikia communities are thinking about the movie. Tell us how you feel in the comments below!

What the superfans are saying:
"Guardians is a departure from the mainstays of the Marvel lineup. It's going to be a very fun movie and has the potential to tie into events of the next Avengers movie, involving Thanos. If Guardians is successful, it will definitely lead to more second tier characters getting their own movies and TV shows. I can't wait!"
- Jamie, Admin on Marvel Database

---

"Like many others, I'm getting the feeling that this little movie about a rag-tag group of criminal-turned-heroes is leading the way into a new frontier of Marvel movies. I'm hoping this one is the beginning of an explosion of new concepts and styles to super-hero movies that ultimately all continue to inter-connect. Midnight showing, here I come!"
- Peteparker, Admin on Marvel Database

---

"Guardians of the Galaxy has become my most anticipated Marvel movie this year. I'm excited not only for a new team of humorous heroes in the Marvel film universe, but the introduction to the cosmic side of Marvel should mean even bigger and better things down the line."
- Spencerz, Admin on Marvel Database
Essential Videos
Essential Images
Guardians Qwizards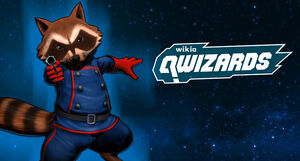 Community Poll Results
How does the community feel the new film? Check out the results of the battery of polls we ran!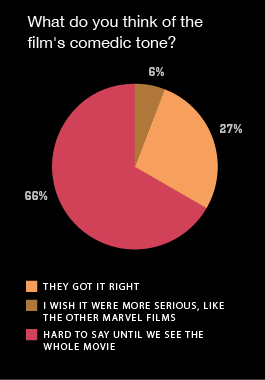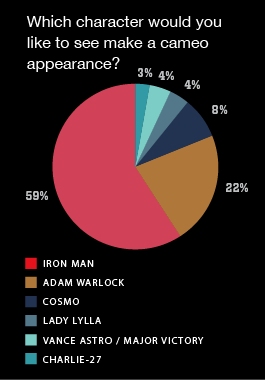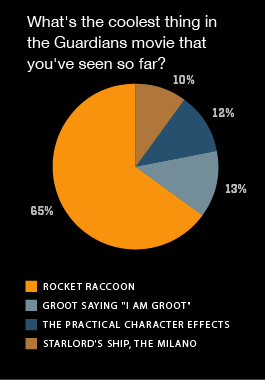 Results as of July 10th, 2014
How would you have voted?
Community content is available under
CC-BY-SA
unless otherwise noted.