This page is a candidate for speedy deletion

This article is scheduled for deletion because it is a stub (please, go here for more info - please do not delete until after 31/09/2021 - If a history is added prior to this time please remove the tag).
(This template will categorize articles that include it into Category:To Be Deleted.)
Trivia
In her first appearance in Peter Porker, The Spectacular Spider-Ham Vol 1 1, this character had a completely different appearance. At this stage, the character had not been identified by name, only as a member of the Fantastic Fur.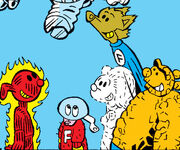 See Also
Links and References
Footnotes
Like this? Let us know!
Community content is available under
CC-BY-SA
unless otherwise noted.