See
disambiguation page
for versions of "J.M. DeMatteis" adapted in comic books and other mediums.
J.M. DeMatteis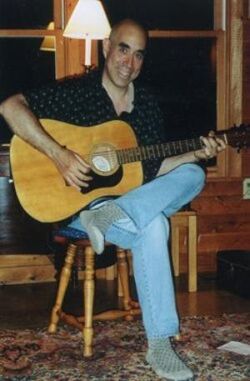 Real Name
John Marc DeMatteis
Pseudonyms
J.M. DeMatteis; Marc DeMatteis; Michael Ellis; Wally Lombego
Personal Information
Date of Birth
December 15, 1953
Professional Information
Employers
Marvel; Epic; Crossgen; DC Comics; Vertigo; Wildstorm; Paradox Press; First; Boom! Studios; Ardden Entertainment; IDW Publishing; Image; Archie Comics
Personal History
DeMatteis was born and spent his formative years in Brooklyn, which led to great characterization when Captain America lived at 569 Leaman Place, Brooklyn Heights.
Professional History
With over writing credits for over 300 Marvel issues, DeMatteis is easily noted as a bulwark and significant writer for Marvel, particularly in the 1980's.
Work History
Images Drawn by J.M. DeMatteis
Notes
Quote from J.M. DeMatteis: "The impossible isn't a limitation, it's an invitation."
Trivia
As a adolescent, Marc DeMatteis had letters published at Marvel Comics. One is seen in Daredevil #97.
See Also
Links and References
[1] Official website of J.M. DeMatteis]
Footnotes
Like this? Let us know!
Community content is available under
CC-BY-SA
unless otherwise noted.