Spider-Man: No Way Home Trailer Dropped - The Loop
Play Sound
Personal History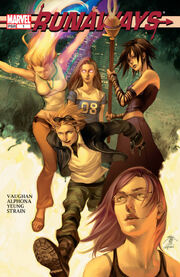 Jo Chen (咎井淳) is a comic book artist.
Chen was born in Taipei, Taiwan on the 4th of July and emigrated to the United States in late 1994. Working professionally in the Asian comic book industry since age 18, she burst suddenly onto the U.S. comic book scene with her art work for the Racer X mini-series, part of the Speed Racer series published by Wildstorm/D.C. Comics in 2000. She quickly established herself producing interiors and covers for titles including Darkminds Macropolis, Battle of the Planets, Robotech, Fight For Tomorrow, Taskmaster, The Demon, Thor, and (Batman &) Robin. Currently she is most well-known to American comic readers as the cover artist of Runaways.
Professional History
In June 2006, Joss Whedon announced that Chen would illustrate the covers to the upcoming Buffy the Vampire Slayer "Season 8" comic.[1]
In other media, Chen has also produced packaging artwork for Microsoft's popular Fable and Fable: The Lost Chapters RPGs, and done covers for PlayStation Magazine (a Final Fantasy cover for the January 2002 issue and a Tomb Raider cover for the February 2003 issue).
She currently lives with her family outside of Washington, D.C.
Comic books covers
The Demon: Driven out #1 (DC Comics, 2003). The cover of the #2 of this miniseries was drawn by her sister, Christina Chen.
Fight for Tomorrow #5 (DC/Vertigo)
Robin #115-117,119-120 (DC Comics)
Runaways Vol. 1 #1-6, 8-10, 13-18 (Marvel, 2003-2004) & Runaways Vol.2 #1-6, 9-10 & 19-21, #22-25 (Marvel, 2005 - ).

Thor: Son of Asgard

#7-12 (Marvel, 2004-2005)
Street Fighter. Jo Chen has done several covers for the "power foil" variant covers of the Street Fighter comic-book series produced by the Udon studios. Some of these covers had also been used in some Street Fighter merchandising (at least in prints and control pads).
Buffy the Vampire Slayer (Season Eight) #1 - ??? (Darkhorse, March, 2007 - on-going).
Interiors published
Racer X #1-3 (DC/Wildstorm, 2000). 3-issue miniseries.
Darkminds: Macropolis #1-4 (Dreamwave, 2002). By Jo Chen and Christina Chen.
Robotech: Love and War (DC/Wildstorm, 2003). Jo Chen drew "Little White Dragon", a back up story included in every issue of the miniseries. Also drew a cover for the back up story of the #6.
Battle of the Planets / Witchblade (Top Cow). Jo Chen assists her sister Christina Chen in the pencils of this one-shot crossover.
Work History
Images Drawn by Jo Chen
See Also
Links and References
Footnotes
Like this? Let us know!