"Chapter 19"
Previous and Next Episodes
Seeing you like this, what you have become... the sweet boy undone by revenge. It fills my heart with such sorrow.
Appearing in "Chapter 19"
Featured Characters:
Supporting Characters:
Antagonists:
Other Characters:
Races and Species:
Locations:
Items:
Synopsis for "Chapter 19"
David and Farouk battle each other with their vast psychic powers. Although Farouk has the upper hand, their psychic battle suddenly comes to an end when Lenny with her sniper rifle shoots Division 3's mutant power-dampening weapon to activate it. David brings a rock down on Farouk's head and starts to pummel him with his fists when Syd, carrying the skull of the minotaur, stops him at gunpoint. David can't understand why Syd would want to stop him ("the hero") from killing Farouk ("the bad guy"). Syd explains that maybe she is the hero, and David the villain her future self tried to warn them about. Once Syd pulls the trigger, Lenny shoots the bullet out before it reaches David. The force of the two bullets colliding throws Syd and David back, knocking them out. In the Astral Plane, David is confronted by the voices inside his head manifested as other versions of himself. The other Davids try to show David that Syd has never really been with him, and that his entire relationship with her is a delusion. David, however, thinks he can fix this.
David regains consciousness and uses his powers to awaken Syd and change her memories so she doesn't remember she tried to kill him. Cary, Admiral Fukyama, and Division 3 capture Lenny and Farouk, placing a device around the latter's head so he cannot use his powers. Back at Division 3 headquarters, David psychically projects himself into Syd's room so they can have sex. Cary finds footage of David changing Syd's memories that to him looks like "treachery." That night, Farouk slightly damages the device around his head so he can whisper a delusion into a mouse, which can then spread the delusion to Syd in her sleep.
The next day, Farouk's trial is supposed to be held, Division 3 trap David and hold his trial instead. They have found him guilty of crimes he has a 98% chance of committing in the future as his "treachery" has been discovered. Syd and Cary want him to medicate and go back into therapy, but the other Davids appear and tell him to run. The Vermillions warn David that he will be killed if he does not accept treatment. David, thinking he can convince her to end this madness, demands to hear this ultimatum from Syd; however, Syd tells David she knows he drugged and raped her - the delusion Farouk whispered into her head. David, devastated by this betrayal, snaps, and decides he's had enough. He breaks out of Cary's trap, reaching a new level of his psychic powers in the process. He teleports to Lenny's cell and leaves Division 3 headquarters with her. Syd asks Clark what they should do now that David is loose. But the only thing they can do is pray.
Cast
See Also
Recommended Reading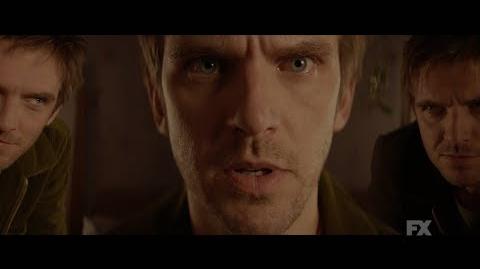 Links and References
Footnotes
Like this? Let us know!
Community content is available under
CC-BY-SA
unless otherwise noted.