Appearances
Featured Characters:
Supporting Characters:
Other Characters:
Races and Species:
Locations:
Synopsis
David enters Syd's mind to free her from the maze, which manifests as an igloo from where Syd can relive her own memories. Unlike with Ptonomy and Melanie, however, he cannot easily discern what her core desire is. David combs through Syd's memories to figure it out. He sees her powers mutant powers manifest at one of her mother's lectures. In one memory, Syd is at an art museum when she sees two young lovers kissing. In another, a boy at school tries to force himself on her when she sees a group of girls who bully her, so she suddenly kisses him to trade bodies with him and in his body beat up the girls so he takes the blame for it. Each time David thinks he has figured out her core desire, Syd tells him his guess is wrong and wants him to try again.
Meanwhile in the physical world, those stricken with the chattering condition at Division 3 headquarters wake up from their paralysis following the monk's suicide. While the rest of Division 3 try to figure out what happened, Cary and Kerry find David and Syd unconscious on the roof of the building. David and Syd are taken back to Cary's lab, where Cary discovers the two of them are no longer stricken with the plague like the rest. However, he cannot tell why their eyes are still closed.
David goes back into Syd's memories one more time to figure out what Syd is trying to show him. This time he sees a teenaged Syd switch bodies with her sleeping mother after she catches a glimpse of her mother's boyfriend taking a shower. She joins him in the shower, and the two of them have sex. Syd and her mother soon revert back to their original bodies, and her horrified mother catches them in the shower after she hears his startled scream. After witnessing this intense memory, David returns to the igloo to tell Syd he finally realized the point of the memories - to show that the trauma in Syd's life only made her stronger. She says they need to be strong when the apocalypse David saw comes, and the pain they've both lived through only makes them stronger.
Now that David has seen the point behind Syd's game, the two of them leave the Astral Plane. When they awake, they see soldiers hurrying down the hallway outside Cary's lab. David and Syd follow the soldiers before running into a group of them carrying away Lenny Busker in handcuffs.
Cast
See Also
Recommended Reading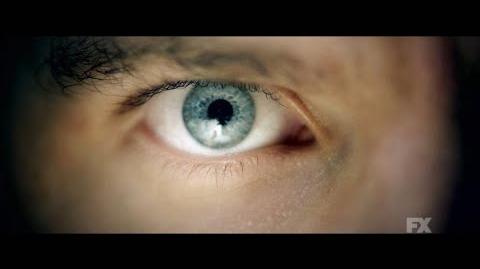 Links and References
Footnotes
Like this? Let us know!