"Chapter 15"
Previous and Next Episodes
Ask yourself - What's more terrifying: fear, or the frightened?
Appearing in "Chapter 15"
Featured Characters:
Supporting Characters:
Antagonists:
Other Characters:
Races and Species:
Locations:
Items:
Synopsis for "Chapter 15"
David communes with the Shadow King on the Astral Plane. He swears to find and destroy Farouk's body as retribution for what he did to Amy. Farouk taunts David with visions of Amy in return. Later, the Shadow King meets the version of Syd from the future in the Astral Plane. Farouk tries to intimidate her, but he soon realizes that she needs him to save the world from David and will help him find his body. The irony of a villain needing to save the world from the hero amuses the Shadow King.
Ptonomy has a nightmare where Admiral Fukyama and the Vermillions attack him in his bed. While the Vermillions hold him down, Fukyama reveals a monstrous face hidden behind the basked he wears over his head. When he wakes up, Ptonomy whispers his concerns about Fukyama into eggs that he places at Syd's, Kerry's, and Clark's bedsides before whispering them into his ear, infecting them with his paranoia. Each of them then have nightmares that reinforce that paranoia.
When they wake up, the four of them, fully believing Fukyama is dangerous, plan to kill him before he can do more harm. Ptonomy and Kerry fight the Vermillions, and are eventually overwhelmed by their numbers. Syd and Clark break into Fukyama's office and at gunpoint demand he remove the basket over his head. Although Fukyama has the head of a normal Japanese man (albeit stabilized by a neck brace), Syd and Clark see he has the same monstrous face Ptonomy saw in his dreams. David teleports into Fukyama's office and stops Syd and Clark before they can kill Fukyama. The Vermillions enter Fukyama's office with Ptonomy in tow, and accuse them of working with the Shadow King. David, however, sees something going on in Syd and Clark's heads, and pulls out a tiny creature resembling what Ptonomy, Clark and Syd saw Fukyama as. David says these creatures are "insanity." Ptonomy suddenly collapses, and spews a black bile from his mouth as a giant insanity creature emerges from his body. David follows the monster through the halls of Division 3's headquarters, eventually cornering it in the building's cafeteria. David drags the monster into the Astral Plane, and asks it to simply walk away as he is more concerned with stopping the Shadow King. The monster doesn't seem to understand David and tries to attack him. David changes their relative size, to the point that the monster is no larger than its much smaller counterparts, and then traps the monster in a glass jar before destroying it.
The Vermillions recognize Ptonomy is dying from the wounds he sustained when the insanity monster emerged from his body. They can, however, save his brain. They connect Ptonomy to the mainframe, a large supercomputer resembling a giant tree. While his body sits at the bottom of the tree, Ptonomy regains consciousness from within the computer, where he is greeted by the sight of an old woman hushing him.
Cast
See Also
Recommended Reading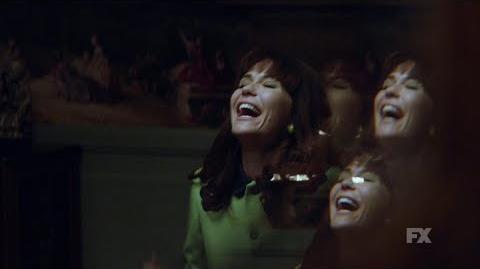 Links and References
Footnotes
Like this? Let us know!
Community content is available under
CC-BY-SA
unless otherwise noted.